Constructivismo e integración en psicoterapia
Palabras clave:
perspectiva constructivista
Resumen
La perspectiva constructivista conlleva un buen criterio de implicaciones significativas de integracion de las psicoterapias . 
Descargas
Los datos de descargas todavía no están disponibles.
Citas
ARKOWITZ, H. (1989). Introductory statement: Psychotherapy inlegralion come sof age. JouritiilofPs›-chotlieriip5' Integration, /, I -3.
FEIXAS, G. ( 1990). Personal construct theory and the systemic therapies: Parallel or convergent trends? Jouriuil of itfa riiyl arid Famil y Tlic•rapy, ld, 1 -20.
FElXAS, G. (1991). Del individuo a1 sistema: La perspective constructivista como marco integrador. Devi.sfn de
Psicolci apia, d-7, 9.1 - I °0.
FEIXAS, G. (1992). Personal construct approaches to family therapy. En G. J. Neimeyer y R. A. Neimeyer (eds),
Ad›'arices iii Prnsorial Corislryci Ps5'cholog y IVol. II (pp. 215-255). Greenwich. CT: Jai Press.
FEIXAS. G. (en prep.). Aportaciones conslruclivistas a la integracion en psicoterapia. Acvisfri A ryeniiiia dr Clftiit'ri
Psiroli›gicii.
FEIXAS, G., PROCTER, & H.. NE IMEYER, G. (1993). Convergent lines of nssessirient: Systemic rind constructivist contributions. En G. J. Neimeyer (ed.), Casebook in consiruc'iivisi este.cement. London: Sage. FEIXAS, G.. & NEINIEYER, R. ( 1991). La perspective constructivists: Un marco integrador para la psicotei'apia.
Boleiin de Psicologia, 30, 7-33.
FEIXAS, G..& VIcLEGAS, NI. (1990). Constriiclieisnio›• Psic-oterapia. Barcelona: Promociones y Publicaciones
Universitarias.
FERNANDEZ-ALVAREZ, H. (1992). Fundanientos de un modelo integi-ativo en psicoterapia. Buenos Aires: Paid6s.
KARST, T. 0. (1980). The relationship between personal construct theory and psychotherapeutic techniques. En
A. W. Landfield y L. M. Leitner (Eds.), Personal co›tstruct psycliolog5.- Psychotherapy and person‹iIity.
New York: Wiley. (Trad. cast. en Ed. DDB, Bilbao, 1987)
KARST, T. 0. & TREXLER, L. D. (1970). Initial study using fixed-role and rational-emotive therapy in treating speaking anxiety. Journal of Consulting and Clinical PS'f'CltOJOg y, 34, 360-6.
KELLY. G. A. (1955). The psycholog y oJ'person‹il constr ucts (2 Vols.). New York: Norion.
KELLY, G. A. (1963/1969). The autobiography of a theory. En B. Maher (Ed.), Clinical psycholog y and personality: The selected papers of Ceorge Kelly (pp. 46-65). New York: Wiley.
KELLY, G. A. ( l964/l969). The strategy of psychological research. En B. Maher (Ed.), Ciitiicoi psychology and per›'onalitv.- The selecteJ papers of George Kell5' (pp. 114- 132). New York: Wiley.
MAHONEY, M. J. (1991). Human Change Processes. The Scientific Foundations o)' Psychotherapy. New York: Basic.
NEIMEYER, R. (1992). Hacia un integracion te6ricamente progresiva de la psicoterapia: Una contribuciñn construCtivista. Revista de Psit•oterapia, 3 (9), 23-48.
NEIMEYER, R. A., & FEIXAS, G. (1990). Constructivist contributions to psychotherapy integration. Journal of Eclectic aitd litiegrative Psychotherap y, 9, 4-20.
NORCROSS, J. C. (1986). Eclectic psychotherapy: An introduction and overview. En J. C. Norcross (Ed.).
Han Jhook of ec hectic psychoiherup y. New York: Brunner/Mazel.
PERRY, W. (1970). Forms of intellectual and ethic‹il de velopment in the college years: A.scheme. New York: Holt, Rinehart & Wintson.
PROCTER, H. (1981). Family construct psychology: An approach to understand s and treating families. En S. WalrondSkinncr (Ed.). De velopmenls in fninil5' theraJyy: Theories anif applications since 1948. London: Routledge.
PROCTER, H. (1992). Psicologia de los constructos familiares. Revista de Psicoterapia, 2 (d-7), 73-90.
PROCTER, H. & FE1XAS. G. (Eds.) (en prep.). El signijicado personal en la prâclica sistémic‹i: Un enfoque coiisiriiclivisla.
RIMM, D. & MASTERS, J. (1974). Beha vior lhei'nJ›y. Techniques and empirical fundings. New York: Academic. RYCHLAK, J. F. (1968). d ;›hilosoph5' of science for person‹iliIy theory'. Boston: Houghton Mifflin.
VASCO, A. (1992). De la torre de babel al esperanto terapéulico: Notas sobre in•'esligacion e integraci6n en psicoterapia. Revista de Psicoter‹ipia, 3 (9}, 13-22.
WINTER, D. (1990). Therapeutic alternatives for psychological disorders: personal construct investigations in a health service setting. En G. Neimeyer, y R. A. Neimeyer (Eds.), Advances in personal ‹-oiistruct theory (Vol. 1) (pp. 89-116). Greenwich, CT: JAl.
WINTER, D. (1992). Persoiml construct ps jcliolog5' and clinical practice. London: Croom Helm.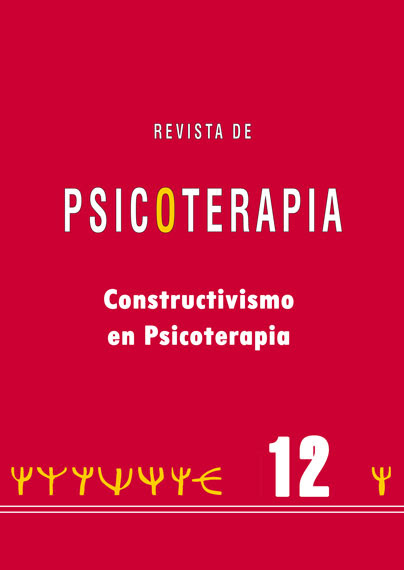 Cómo citar
Feixas, G. . (1992). Constructivismo e integración en psicoterapia. Revista De Psicoterapia, 3(12), 101–108. https://doi.org/10.33898/rdp.v3i12.955
Sección
Artículo de monográfico