The silent child: Reform pedagogy, the self and the problematization of shyness in the classroom
Keywords:
Shyness, reform pedagogy, history, the self
Abstract
 In the existing historical and sociological studies devoted to shyness scholars have identified the second half of the Twentieth century as an important period in which shy feelings have become a problem for Wes­tern societies. On the basis of the work of the American cultural histo­rian Warren Susman, and especially his ideas about the move from a character society towards a personality society, it is argued that the turn of the nineteenth century also played an important role in the emergence of negative interpretation of being and acting shy. In this article Susman's attention for what happened at the start of the twentieth century is being taken up by examining the ideas about timidity in the work of one of the most important reform educators at that time, namely Maria Montessori. Montessori's ideas are being contextualized by referring to the more en­compassing culture of personality and the self that paralleled the progres­sive era in education. By contraposing Montessori's ideas to an eighteen­th-century ego-document written by someone who identified himself as a shy person we'd like to plea for a nuanced account with regard to the history of the problematization of shyness in general and shy children in particular.
Downloads
Download data is not yet available.
References
Anonymous. «Over de beschroomdheid». De onderzoeker 4, no. 167 (1772): 81-88.
Anonymous. «La timidité». Le Lycée Armoricain 12, no. 70 (1828): 235-238.
Anonymous. «Frontispice». La Nouvelle Education 4, no. 39 (1925): 129.
Appolinaire, G. «La danse est un sport». La Culture Physique; Revue bi-mensuel e illustrée de tous les sports 4, no. 50 (1907): 62-68.
Bescherelle, Louis Nicolas. L'art de briller en société et de se conduire dans toutes les circonstances de la vie. Paris: Imprimerie Schneider, s.d.
Bigot, Charles. La sociability et le monde. Paris: Charles Bérissey, 1895.
Boler, Megan. Feeling power: Emotions and education. New York: Routledge, 2004.
Borg, W.R. Les lois éternelles du succès. Avignon: Editions Aubanel Père, 1932.
Chalmers, S. An essay on bashfulness. Hawick: Robert Armstrong, 1815.
Deluermoz, Quentin, Emmanuel Fureix, and Hervé Mazurel. «Écrire l'histoire des émotions: de l'objet à la catégorie d'analyse». Revue d'histoire du XIXe siècle. Société d'histoire de la révolution de 1848 et des révolutions du XIXe siècle 47 (2013): 155-89.
Devos, Jan. De visie van Freinet. Leuven: Garant, 2004.
Fiaux, Jean. Comment réussir dans la vie? Paris: H. Daragon, 1908.
Francotte, Xavier. La maîtrise de soi. Bruxelles: Imprimerie médicale et Scientifique, 1911.
Gleveo, H. «L'étalage moderne». La Soierie de Lyon. Revue Technique des Industries de la Soie 6, no. 6 (1933): 122-128.
Goh, Clément. Comment guérir les maladies de l'aplomb. Paris: Editions Nilsson, S.d.
Gouin, G. «Quelques réflexions sur le travail libre par groupes». La Nouvelle Education 4, no. 39 (1925): 127-132.
Gratia, L.E. «Le trac et la timidité». Le Menestrel. Musique et Théatres 94, no. Vendredi 14 Octobre, Vendredi 21 Octobre & Vendredi 28 Octobre (1932).
Gregory, George. The elements of a polite education; carefully selected from the letters of the late Earl of Chesterfield to his son. London: Richard Phillips, S.d.
Guyot-Daubès L'art de passer avec succès les examens. Examinateurs, l'art de répondre, Fraude et trucs, Les colles! Paris: Bibliothèque d'éducation attrayante, 1889.
Key, Ellen. De eeuw van het kind. Zutphen: W.J. Thienen, S.d.
Knox, Vicesimus. Winter evenings: or, lucubrations on life and letters. London: J. Richardson & Co, 1823.
Lane, Cristopher «How shyness became an illness: a brief history of social phobia », Common Knowledge 12, no. 3 (2006): 388-409.
Lane, Cristopher. Shyness: How normal behavior became a sickness. Princeton: Yale University Press, 2008.
Leroux, Jean. La timidité n'existe plus!!! Celui qui nous lit peut la vaincre!!! Une revolution dans le théâtre, dans l'amour, dans les arts, dans la vie. Paris: Union de la Presse, S.d.
Lewis, Philippa. «Twice Shy: Two Accounts of Timidity in fin-de-siècle France». En Medicines and Maladies: Representing Affliction in Nineteenth-Century French Literature. Editado por Sophie Leroy. Brill: In press.
Malfait, Catherine & Jeannin, Niki. Emoties in de kleuterklas. Oefenen met de methode van 'Het Toverbos'. Tielt: Lannoo Campus, 2014.
McDaniel, Patricia. Shrinking violets and Caspar Milquetoasts: Shyness, power and intimacy in the United States, 1950-1995. New York: New York University Press, 2003.
Montessori, Maria. Het geheim van het kinderleven. Antwerpen: De Sikkel, 1937.
Montessori, Maria. De methode Montessori. Zelfopvoeding van het jonge kind. Amsterdam: Van Holkema & Warendrof's Uitgevers, 1916.
Montessori, Maria. De Methode. De ontdekking van het kind. Antwerpen: De Sikkel, 1950.
Montessori, Maria. Het onbegrepen kind. Amsterdam: Van Holkema & Warendorf, S.d.
Moran, Joe. Shrinking violets: The secret life of shyness. London: Profile Books, 2016.
Plamper, Jan. Geschichte und Gefühl: Grundlagen der Emotionsgeschichte. München : Siedler Verlag, 2012.
Roudès, S. pour faire son chemin dans la vie. Moyens et qualité qui permettent d'arriver au succès et à la fortune. Paris: Bibliothèque des ouvrages pratique, S.d.
Scott, Susie. «The medicalisation of shyness: from social misfits to social fitness». Sociology of Health & Illness 28, no. 2 (2006): 133-53.
Sobe, Noah. «Researching emotion and affect in the history of education». History of education 41, no. 5 (2012): 689-95.
Starke, D. L'aplomb. Paris: Editions Nilsson, 1913.
Stearns, Peter and Clio Stearns. «American schools and the uses of shame: an ambiguous history». History of Education 46, no. 1 (2017): 58-75.
Susman, Warren. Culture as History: The Transformation of American. Society in the Twentieth Century. New York: Pantheon Books, 1984.
Timidus. «Brief van Timidus over zyne beschroomdheid». De onderzoeker 4 no. 186 (1772): 233-240.
Toohey, Peter, Verveling: een boeiende geschiedenis. Amsterdam: Ambo/Contact, 2012.
Name to be added after peer-review. «Het verlegen kind. Een pedagogische kijk op de geschiedenis van emoties». En Images of education: cultuuroverdracht in historisch perspectief. Editado por Hilda Amsing, Nelleke Bakker, Minneke van Essen & Sanne Parlevliet, 235-247. Groningen: Uitgeverij Passage, 2018.
Voivenel, Paul. «Sur la timidité et le trac». L'Archer 5 (1930): 399-431.
Zimbardo, Philippe. Wat is verlegenheid. Wat kan je er tegen doen. Baarn: Ambo, 1977.
Zimbardo, Philippe & Norwood, Robert. The silent prison of shyness. Standford University, 1974 (Unpublished document).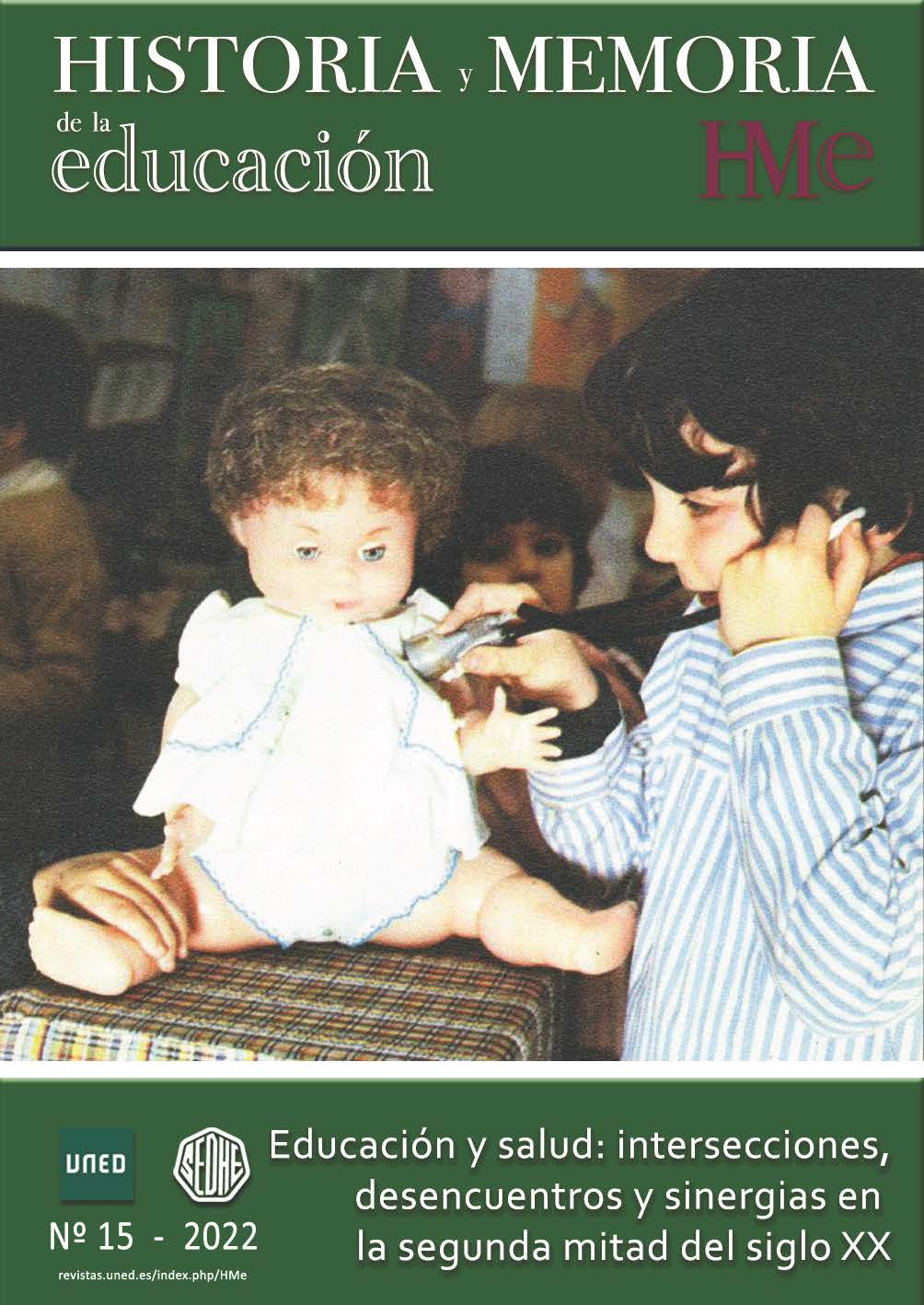 Downloads
How to Cite
Verstraete, P. (2021). The silent child: Reform pedagogy, the self and the problematization of shyness in the classroom. Historia Y Memoria De La Educación, (15), 297–321. https://doi.org/10.5944/hme.15.2022.30653
License
This work is licensed under a Creative Commons Attribution-NonCommercial 4.0 International License.