Civic features. Perspectives on textbooks in Brazil in the 1970s
Keywords:
Schoolbooks, Moral and Civic Education, Training content, Civility, Representations
Abstract
This study addresses the different perspectives on civics and their representations in textbooks of Moral and Civic Education. For this, we have used a document consisting of three manuals used in the educational system of Florianópolis, capital of Santa Catarina / BR. We propose as our hypothesis that these documents contained elements that were responsible for social formation during the Brazilian dictatorial period. The editions studied are from the 1970s and their authors are: Jaldyr Bhering Faustino da Silva and Ayrton Capella (1971), Benedicto de Andrade (1978) and Almiro Petry, Joseph Odelso Schneider and Matthias Lenz Marinho (1972). The theoretical contribution of these works relied on the concept of representations as inscribed in Cultural History. The study highlights other dimensions of the teaching process concerning school textbooks related to the experience of historical time lived, to approaches to reading and to the multiple representations resulting from this interaction.
Downloads
Download data is not yet available.
References
Andrade, Benedicto de. Educação Moral e Cívica. São Paulo: Atlas, 1978.
André Chervel. «A história das disciplinas escolares: reflexões sobre um campo de pesquisa». Revista Teoria e Educação 2 (1990): 177-229.
Castillo Gómez, Antonio, coord. Historia de la cultura escrita. Del Próximo Oriente Antiguo a la sociedad informatizada. Gijón: Ediciones Trea, 2002.
Chartier, Roger. A aventura do livro. Do leitor ao navegador. São Paulo: Editora da UNESP, 1999.
Chartier, Roger. «Defesa e ilustração da noção de representação». Fronteiras 13 (24) (2011): 15-29.
Chartier, Roger. A História Cultural: entre práticas e representações. Tradução: Maria Manuela Galhardo. Lisboa: Difel; Rio de Janeiro: Bertrand, 1990.
Faustino da Silva, Jaldyr Bhering, and Ayrton Capella. Educação Moral e Cívica. Rio de Janeiro: Laudes, 1971.
Gatti Jr., Décio. A escrita escolar da História: livro didático e ensino no Brasil (1970-1990). Bauru: Edusc, 2004.
Ghizoni Teive, Gladys Mary, and Norberto Dalabrida. «A Faculdade de Educação nos anos 60: releitura da "Idade de Ouro"». Percursos 4 (1) (2003): 79-92. Accessed February 15, 2015. http://www.udesc.br/
Ghizoni Teive, Gladys Mary. «Grupo escolar e produção do sujeito moderno: um estudo sobre o currículo e a cultura escolar dos primeiros grupos escolares catarinenses (1911-1935)». Revista História da Educação 13 (29) (2009). Accessed October, 20, 2004, http://seer.ufrgs.br/index.php/asphe/article/view/28927/pdf.
Hartog, François. Regimes de Historicidade: presentismo e experiências do tempo. Belo Horizonte: Autêntica Editora, 2013.
Hobsbawm, Eric. A invenção das tradições. Rio de Janeiro: Paz e Terra, 1997.
Kantovitz , Geane and Stefanie Schreiber. «Construção da memória histórica para além da sala de aula no Alto Vale do Itajaí-Açu: a imprensa e as festas cívicas (1930-1940) ». In Educar para a nação: cultura política, nacionalização e ensino de história nas décadas de 1930 e 1940, edited by Cristiani Bereta da Silva. Curitiba: CRV, 2014.
Murilo de Carvalho, José. Cidadania no Brasil. O longo caminho, 18ª edição. Rio de Janeiro: Civilização Brasileira, 2014.
Pereira de Magalhães, Justino. «Escrita Escolar e Oficialização da Escola Portuguesa». In Mis primeros pasos. Alfabetización, escuela y usos cotidianos de la escritura (siglos XIX y XX),edited by Antonio Castillo Gómez and Verónica Sierra Blas, 19-40. Gijón: Edicciones Trea, 2008.
Petry Almiro, José Odelso Schneider and Matias Martinho Lenz,. Realidade Brasileira: Estudos de Problemas Brasileiros. São Leopoldo: Unisinos, 1972.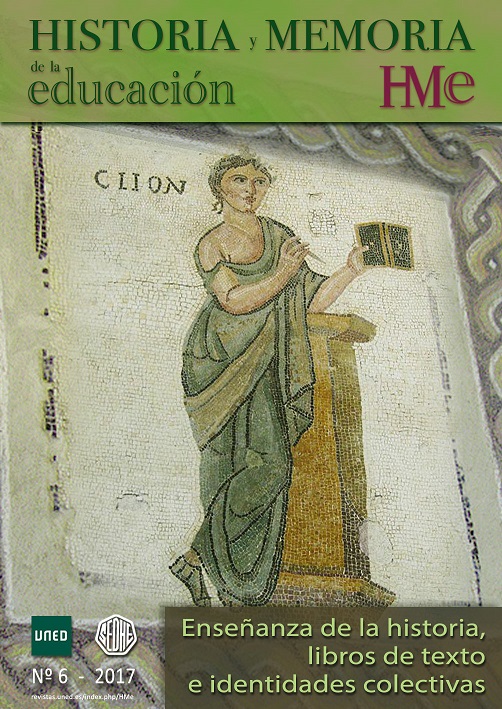 Downloads
How to Cite
Santos, M. R. (2017). Civic features. Perspectives on textbooks in Brazil in the 1970s. Historia Y Memoria De La Educación, (6), 59–87. https://doi.org/10.5944/hme.6.2017.17143
License
Authors who publish in Historia y Memoria de la Educación agree to the following terms:
Authors retain copyright and grant the journal right of first publication with the work simultaneously licensed under a Creative Commons Attribution License that allows others to share the work with an acknowledgement of the work's authorship and initial publication in this journal.
Authors are able to enter into separate, additional contractual arrangements for the non-exclusive distribution of the journal's published version of the work (e.g., post it to an institutional repository or publish it in a book), with an acknowledgement of its initial publication in this journal.
Authors are permitted and encouraged to post their work online (e.g., in institutional repositories or on their website) prior to and during the submission process, as it can lead to productive exchanges, as well as earlier and greater citation of published work (See The Effect of Open Access).