Goodness, Compassion and Virtue: Keys to Rousseau's Education Proposals
Keywords:
Rousseau, Goodness, Compassion, Virtue, Education
Agencies:
Project FFFI 2012-37670 of the National Plan for Research. Ministerio de Economía y Competitividad (España)
Abstract
The defense of the innate goodness of human beings is one of the most wellknown and polemic aspects of J. J. Rousseau's philosophy. This article analyses the link between his anthropological conception and his educational model. In defending the idea that the human being has a natural «disposition» for doing good, feeling compassion and empathizing with others' suffering, Rousseau is  not invoking some long-lost, savage state of ours; rather, he is referring to a model of education that can help to encourage and develop such qualities by means of «maxims of pity» and the practice of virtue. In doing so he is proposing an education that encourages cooperation as well as humane feelings that will lead individuals to see others as equals rather than as rivals. We also offer a reflection here on the ambivalence of compassion and on some of the assessments and opinions regarding this sentiment, which was considered by Rousseau to lie at the very origin of humane feelings.
Downloads
Download data is not yet available.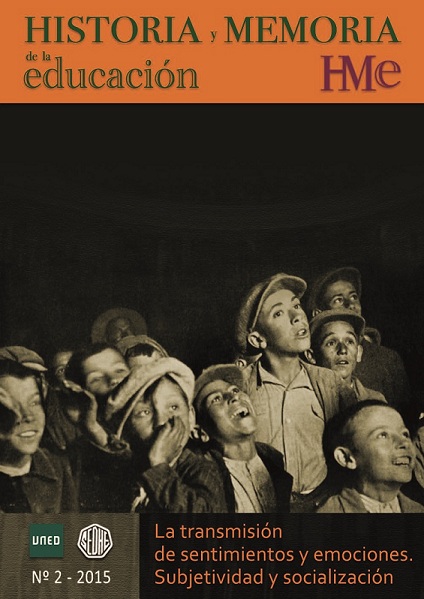 Downloads
How to Cite
Villar Ezcurra, A. (2015). Goodness, Compassion and Virtue: Keys to Rousseau's Education Proposals. Historia Y Memoria De La Educación, (2), 45–72. https://doi.org/10.5944/hme.2.2015.14283