Mothers and children in love. The sublimation of the maternal relationship in Spanish and Colombian textbooks in the first half of the twentieth century
Keywords:
Emotions, Family, Mother, Woman, Textbooks
Agencies:
Universidad Tecnológica de Bolívar, Fundación Carolina
Abstract
In the first half of the xx century, primary school textbooks played a prominent role in the molding of children's emotions and their affective relationships. Spanish and Colombians textbooks published at that time commonly idealized the mother-child relationship. This paper examines the manifestations of this idealization in the configuration of the subjects «mother» and «child», and in the depictions of the emotion of love in these textbooks. Based on the analysis of ninety reading textbooks from this period, from both countries, a genealogical reading has been made, from a Foucaultian perspective, of the configuration of some ideal types of subjectivities present in the educational strategies of these texts. In the texts, it was found that the main object of love was the mother and that it was to her whom children exclusively directed the physical and intellectual expressions of a so called pure and unconditional love. Furthermore, in terms of the behavior of adult women, expressions of physical tenderness and expressions of romantic and unconditional love were directed exclusively toward children, and not toward a spouse or other adults. It was concluded that this love relationship served to define the basic structure of the feminine biography, the role of women at home, the licit behavior of family members and their existential purpose. This relationship also promoted the configuration of an economy of desire and pleasure directed toward the stability of family and society based on a feeling of unconditional loyalty whose model was the love for the mother.
Downloads
Download data is not yet available.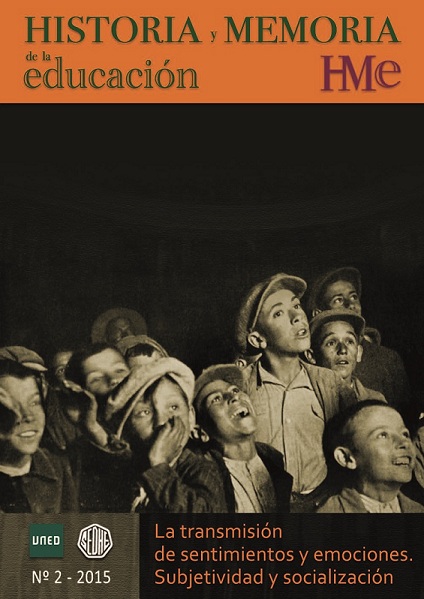 Downloads
How to Cite
Serrano López, F. G. (2015). Mothers and children in love. The sublimation of the maternal relationship in Spanish and Colombian textbooks in the first half of the twentieth century. Historia Y Memoria De La Educación, (2), 219–238. https://doi.org/10.5944/hme.2.2015.14013