Historical-educational Research in Galicia, 2002-2014
Keywords:
Educational historiography, Spain, Galicia, Sociology of knowledge, Productions of knowledge, Critical aspects
Abstract
Using two previous reports as a reference, this paper examines the status of historical-educational research in Galicia and its contributions from the beginnings of the twenty-first century to the present. This particular contribution, rooted in the general studies and criteria of the sociology of knowledge, tests the reason for the historical-educational studies mentioned, their variability, their research problems, dominant themes and methodology, together with features characterizing the authors as well as different presentations of doctoral theses, monographs, book chapters and academic articles. In light of the aforementioned data, the authors of the test carry out an interpretive balance highlighting the critical aspects that limit this considerable regional historiography of education.
Downloads
Download data is not yet available.
References
Burke, Peter. Formas de hacer historia, Madrid: Alianza Universal, 1996.
Cebreiro López, Beatriz, Míguez Rodríguez, Celestiono, coords. Vinte anos de investigación educativa en Galicia (1970-1990). Santiago: Servicio de Publicacións da Universidade de Santiago de Compostela, 1992.
Cid Fernández, Xosé M. «Historiografía da educación en Ourense en 25 anos de 'proximidade' ás outras disciplinas históricas». In Homenaxe a la profesora Lola F. Ferro: estudios de historia, arte e xeografía, coordinated by Susana Reboreda Morillo, 207-217. Vigo: Universidade de Vigo, 2005.
Costa Rico, Antón. «A historia da educación en Galicia. Notas para unha revisión historiográfica». Cuadernos de Estudios Gallegos 106 (1994): 221-243.
Costa Rico, Antón. «La historiografía educativa en Galicia». In La investigación histórico–educativa. Tendencias actuales, edited by Antonio Viñao Frago and Narciso de Gabriel Fernández, 103-116. Barcelona: Ronsel, 1997.
Costa Rico, Antón, Gabriel Fernández, Narciso de, and Rivas Barrós, Sabela. «Historiografía educativa de Galicia (1750-2000)». Sarmiento. Anuario Galego de Historia da Educación 5 (2001): 147-204.
Costa Rico, Antón. Historia da educación e da cultura en Galicia. (séculos IV-XX). Permanencias e cambios no contexto cultural e educativo europeo. Vigo: Edicións Xerais de Galicia, 2004.
Costa Rico, Antón, «Examinando las prácticas escolares desde la historiografía educativa». Revista de Ciencias de la Educación, 231-232 (2012): 507-516.
Costa Rico, Antón. «Historia de la educación en España. Realidades, problemas y tendencias en el dominio de la investigación». Cadernos de História da Educaçâo, 10 (2), (2011): 15-44.
Costa Rico, Antón. «Iluminar la intensa historia de las prácticas escolares desde la historiografía educativa: potencialidad y retos». In História e Historiografía da Educaçâo Ibero-Americana: Projetos, Sujeitos e Práticas, organized by Claudia Alves and Ana Chrystina Mignot, 155-184. Rio de Janeiro: Quartet Editora, 2012.
Gabriel, Narciso de. «La historiografía educativa regional en España». IN Repensar la historia de la educación. Nuevos desafíos, nuevas propuestas, edited by Manuel Ferraz Lorenzo, 399-422. Madrid: Biblioteca Nueva, 2005.
Guereña, Jean-Louis, Ruiz Berrio, Julio, and Tiana Ferrer, Alejandro, eds. Historia de la Educación en la España contemporánea. Diez años de investigación. Madrid: MEC/CIDE, 1994.
Guereña, Jean-Louis, Ruiz Berrio, Julio, and Tiana Ferrer, Alejandro, eds. Nuevas miradas historiográficas sobre la educación en los siglos XIX y XX. Madrid: Ministerio de Educación, 2010.
Mannheim, Karl. Essays on Sociology of Knowledge. London: Routledge & Kegan Paul, 1952.
Peña Saavedra, Vicente. «Historia da Educación». In A investigación educativa en Galicia (1989-2001) T.2, directed by Miguel Anxo Santos Rego, 21-75. Santiago de Compostela: Xunta de Galicia /Consellería de Educación e de Ordenación Universitaria, 2004.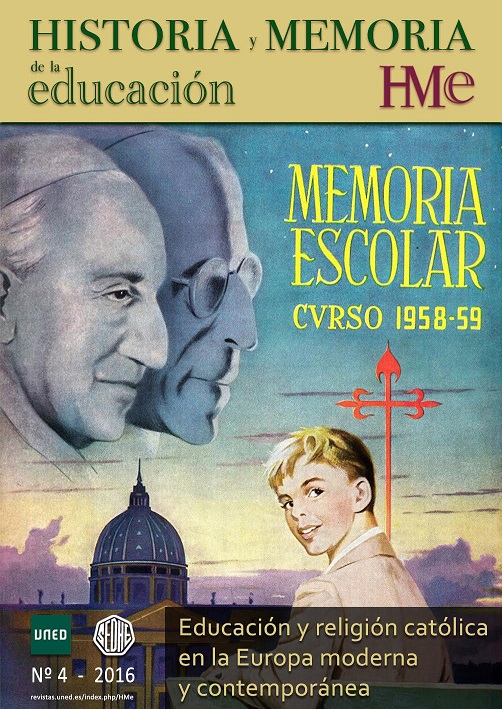 Downloads
How to Cite
Costa Rico, A., & Malheiro Gutiérrez, X. M. (2016). Historical-educational Research in Galicia, 2002-2014. Historia Y Memoria De La Educación, (4), 307–335. https://doi.org/10.5944/hme.4.2016.15900
Section
Historical Researches