The personal diaries and the notes of the pedagogical travels of Rosa Sensat Vilà during the period 1908-1913: critical and conceptual analysis, contributions and debates
Keywords:
Personal diary, Pedagogical travel, Conceptual analysis, Rosa Sensat, New Education.
Abstract
The article is focused on the critical and conceptual analysis of the personal diaries and the travel notes, with pedagogical character, that the teacher Rosa Sensat Vila (1873-1961) made during the period 1908-1913 in different European countries. We ask ourselves about the people and the places, about the personal and relevant experiences and the opinions and the critical reviews in personal diaries in order to rebuild a part of the process of elaboration of the conceptual universe of Rosa Sensat. The documentary sources are a primary and written nature. They are located in the Fons Històric of the Rosa Sensat Library in Barcelona and in the Archivo Edad de Plata (Fondo JAE). The qualitative methodology is a hermeneutic and conceptual nature, taking into account some contributions of biographical-narrative research. From Reading of personal diaries and travel notes, we locate and systematize the data and available information with the aim of establishing a catalogue of the institutions and the relationships with European teachers; and also to interpret the texts and the descriptions to analyze the ideas and, above all, the concepts that it incorporates to its own pedagogical ideology.
Downloads
Download data is not yet available.
References
Artus-Perrelet, Louise. Le Désin au service de l'éducation. Neuchâtel: Delachaux et Niestlé, 1917.
Bolívar, Antonio, Jesús Domingo y Manuel Fernández. La investigación biográfico-narrativa en educación. Enfoque y metodología. Madrid: La Muralla, 2001.
Esteruelas, Albert, Jordi Garcia-Farrero e Isabel Vilafranca. «L'Escola del Bosc cent anys després. Allà on Rosa Sensat va sistematitzar la seva pedagogia». Temps d'Educació 49 (2015): 111-133.
González-Agàpito, Josep. Rosa Sensat i Vilà, fer de la vida escola. Barcelona: Rosa Sensat/ Edicions 62, 1989.
Laurent, George. «Alexis Sluys: un pédagogue engagé au service de l'enseignement officiel en Belgique». Cahiers Bruxellois – Brusselse Cahiers XLVI, no. 1 (2015): 74-106. URL: https://www.cairn.info/revue-cahiers-bruxellois-2015-1-page-74.htm
Moreno Martínez, Pedro L. «Rosa Sensat, la cultura material de l'escola i el material d'ensenyament». Temps d'Educació 44 (2013): 77-99.
Oncina Coves, Faustino. «Historia conceptual y hermenéutica». Azafea. Revista de Filosofía 5 (2003): 161-190.
Oncina Coves, Faustino (ed.). Palabras, conceptos, ideas. Estudios sobre la historia conceptual. Barcelona: Herder, 2010.
Ricoeur, Paul. La memoria, la historia y el olvido. Madrid: Trotta, 2003.
Sensat Vilà, Rosa. Borrador de la memoria Métodos para la enseñanza de las ciencias físico-naturales en la escuela primaria (Viaje 1912–1913). Fondo Rosa Sensat. Archivo Histórico de la Biblioteca Rosa Sensat de Barcelona. Disponible en: http://www2.rosasensat.org/es/pagina/fons-historic
Sensat Vilà, Rosa. Discurs de l'acte inaugural del curs 1922-1923. Barcelona: Institut de Cultura i Biblioteca Popular de la Dona, 1922.
Sensat Vilà, Rosa. Vers l'escola nova. Vic: Eumo, 1996. Traducción al catalán de: Hacia la nueva escuela. Madrid: Publicaciones de la Revista de Pedagogía, 1934.
Soler Mata, Joan. «Influència i presència de l'Institut Rousseau de Ginebra en la pedagogia catalana del primer terç del segle XX». Temps d'Educació 37 (2009): 11-38.
Sluis, Alexis. Mémoires d'un pédagogue. Bruxelles: Éditions de la Ligue de l'Enseignement et de l'Éducation Permanente asbl, 2014.
Vigneaux, Celestina et al. Viaje pedagógico a Francia, Suiza y Alemania en 1911. Memoria presentada al Ayuntamiento de Barcelona por varios Maestros públicos de dicha ciudad. Barcelona: J. Horta impresor, 1912.
Vilanou, Conrad. «Historia conceptual e Historia de la educación». Historia de la Educación 25 (2006): 35-70.
Vilanou, Conrad y Joan Soler. «La Historia de la Educación en Cataluña: tradición liberal e historia conceptual». Social and Education History 2, no. 3 (2013): 261-295. URL: http://dialnet.unirioja.es/descarga/articulo/4686204.pdf
Viñao, Antonio. «Las autobiografías, memorias y diarios como fuente histórico-educativa: tipología y usos». Sarmiento. Anuario Galego de Historia da Educación 3 (1999): 223-253.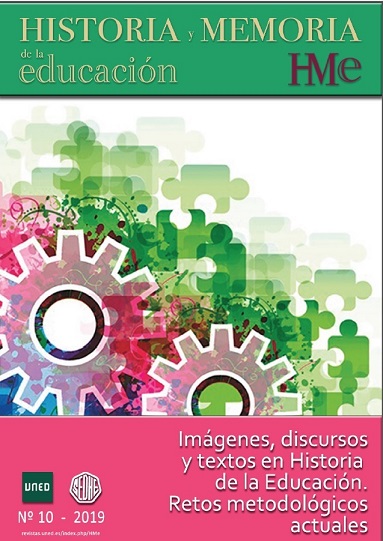 Downloads
How to Cite
Soler Mata, J. (2019). The personal diaries and the notes of the pedagogical travels of Rosa Sensat Vilà during the period 1908-1913: critical and conceptual analysis, contributions and debates. Historia Y Memoria De La Educación, (10), 213–236. https://doi.org/10.5944/hme.10.2019.23069
License
Authors who publish in Historia y Memoria de la Educación agree to the following terms:
Authors retain copyright and grant the journal right of first publication with the work simultaneously licensed under a Creative Commons Attribution License that allows others to share the work with an acknowledgement of the work's authorship and initial publication in this journal.
Authors are able to enter into separate, additional contractual arrangements for the non-exclusive distribution of the journal's published version of the work (e.g., post it to an institutional repository or publish it in a book), with an acknowledgement of its initial publication in this journal.
Authors are permitted and encouraged to post their work online (e.g., in institutional repositories or on their website) prior to and during the submission process, as it can lead to productive exchanges, as well as earlier and greater citation of published work (See The Effect of Open Access).