The personal files from public exams to become a headmaster of graded schools in 1932 as a source for history of education. A case study: the dossier of María Sánchez Arbós
Keywords:
Life-archive practice, Public exams files, Republican education, María Sánchez Arbós
Abstract
The aim of this paper is to present and contextualize a new source that, until now, had remained ignored and in need of a systematic approach: the personal files from public exams for the post of headmaster of large graded schools in 1932. These were the only such exams convened during the Second Spanish Republic. The peculiar structure of the exams opens the path to a new methodological approach, consisting of treating each file as a life-archive practice in which every candidate selects, with considerable freedom, a series of fragments and documents with which they would construct and represent their professional identities, not only to the examining board but also to themselves. Lastly, this paper undertakes a case-study with the file of well-known teacher, María Sánchez Arbós. This case will allow us to gauge the methodological possibilities of our proposal for studying the construction and reconstruction of the professional identities of republican teachers by having the opportunity to compare the composition of her exam file elaborated in 1932 with another well-known source: her diary, which was published in the nineteen sixties.
Downloads
Download data is not yet available.
References
Artières, Philippe. «Arquivar a Própia Vida». Revista de Estudos Históricos 11, no. 21 (1998): 9-34.
Llopis, Rodolfo. La revolución en la escuela: Dos años en la Dirección General de Primera Enseñanza. Madrid: Biblioteca Nueva, 2005.
Lozano Seijas, Claudio. La educación republicana 1931-1939. Barcelona: Universidad de Barcelona, 1980.
Luzuriaga, Lorenzo. La escuela nueva pública. Buenos Aires: Losada, 2002.
Mainer Baqué, Juan. La forja de un campo profesional. Pedagogía y Didáctica de las Ciencias Sociales en España (1900-1970). Madrid: Consejo Superior de Investigaciones Científicas, 2009.
Molero Pintado, Antonio. La reforma educativa de la Segunda República Española. Primer bienio. Madrid: Santillana, 1977.
Pérez Galán, Mariano. La enseñanza en la Segunda República. Madrid: Biblioteca Nueva, 2011.
Pozo Andrés, María del Mar del. Currículum e identidad nacional. Regeneracionismos, nacionalismos y escuela pública (1890-1939). Madrid: Biblioteca Nueva, 2000.
Pozo Andrés, María del Mar del. «Los institucionistas y la política educativa española (1898-1936): proyectos y realidades». En La Institución Libre de Enseñanza y Francisco Giner de los Ríos: Nuevas perspectivas. Vol. I. Reformismo liberal. La Institución Libre de Enseñanza y la política española, editado por Javier Moreno Luzón y Fernando Martínez López, 256-291. Madrid: Publicaciones de la Residencia de Estudiantes, 2012.
Pozo Andrés, María del Mar del. «La construcción de la categoría "Maestra Republicana": La tipología generacional como propuesta». En Las Maestras de la República, editado por Elena Sánchez de Madariaga, 236-270. Madrid: Catarata, 2012.
Pozo Andrés, María del Mar del. Justa Freire o la pasión de educar. Biografía de una maestra atrapada en la historia de España (1896-1965). Barcelona: Octaedro, 2013.
Samaniego Boneu, Mercedes. La Política Educativa de la Segunda República durante el Bienio Azañista. Madrid: CSIC, 1977.
Sánchez Arbós, María. Mi Diario. Zaragoza: Gobierno de Aragón y Caja Inmaculada, 2006.
Sánchez Arbós, María. Una escuela soñada. Madrid: Biblioteca Nueva, 2007.
Viñao Frago, Antonio. Innovación pedagógica y racionalidad científica. La escuela graduada pública en España (1898-1936). Madrid: Akal, 1990.
Viñao Frago, Antonio. «Las autobiografías, memorias y diarios como fuente histórico-educativa: tipología y usos». Sarmiento 3 (1999): 223-253.
Viñao Frago, Antonio. «La Dirección Escolar: un análisis genealógico-cultural». Educação 27, no. 2 (2004): 367-415.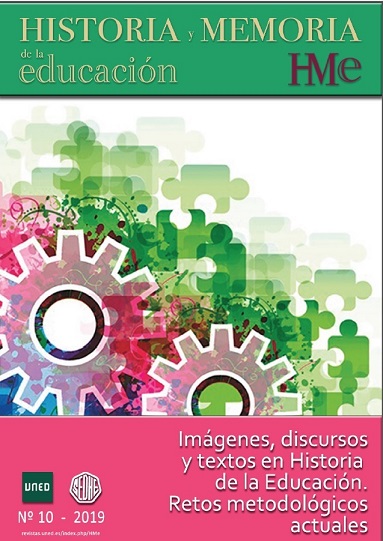 Downloads
How to Cite
Menguiano Rodríguez, C. (2019). The personal files from public exams to become a headmaster of graded schools in 1932 as a source for history of education. A case study: the dossier of María Sánchez Arbós. Historia Y Memoria De La Educación, (10), 309–344. https://doi.org/10.5944/hme.10.2019.22022