Miguel Soler in the land of the brave. La Mina, Uruguay, 1954-1961
Keywords:
School Nucleus, Fundamental Education, Rural education in Uruguay
Abstract
In 1954, one of the most innovative educational experiences of the decade took place in rural Uruguay: the First Experimental School Nucleus of La Mina. It was directed by Miguel Soler Roca, a Spanish-Uruguayan teacher who had been awarded a scholarship to study basic education in CREFAL,
shortly after the creation of this organism. In 1958 Margaret J. Anstee, Representative of the UN in Uruguay, went to La Mina to interview him. She thought that it would show the keys to the success of the proposal and would explore the possibility of exporting the experience as an inspiring model in other latitudes. The present text transcribes this interview, unpublished until  now, contextualizing it with other documents that explain the development of this initiative.
Downloads
Download data is not yet available.
References
Comando General del Ejército (1978). Testimonio de una nación agredida. Montevideo: División de Publicaciones y Ediciones Universidad de la República.
Soler Roca, Miguel (2005). Réplica de un maestro agredido. Educar en Uruguay: de la construcción al derribo, de la resistencia a la esperanza. Montevideo: Ediciones Trilce.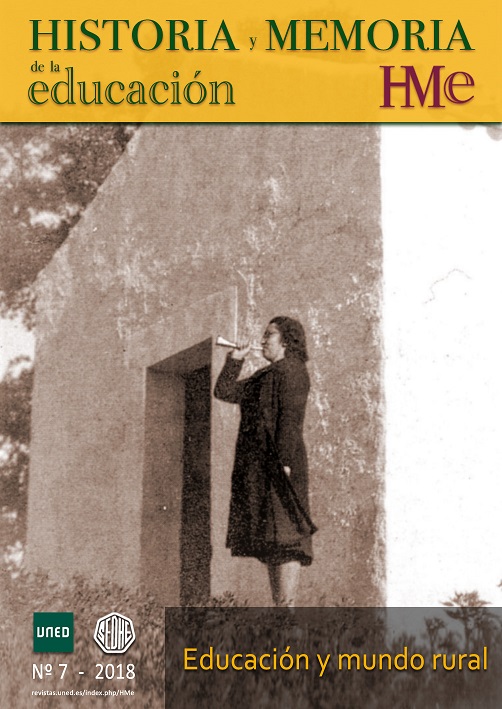 How to Cite
García Alonso, M. (2018). Miguel Soler in the land of the brave. La Mina, Uruguay, 1954-1961. Historia Y Memoria De La Educación, (7), 645–681. https://doi.org/10.5944/hme.7.2018.19892