Dreaming of distant lands. How Fascism built colonial women (1937-1941)
Keywords:
Fascism, Propaganda for women, Colonial imperialism, Fascist press, Italian East Africa
Abstract
When they seized power in 1922, the Fascists adopted a patriarchal stance regarding women. Adopting the pronatalist theories of Riccardo Korherr, Federico Marconcini and Ferdinando Loffredo, Fascism became a staunch defender of demographic policies relegating women exclusively to the role of wife and mother, mere breeding machines whose only job was to increase the number of Italians for the war effort and to drive colonial expansion in order to keep up with the other European nations. As a consequence of the war for the conquest of empire in East Africa, a population management strategy was conceived in which young women would be sent to produce families to re-populate Ethiopia in the name of the Fascist state. Accordingly, it became necessary to develop a different model for educating young women, to actively equip them for their new lives in Africa. With this in mind, the Fascist leadership exploited women's Fascist associations, drawing up national curricula for standardized training of these before sending them off to Africa.
This investigation explores the contemporary press such as L'Azione Coloniale and the training manual used in the courses preparing women for life in the African colonies. The objective was to understand whether the change in the educational policy devised for a group of young women, chosen for convenience, may have modified the overall image of women on a symbolic level in the last years of the regime.
Downloads
Download data is not yet available.
References
Aruffo, Alessandro. Il colonialismo italiano. Da Crispi a Mussolini. Rome: Datanews, 2010.
Barrera, Giulia. "Mussolini's colonial race laws and state-settler relations in Africa Orientale Italiana (1935-1941)". Journal of Modern Italian Studies 8, no. 3 (2003): 425-443.
Ben-Ghiat, Ruth. Fascism Modernities: Italy, 1922-1945. Berkeley: University of California Press, 2001.
Bottoni, Riccardo (ed.). L'Impero fascista: Italia ed Etiopia (1935-1941). Bologna: il Mulino, 2008.
Brioni, Simone and Shimelis Bonsa, Gulema. The Horn of Africa and Italy. Oxford: Peter Lang, 2018.
Cagnolati, Antonella, Follacchio, Sara. "Valorizzare, inquadrare, orientare. Il ruolo dell'Associazione nazionale fascista donne artiste e laureate". Annali di storia delle università italiane 26, no. 1 (2022): 27-44.
Calchi Novati, Gian Paolo. L'Africa d'Italia. Rome: Carocci, 2011.
Cannistraro, Philip V. La fabbrica del consenso. Fascismo e mass media. Rome-Bari: Laterza, 1975.
Cassata, Francesco. La Difesa della Razza: politica, ideologia e immagine del razzismo fascista. Torino: Einaudi, 2008.
Curti, Daniela. "Il fascismo e le donne: imposizione e accettazione della 'mistica della maternità'". Italian Studies in Southern Africa/Studi di Italianistica nell'Africa Australe 9, no. 2 (1996) 6-23.
De Grand, Alexander J. "Women under Italian Fascism". The Historical Journal 19, no. 4 (Dec. 1976): 947-968.
De Grand, Alexander J. "Mussolini's Follies: Fascism in Its Imperial and Racist Phase, 1935-1940". European History 13, no. 2 (2004): 127-147.
De Grazia, Victoria. How Fascism Ruled Women. Italy 1922-1945. Berkeley: University of California Press, 1992.
Ertola, Emanuele. In terra d'Africa. Gli italiani che colonizzarono l'impero. Bari-Rome: Laterza, 2017.
Fraddosio, Maria. "Le donne e il fascismo. Ricerche e problemi di interpretazioni". Storia contemporanea 1 (1986): 95-135.
Ghezzi, Carla. "Famiglia, patria, impero: essere donna in colonia". I sentieri della ricerca. Rivista di storia contemporanea 3 (2006): 91-129.
Graziosi, Mariolina. La donna e la storia. Identità di genere e identità collettiva nell'Italia liberale e fascista. Naples: Liguori, 2000.
Gros, Pierantonio. "Il diario di Maria Teresa Rossetti. Una giovane intellettuale tra fascismo e antifascismo". In Sulla crisi del regime fascista, 1938-1943. La società italiana dal "consenso" alla Resistenza, edited by Angelo Ventura, 421-462. Venice: Marsilio, 1996.
Guglielman, Eleonora. "Dalla per "scuola per signorine" alla "scuola delle padrone": il Liceo femminile della riforma Gentile e i suoi precedenti storici". In Da un secolo all'altro, edited by Marco Guspini, 155-195. Rome: Anicia, 2004.
Innocenti, Marco. Le Signore del fascismo. Donne in un mondo di uomini. Milano: Mursia, 2001.
Ipsen, Carl. Dictating Demography: the Problem of Population in Fascist Italy. Cambridge: Cambridge University Press, 1996.
Labanca, Nicola. Oltremare: storia dell'espansione coloniale italiana. Bologna: Il Mulino, 2002.
Lombardi-Diop, Cristina. Pioneering Female Modernity: Fascist Women in Colonial Africa. In Italian Colonialism, edited by R. Ben-Ghiat, M. Fuller, 145-154. New York-Houndsmill: Palgrave MacMillan, 2005.
Macciocchi, Maria Antonietta. La donna "nera". "Consenso" femminile e fascismo. Milan: Feltrinelli, 1976.
Meldini, Piero. Sposa e madre esemplare. Ideologia e politica della donna e della famiglia durante il fascismo. Florence: Guaraldi, 1975.
Motti, Lucia, Marilena Rossi Caponeri. Accademiste a Orvieto. Donne ed educazione fisica nell'Italia fascista 1932-1943. Perugia: Quattroemme, 1996.
Noether, Emiliana. "Italian Women and Fascism: A Re-evaluation". Italian Quarterly, XXIII, 90 (1982) 69-80.
Pickering-Iazzi, Robin. "Structures of Feminine Fantasy and Italian Empire Building, 1930-1940". Italica, 77, no. 3 (2000) 400-417.
Pisanty, Valentina (ed.). La Difesa della Razza. Antologia 1938-1943. Milan: Bompiani, 2006.
Podestà, Gian Luca. "L'émigration italienne en Afrique Orientale". Annales de Démographie Historiques. 1, CXIII (2007) 59-84.
Ribuoli, Patrizia. Condizione e ruoli della donna nell'ordinamento fascista. Milan: Università Cattolica del Sacro Cuore, 1980.
Ruggeri, Simona Viviana. Donne e giornali nel fascismo: dizionario storico-biografico. San Gavino Morreale: Edizioni Fiore, 2004.
Sbacchi, Alberto. Il colonialismo italiano in Etiopia: 1936-1940. Milan: Mursia, 1980.
Spadaro, Barbara. "Intrepide massaie. Genere, imperialismo e totalitarismo nella preparazione coloniale femminile durante il fascismo (1937-1943)". Contemporanea. XIII, no. 1 (2010) 27-52.
Terhoeven, Petra, Liebespfand fürs Vaterland. Krieg, Geschlecht und faschistische Nation in der Gold- und Eheringsammlung 1935-1936. Tubingen: Max Niemeyer, 2003.
Thalmann, Rita (ed.). Femmes et fascismes. Paris: Tierce, 1986.
Vicini, Sergio. Fasciste. La vita delle donne nel Ventennio mussoliniano. Bresso: Hobby & Work, 2009.
Willson, Perry. "Empire, Gender and the 'Home Front' in Fascist Italy". Women's History Review 16, 4 (2007): 487-500.
Willson, Perry. Women in Twentieth-Century Italy. New York: Palgrave Macmillan, 2010.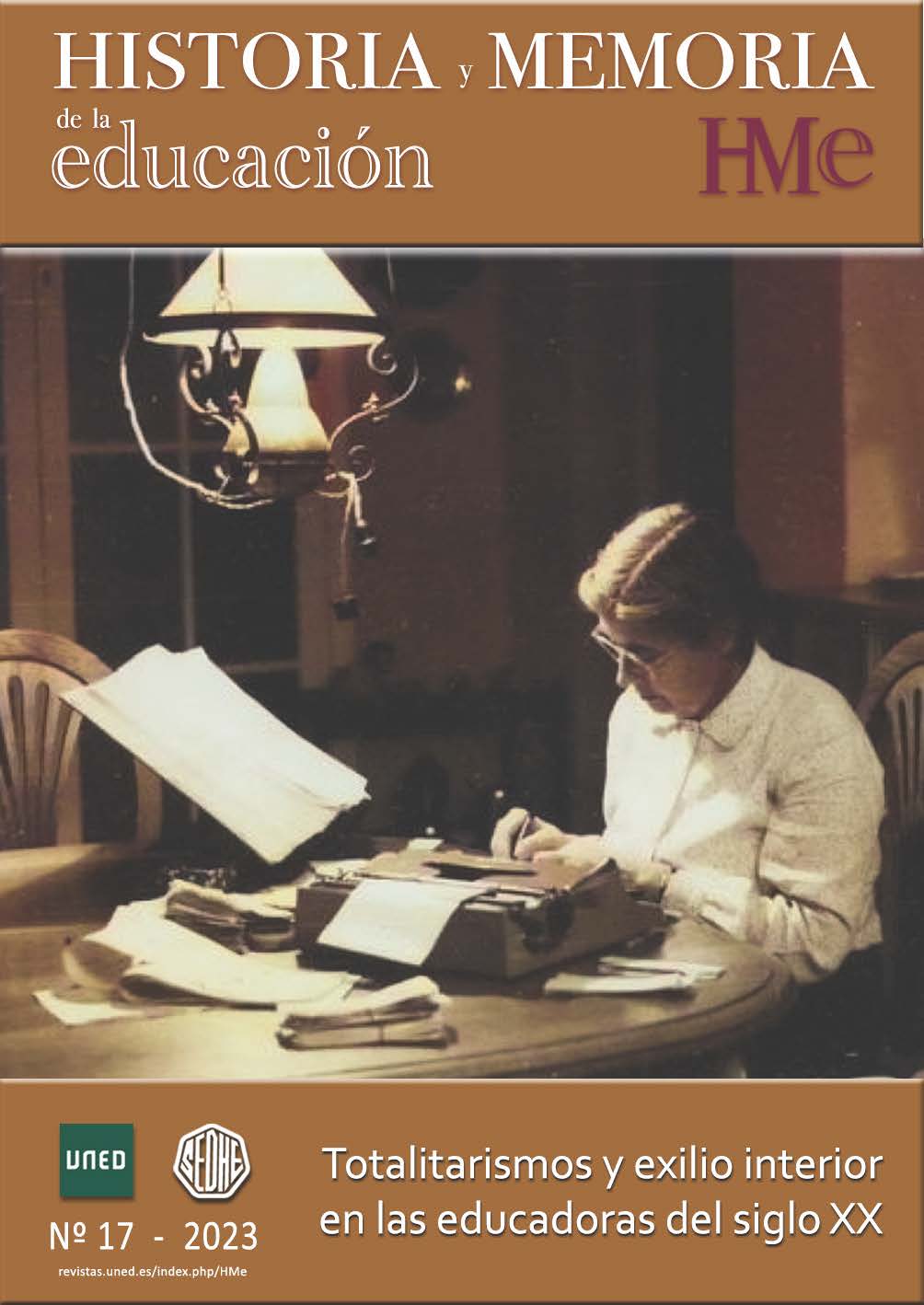 Downloads
How to Cite
Cagnolati, A. (2022). Dreaming of distant lands. How Fascism built colonial women (1937-1941). Historia Y Memoria De La Educación, (17), 205–233. https://doi.org/10.5944/hme.17.2023.33727
License
This work is licensed under a Creative Commons Attribution-NonCommercial 4.0 International License.