Propaganda, entertainment and education on children´s programmes in the radio broadcast of the Canary Islands during the Franco's regime, 1939-1975
Keywords:
Francoism, Propaganda, Radio broadcasting teachings, Outlying area, Spain, Canary Islands
Abstract
Children's programmes in the Canary Islands' radio broadcasting were not isolated from the propaganda used by the media towards children and adolescents in cultural, educational and even ludic spheres during Franco's regime. However, with respect to the authorship of the programmes, the government's proselytizing zeal was limited to the tape-recorded broadcasts brought from the Peninsula and those produced by the regime's local activists; as for transmissions produced by local broadcasters, they increasingly
revolved around apolitical contents, and in the case of the educational programs, contents were focused on the use of methodologies we can consider antagonistic to the propaganda promulgated by the dictatorship's ideologists. Contextual reasons such as the distance from Madrid, the liberalism inherent in the insular idiosyncrasy and the incompatibility of the autocratic thesis of Franco's regime with the traditional openness to foreign trade in the islands help to explain the appearance of these discordances in such an outlying region as the Archipelago. These same reasons allow us to understand the paradox of the most innovative achievements in the educational field being carried out by broadcasts with an audience that was considerably smaller and, therefore, less prone to be under the scrutiny of the censors at the time.
Downloads
Download data is not yet available.
References
Aguado Monjas, Guillermo. «La Televisión Pública en Canarias» (Tesis doctoral: Universidad Complutense de Madrid, 1992).
Aguirre Rojas, Carlos Antonio. Microhistoria italiana: modo de empleo. Barcelona: Montesinos, 2014.
Apraiz de Elorza, Javier, coord. La educación del alumnado con altas capacidades, coord. Vitoria-Gasteiz: Departamento de Educación, Universidades e Investigación del Gobierno Vasco, 1995.
Balsebre, Armand. Historia de la Radio en España (1939-1985), T.2. Madrid: Cátedra, 2001.
Carreras Navarro, Joaquín. Vida cotidiana en Tegueste a través de sus gentes durante la segunda mitad del siglo XX: una aproximación etnográfica. Santa Cruz de Tenerife: Ayuntamiento de Tegueste, 2014.
Corrales, Cristóbal, and Corbella, Dolores. Diccionario sobre las coincidencias léxicas entre el español de Canarias y el español de América. Santa Cruz de Tenerife: Cabildo Insular de Tenerife, 1994.
Espinosa Mirabet, Silvia, and Borrero, Lidia. «Los programas infantiles de radio en Cataluña: una aproximación cronológica a la tipología de programas de radio para niños». Quaderns del CAC, 18 (41), (2015): 58-59.
Gómez García, Salvador. «Adoctrinando el futuro: las emisiones infantiles y juveniles de Radio Nacional de España durante el primer franquismo». ZER. Komunikazio ikasketen aldizkaria 30 (2011): 137-141
Gorostiaga Alonso-Villalobos, Eduardo. La radiotelevisión en España (Aspectos jurídicos y derecho positivo). Pamplona: Universidad de Navarra, 1976.
Guerra Palmero, Ricardo Alberto. Sobrevivir en Canarias (1939-1959). Racionamiento, miseria y estraperlo. Santa Cruz de Tenerife y Las Palmas de Gran Canaria: Ediciones Idea, 2006.
Huguet Santos, Montserrat. «Memoria del primer franquismo. Mujeres, niños y cuentos de infancia». In Tessere trame, narrare storie. Le donne e la scrittura per l'infanzia, edited by Antonella Cagnolati, 123-150. Roma: Aracne, 2013.
León Álvarez, Aarón. «La institucionalización del franquismo en las Canarias occidentales (1936-1961)» (Tesis doctoral, Universidad de La Laguna, 2015).
Levi, Giovanni. «Sobre microhistoria». In Formas de hacer Historia, edited by Peter Burke, 119-142. Madrid: Alianza Universidad, 1999.
Macías Hernández, Antonio Manuel, and Rodríguez Martín, José Ángel. «La economía contemporánea, 1820-1990». In Historia de Canarias, directed by Antonio de Bèthencourt Massieu, 369-398. Las Palmas de Gran Canaria: Cabildo de Gran Canaria, 1995.
Melgarejo Moreno, Irene, and Rodríguez Rosell, María del Mar. «La radio como recurso didáctico en el aula de infantil y primaria: los Podcast y su naturaleza educativa». Tendencias Pedagógicas, 21 (2013).
Paz Rebollo, María Antonia, and Martínez Valerio, Lizette. «La primera conformación de una audiencia infantil y juvenil para la televisión en España (1958-1968)». Estudios sobre el Mensaje Periodístico, 20 (2014): 43-58.
Yanes Mesa, Julio Antonio. Historia del Periodismo Tinerfeño, 1758-1936. Una visión periférica de la Historia del Periodismo Español. Santa Cruz de Tenerife: Centro de la Cultura Popular Canaria, 2003.
Yanes Mesa, Julio Antonio. «La prensa escolar en España (1868-2003): perspectiva histórica y panorama actual». In Prensa y Periodismo Especializado, II, coordinated by Carlos Sanz Establés, Joaquín Sotelo González and Ángel Luis Rubio Moraga, 189-200. Guadalajara: Universidad Complutense de Madrid y Asociación de la Prensa de Guadalajara, 2004.
Yanes Mesa, Julio Antonio, and Rodríguez Borges, Rodrigo Fidel. La radiodifusión sindical del franquismo. «La Voz del Valle» en las Islas Canarias, 1960-1965. Santa Cruz de Tenerife: Ayuntamiento de La Orotava, Cabildo de Tenerife y Gobierno de Canarias, 2007.
Yanes Mesa, Julio Antonio. Los orígenes de la COPE en Canarias. «Radio Popular de Güímar», 1960-1969. Santa Cruz de Tenerife: Baile del Sol, 2007.
Yanes Mesa, Julio Antonio. Las ondas juveniles del franquismo. «Radio Juventud de Canarias», 1955-1978. Santa Cruz de Tenerife: Baile del Sol, 2009.
Yanes Mesa, Julio Antonio. Los orígenes de la radiodifusión en Canarias. «Radio Club Tenerife», 1934-1939. Santa Cruz de Tenerife: Baile del Sol, 2010.
Yanes Mesa, Julio Antonio. «La propaganda radiofònica de l´Espanya nacional a Canàries Durant la Guerra Civil, 1936-1939». Anàlisi. Quaderns de comunicació i cultura 41 (2011): 101-116.
Yanes Mesa, Julio Antonio. and Hernández Cabrera, Edmundo. «La Voz de la Isla de La Palma», 1960-1978. La radiodifusión del sistema comunicativo más singular de Canarias en el franquismo. La Palma: Ediciones Alternativas, 2011
Yanes Mesa, Julio Antonio. La radiodifusión privada en Canarias durante el franquismo. «Radio Club Tenerife», 1939-1975. Santa Cruz de Tenerife: Ediciones Densura, 2012.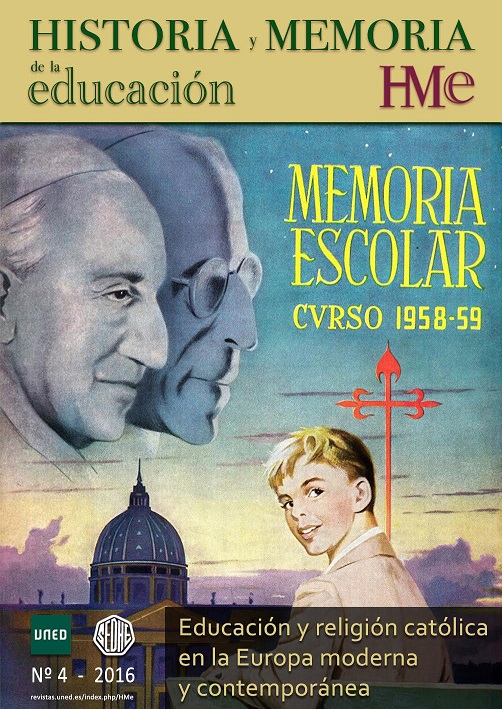 Downloads
How to Cite
Yanes Mesa, J. A. (2016). Propaganda, entertainment and education on children´s programmes in the radio broadcast of the Canary Islands during the Franco's regime, 1939-1975. Historia Y Memoria De La Educación, (4), 371–392. https://doi.org/10.5944/hme.4.2016.16226
Section
Historical Researches