Life stories in music education. Ana Lucia Frega: formation and influences
Keywords:
Music Education, History of Education, Music, Music Research
Abstract
This article fits within the  framework of music education history research, and aims at rescuing certain memories of Dr. Ana Lucía Frega (Buenos Aires, 1935), a music pedagogue whose professional career spanned several decades. The article uses a qualitative approach , with elements of ethnographic research, while the data and information collected through interviews are contrasted with other sources. The paper analyses the starting point of her international professional development and attempts to determine how her contact with renowned masters (Maurice Martenot, Oliver Messiaen, Arnold Bentley) influenced her personal perspective in the teaching profession and as a teacher of music teachers and researchers. Her presence in the International Society of Music Education (ISME), of which she was President, strengthened her influence in governmental areas. The history of education is built, among other elements, with the contributions of recognized teachers. In this sense, this work seeks to understand the point of view of one of these docents, embodied in her memories and personal reflections about her own musical formation and her early professional stages. Social interaction proved to be a key factor in the consolidation of hers and others' achievements.
Downloads
Download data is not yet available.
References
Bolaño Amigo, María Eugenia. «Estética ilustrada, discursos de clase y educación musical escolar en los comienzos del siglo XX». Historia y Memoria de la Educación 5 (2017): 385-400.
Cisterna Cabrer, Francisco. «Categorización y triangulación como procesos de validación del conocimiento en investigación cualitativa». Theoria 14, no 1 (2005): 61-71.
Frega, Ana Lucía y Margery Vaughan. Creatividad musical. Fundamentos y estrategias para su desarrollo. Buenos Aires: Casa América, 1980.
Frega, Ana Lucía. «A Comparison of the Teaching Strategies of Maurice Martenot and Edgar Willems: Conclusions and Implications for Future Research». Bulletin of the Council for Research in Music Education 127 (ISME Research Seminar. Winter, 1995/1996): 63-71.
Frega, Ana Lucía. Metodología comparada de la Educación Musical. Buenos Aires: Centro de Investigación Educativa Musical del Collegium Musicum, 1997.
Frega, Ana Lucía. «La investigación especializada en enseñanzas musicales». Musiker 10 (1998): 101-117.
Frega, Ana Lucía. Didáctica de la Música: Las enseñanzas musicales en perspectiva. Buenos Aires: Bonum, 2007.
Frega, Ana Lucía. «Creatividad en enseñanzas artísticas». Journal for Educators, Teachers and Trainers 5, no. 1 (2013): 6-8.
Gallo, Ezequiel. La Pampa gringa: La colonización agrícola en Santa Fe (1870-1895). Buenos Aires: Instituto Torcuato Di Tella, 1984.
García Cánepa, J. «La enseñanza musical en Argentina: el Conservatorio Nacional de Música Carlos López Buchardo». Conservatorianos 6 (2000): 53-57.
Martínez Miguélez, Miguel. El método etnográfico de investigación. 2005. http://investigacionypostgrado.uneg.edu.ve/intranetcgip/documentos/225000/225000archivo00002.pdf. (Consultado el 23-07- 2017)
Ruíz Olabuénaga, José Ignacio. «Historias de vida». En Metodología de la Investigación Cualitativa, editado por José I. Ruíz Olabuénaga, 207-306. Bilbao: Universidad de Deusto, 2012.
Saítta, Sylvia. Crítica en la constitución del periodismo moderno. Buenos Aires: Universidad de Buenos Aires, 1996.
Sarfson Gleizer, Susana. Educación Musical en Aragón (1900-1950). Legislación, publicaciones y escuela. Zaragoza: Prensas Universitarias. 2010.
Vaughan, Margery. «Music for Gifted children: A bridge to consciousness». Music Educators Journal 58 (1972): 70-74.
Veras, Eliane. «Historia de vida: ¿un método para las ciencias sociales?». Cinta Moebio 39 (2010): 142-152.
Zdzinski, Stephen. «Joseph A. Labuta and His Life in Music Education: An Oral History». Journal of Historical Research in Music Education XXIX, no. 2 (2008): 108-128.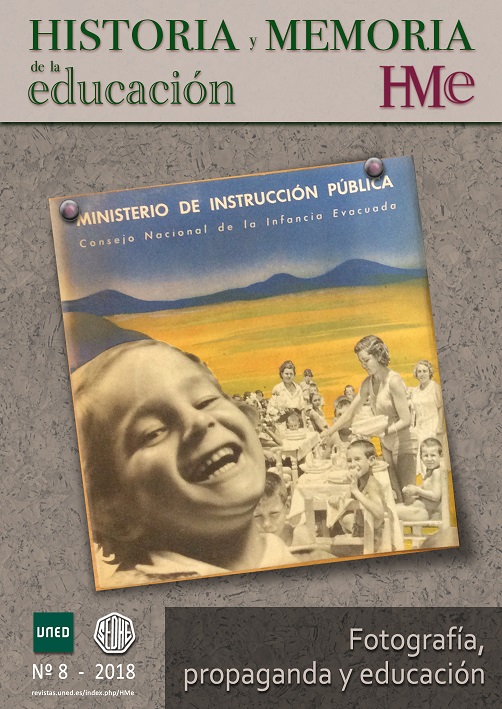 Downloads
How to Cite
Sarfson Gleizer, S. (2018). Life stories in music education. Ana Lucia Frega: formation and influences. Historia Y Memoria De La Educación, (8), 683–698. https://doi.org/10.5944/hme.8.2018.19796
Section
Historical Researches
License
Authors who publish in Historia y Memoria de la Educación agree to the following terms:
Authors retain copyright and grant the journal right of first publication with the work simultaneously licensed under a Creative Commons Attribution License that allows others to share the work with an acknowledgement of the work's authorship and initial publication in this journal.
Authors are able to enter into separate, additional contractual arrangements for the non-exclusive distribution of the journal's published version of the work (e.g., post it to an institutional repository or publish it in a book), with an acknowledgement of its initial publication in this journal.
Authors are permitted and encouraged to post their work online (e.g., in institutional repositories or on their website) prior to and during the submission process, as it can lead to productive exchanges, as well as earlier and greater citation of published work (See The Effect of Open Access).