The rural school in Italy between the 19th and the 20th century
Keywords:
Illiteracy, Elementary school, 19th-20th centuries, Countryside, Italy
Abstract
The aim of this work is to trace the historical events surrounding primary education for Italian children between the Unification of Italy and the fall of Fascism (1861-1943). We focus particularly on the continuity and the changes in school policy promoted by the Italian government in relation to
rural schools, offering an analysis, from an institutional point of view, of the evolution of the legislation and of the history of the state and private institutions in charge of organizing schools for young farmers between the half of the 19th and of the 20th century
Downloads
Download data is not yet available.
References
Bertoni Jovine, Dina. Storia della scuola popolare in Italia. Torino: Einaudi, 1953.
Bonetta, Gaetano. «Insegnare la cultura materiale. Istruzione agraria e lavoro manuale nell'Italia del xix secolo». In Storia delle Istituzioni educative in Ita¬lia tra Otto e Novecento, edited by Lucia Romaniello, 153-164. Milano: Amici del Museo del Risorgimento, 1996.
Catarsi, Enzo. Storia dei programmi della scuola elementare, 1860-1985. Firenze: La Nuova Italia, 1990.
Charnitzky, Jürgen. Fascismo e scuola. La politica scolastica del regime fascista, 1922-1943. Firenze: La Nuova Italia, 1996.
Chiosso, Giorgio. L'educazione nazionale da Giolitti al primo dopoguerra. Brescia: La Scuola, 1983.
Inzerillo, Giuseppe. Storia della politica scolastica in Italia. Da Casati a Gentile. Roma: Riuniti, 1974.
Levra, Umberto. Il colpo di stato della borghesia. La crisi politica di fine secolo e l'età giolittiana. Torino: UTET, 1982.
Marcucci, Alessandro. La scuola di Giovanni Cena: Per la scuola popolare. Tori¬no: G.B. Faravia, 1948.
Montecchi, Luca. I contadini a scuola. La scuola rurale in Italia dall'Unità alla caduta del fascismo. Macerata: Eum, 2015.
Zanotti Bianco, Umberto. L'Associazione nazionale per gli interessi del Mezzogior¬no d'Italia nei suoi primi cinquant'anni di vita. Roma: Collezione Meridiona¬le, 1960.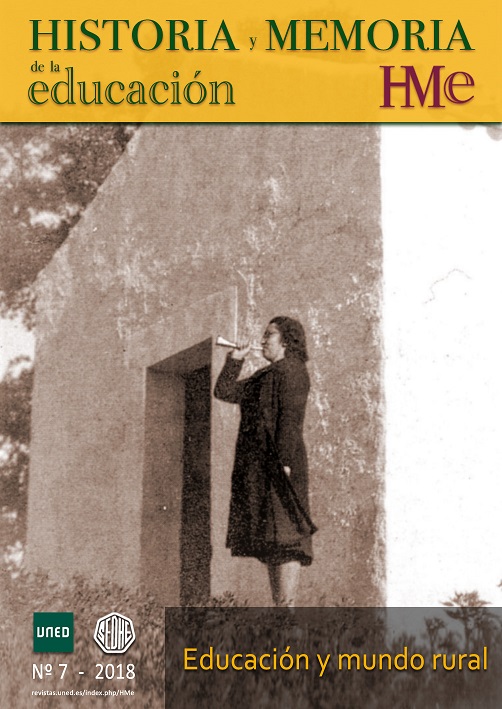 Downloads
How to Cite
Montecchi, L. (2018). The rural school in Italy between the 19th and the 20th century. Historia Y Memoria De La Educación, (7), 81–106. https://doi.org/10.5944/hme.7.2018.18747