Comfort Dolls: Notes for the History of Fabric Toys in Spain
Keywords:
fabric toys, 20th century, visual cuture, childhood
Abstract
The Aesthetic and psychoeducational context of the modern era led to the trend of toys made of fabric, which reached Spain during World War I. From then until the end of the century, these transitional objects became an efficient visual support for transmitting social imaginaries. With the objective of diversifying the fields of history of education, from school culture to the culture of childhood in all of its plurality, this article constitutes the first approximation to the history of fabric toys in Spain.
Downloads
Download data is not yet available.
References
Bassignana, Pier Luigi y Manzo, Luciana. Bambole e non solo... Lenci una storia torinese. Turín: Archivio storico della Citá di Torino, 2010.
Bastardes, Teresa. «El diseño de juguetes "distintos" en Cataluña durante las décadas de 1960 y 1970», en Actas del III Simposio FHD. To be or not to be. El papel del diseño en la construcción de identidades. Barcelona, 1-13 de marzo de 2020.
Bordes, Juan. Historia de los juguetes de construcción. Madrid: Cátedra, 2012.
Brown, Michele. The Teddy Bear Hall of Fame. A Century of Historic Bears. Londres: Headline Book Publishing, 1996.
Brunel, Camille. Le cinema des animaux. París: UV éditions, 2018.
Bull, Peter. Bear with Me. Londres: Hutchinson, 1969.
Bull, Peter. The Teddy Bear Book. Nueva York: Random House, 1970.
Camarero, María Luisa. Muñecas españolas de la A a la Z. Barcelona: la autora, 2020.
Capellà Simó, Pere. La ciutat de les joguines. Barcelona, 1840-1918. Maçanet de la Selva: Gregal, 2013.
Capellà Simó, Pere. «La història de la joguina: estat de la qüestió d'una reconstrucció disciplinària», Educació i Història, 24 (2014): 219-242.
Capellà Simó, Pere. «Naturaleses en miniatura: de l'arca de Noè a l'ós de pelfa», en Arts i naturalesa. Biologia i simbolisme a la Barcelona del 1900, eds. Pere Capellà Simó y Antoni Galmés Martí. Barcelona: Universitat de Barcelona, 2014, 179-195.
Capellà Simó, Pere. «Juguetes y pensamiento estético en la Europa del siglo XIX», Goya: Revista de arte, 350 (2015): 56-71.
Capellà Simó, Pere. «Agustí Antiga i Monner: pintor, actor i joguinaire», La dimensió escènica de la ciutat moderna, eds. Enric Ciurans y Núria Peist. Barcelona: Universitat de Barcelona, 2018, 83-98.
Carrió Rovira, M. Teresa y Cabrera González, M. Roser. Els joguets de Dénia. Un segle d'activitat industrial. València: Universitat de València, 2009.
Cieslik, Jürgen & Marianne. Knop im Ohr: die Geschichte des Tedybären und seiner Freunde. Jülich: Cieslik, 1989.
Cockrill, Pauline. The Teddy Bear Encyclopedia. Londres, Dorling Kindersley, 1993.
Corredor-Matheos, Josep. La joguina a Catalunya. Barcelona: edicions 62
Corredor-Matheos, Josep. El juguete en España. Madrid: Espasa Calpe, 1989.
Dahl, Thomas. Käthe Kruse Puppen. Katalog und Preisführer. Duisburg: Puppen und Spielzeug, 2005.
De la Torre Gómez, Hipólito. «España en crisis (1917-1923): los dictámenes de las repúblicas vecinas», Aportes, 85 (2014), 51-81.
Díaz, José María. «Adiós definitivo al peluche que conquistó España», Leonoticias, 03/11/2019 (https://www.leonoticias.com/castillayleon/adios-definitivo-peluche-perro-conquistar-espana-20191103161229-nt.html)
Edward, Linda. Cloth Dolls: from Ancient to Modern: A Collector's Guide. Atglen: Schiffer Design Books, 1997.
Ford, Peter. A Collector's Guide to Teddy Bears. Londres: New Burlington Books, 1990.
Giorgo, Michela y Somalvico, Henrietta. Le bambole Lenci: le bambole di stoffa italiane. Santarcangelo di Romagna: Idealibri, 2003.
Govidama, Yolande y Louis, Jacqueline. «Endormissement et fonction de l'objet transitionnel chez le jeune enfant entre 12 et 24 moins : un étude transculturelle», Devenir, 17 (2005/4): 323-345.
Guijarro Mora, Víctor. «Juegos científicos y de construcción en la educación y en la industria: valores e interacciones en España (1920-1936)», Historia y Memoria de la Educación, 14 (2021): 511-546.
Hermann, Ulla y Hermann, Martin The old Max Hermann Sonneberg and Hermann Coburg Teddy Bears: Meilensteine of a Company spanning over 88 years History. A picture-book about Teddy Bears and more... Coburgo: Hermann Spielwaren GmbH, 2008.
Hermida, Juan. PBP. Del Meccano y Monopoli a Star Wars, 1891-1984 (Madrid: Coleccionismo de Juguetes, 2020.
Hernández Díaz, José María. «Museos pedagógicos y exposiciones educativas en España en los inicios del siglo XXI», en Vicente Peña Saavedra, ed., I Foro Ibérico de Museísmo Pedagóxico. O museísmo pedagóxico en España e Portugal: itinerarios, experiencias e perspectivas. Santiago de Compostela: Museo Pedagóxico de Galicia, 2003, 117-180.
King, Constance E. The Century of the Teddy Bear. Woodbridge: Antique Collectors Club, 1997.
Lago, Silvio «Derivaciones de la caricatura: los muñecos de trapo», La Esfera 288 (08/07/1919), s. n.
Lear, Linda. Beatrix Potter. A Life in Nature. Manhattan: St Martin's Press, 2008.
López de Lerma Baños, Carmen. Muñecas Florido, 1917-1975. València: Noosferic Books, 2015.
López de Lerma Baños, Carmen. Talleres de Arte Fusté. València: Noosferic Books, 2020.
Lozano Crespo, Margarita. «Las muñecas recortables en España». PhD diss., Universidad de Castilla-La Mancha, 2011.
Manson, Michel. «Écrire l'histoire du jouet: un défi scientifique», en Jeux et jouets dans les musées d'Île-de-France, eds. Marie-Pierre Deguillaume i Pascale Gorguet Ballesteros. París: RMN, 2004, 72-86.
Nixon, Gloria. Rag Darlings: Dolls From the Feedsak Era. Kansas: Deb Rowden, 2015
Odin, Samy. Boules de poils: le meilleure de la peluche française, 1876-2006. París: Musée de la Poupée, 2006.
Payá Rico, Andrés. «Museologia i patrimoni historicoeducatiu. Importancia i funció dels materials lúdics», Temps d'educació, 40 (2011): 163-178.
Payá Rico, Andrés. «Juego, juguetes y educación en la pedagogía española contemporánea», Espacios en blanco. Serie indagaciones, 24 (2014): 107-126.
Payá Rico, Andrés. «Una breve historia de la industria juguetera en España», en 50 años dan mucho juego (Ibi: AEFJ, 2017), 16-36.
Peers, Juliette. The Fashion Doll: from Bébé Jumeau to Barbie. Oxford: Berg, 2004.
Pérez, Carlos, dir. Infancia y arte moderno. València: Institut Valencià d'Art Modern, 1998.
Petit, Eric. Les ours et peluches FADAP (Brignon: les éditions de la Fenestrelle, 2016).
Pfeiffer, Gunther. Steiff Sortiment 1892-1943. Taunusstein: Gunther Pfeiffer, 1995.
Pfeiffer, Gunther. Steiff Sortiment 1947-2003. Taunusstein: Gunther Pfeiffer, 2003.
Pfeiffer, Gunther. 125 Years Steiff Company History. Königswinter: Heel, 2005.
Rierola de Mas, Montserrat. «Goula. Art, joc i memòria. D'una aventura industrial a una experiència artística». PhD diss., Universitat de Barcelona, 2017.
Ruiz Berrio, Julio, ed.. El patrimonio histórico-educativo. Su conservación y estudio. Madrid: Museo de Historia de la Educación Manuel B. Cossío, 2010.
Sanchidrián Blanco, Carmen, «Los museos del juguete como fuente para la historia material de la infancia», en Rafael Calvo de León et al. (coords.), XII Coloquio Nacional de Historia de la Educación. Burgos: Universidad de Burgos, 2003, 877-888.
Sontheimer, Dory; Tatjer, Mercè; Sánchez, Susana; Capellà Simó, Pere; Camarero, Maria Lluïsa. La fàbrica Lehmann. Un pulmó a l'Esquerra de l'Eixample. Barcelona: Comanegra, 2017.
Trotter, Gillian. Norah Wellings: Cloth Dolls and Soft Toys. Garantsville: Hobby House, 2003.
Valero Escandell, José Ramón. Origen y desarrollo de la industria del juguete en Ibi, 1900-1942. Alicante: Universitat d'Alacant, 1997.
Vaz-Romero Trueba, Oriol. «El artista y el juguete. Viajes al imaginario occidental desde la Antigüedad al Romanticismo». PhD diss., Universitat de Barcelona, 2011.
Winnicott, Donad Woods. Playing and Reality. Londres: Penguin, 1971.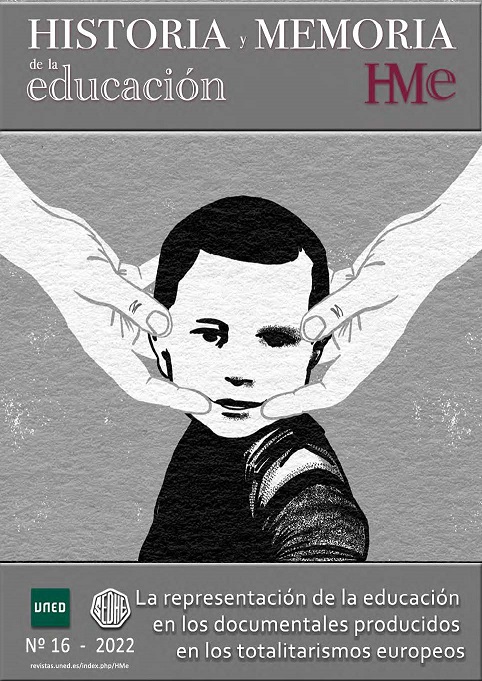 Downloads
How to Cite
Capellà Simó, P. (2022). Comfort Dolls: Notes for the History of Fabric Toys in Spain. Historia Y Memoria De La Educación, (16), 533–561. https://doi.org/10.5944/hme.16.2022.32605
Section
Historical Researches
License
This work is licensed under a Creative Commons Attribution-NonCommercial 4.0 International License.