Photos found in the archive. An approximation to the work with images based on an amateur album about children's games (Argentina, end of the 19th century
Keywords:
Visual history of education, Amateur photography, Children games, Visual archive
Abstract
This article presents a study of a series of photos on children's games that is preserved at the National General Archive in Argentina as part of the Fond of the Argentinean Photographic Society of Amateurs, active between 1889 and 1925. The album contains 77 pictures of unusual quality that present heterogeneous groups of children playing diverse games in different settings. The photos include little information about how they were produced, but a detailed research and analysis can reveal different aspects of the production of images of childhood at that time. The text presents, in its first part, some general considerations about photography as historical documents and its truth-claims; in the second part, it discusses the social biography of these images, looking at the available information in its peri-textual inscriptions to trace its conditions of production, authorship, and circulation, and introduces the analysis of some of its contents, particularly in relation to how these images, in their aesthetic choices, collaborate in the production of a new iconography of childhood. The final section raises some reflections about the ethical demands of working with photographs, calling for an in-depth study that makes room for their singularization and contributes to redefining the politics of the archive and of memory in the history of education.
Downloads
Download data is not yet available.
References
Agamben, Giorgio. Profanaciones. Buenos Aires: Adriana Hidalgo, 2005.
Aguayo, Fernando y Alejandra Padilla Pola. «Fotografía y ciudad». En «Instantáneas» de la Ciudad de México. Un álbum de 1883-1884, editado por Alicia Salmerón y Fernando Aguayo, 38-55. Ciudad de México: Instituto Mora/Universidad Autónoma Metropolitana-Cuajimalpa, 2013.
Alcubierre Moya, Beatriz. Ciudadanos del futuro. Una historia de las publicaciones para niños en el siglo XIX mexicano. Ciudad de México: El Colegio de México/Universidad Autónoma del Estado de Morelos, 2008.
Alexander, Abel & Luis Priamo. «Notas sobre la fotografía porteña del siglo XIX». En Buenos Aires, Memoria Antigua. Fotografías 1850-1900, editado por Luis Priamo, 9-27. Buenos Aires: Fundación CEPPA Ediciones, 2018.
Bajac, Quentin. La fotografía. La época moderna, 1880-1960. Barcelona: Blume, 2015.
Barthes, Roland. La cámara lúcida. Nota sobre la fotografía. Barcelona: Paidós, 1989.
Benjamin, Walter. «Franz Kafka. On the Tenth Anniversary of his Death». En Illuminations. Essays and Reflections,111-140. New York: Schocken Books, 1968.
Berger, John. «Appearances». En Another way of telling, editado por John Berger & Jean Mohr, 81-129. New York: Vintage Books, 1995.
Braster, Sjaak y María del Mar Pozo Andrés. «La Escuela Nueva en Imágenes: Fotografía y Propaganda en The New Era (1920-1939)». Historia y Memoria de la Educación 8 (2018): 97-145.
Brizuela, Natalia. Fotografia e Império. Paisagens para um Brasil moderno. Sao Paulo: Companhia das Letras, 2012.
Burke, Catherine e Ian Grosvenor. «The Progressive Image in the History of Education: Stories of Two Schools». Visual Studies 22, no. 2 (2007): 159-163.
Caimari, Lila. La vida en el archivo. Goces, tedios y desvíos en el oficio de la historia. Buenos Aires: Siglo XXI Editores, 2017.
Ciafardo, Edgardo. Los niños en la Ciudad de Buenos Aires (1890-1910). Buenos Aires: CEAL, 1992.
Daston, Lorraine & Peter Galison. Objectivity. New York: Zone Books, 2007.
De Certeau, Michel. La escritura de la historia. Ciudad de México: Universidad Iberoamericana, 2006.
Di Pietro, Susana y Ariel Tófalo (coord.). La situación educativa a través de los Censos Nacionales de Población. Buenos Aires: Dirección General de Evaluación de la Calidad Educativa, 2013.
Didi-Huberman, Georges. «L'image brûle». En Penser par les images, Laurent Zimmermann, Georges Didi Huberman, et al., 11-52. Nantes: Editions Cécile Defaut, 2006.
Doane, Mary-Ann. The Emergence of Cinematic Time. Modernity, Contigency, the Archive. Cambridge, MA: Harvard University Press, 2002.
Dussel, Inés & Karin Priem. «The visual in histories of education: A Reappraisal». Paedagogica Historica 53, no. 6 (2017): 641-649.
Edwards, Elizabeth. The Camera as Historian. Amateur Photography and Historical Imagination, 1885-1918. Durham, NC: Duke University Press, 2012.
Edwards, Elizabeth. «Out and About: Photography, Topography, and Historical Imagination». In Double Exposure: Memory and Photography, edited by Olga Shevchencko, 185-209. London: Transaction Press, 2014.
Edwards, Elizabeth. «Photography: A Strong History?». En Photo Archives and the Idea of the Nation, editado por Constanza Caraffa & Tiziana Serena, 321-29. Berlin: Walter De Gruyter, 2015.
Farge, Arlette. «Le temps logé en la photographie. À partir de Barthes et Kracauer». Intermédialités 7 (2006): 205–213.
Freund, Gisèle. La fotografía como documento social. México DF: Gustavo Gilli Editores, 1981.
Garat, Anne-Marie. Found Photography. London: Thames and Hudson, 2013.
Génette, Gérard. Umbrales. México DF: Siglo XXI, 2001.
Gervais, Thierry. «Witness to War: The Uses of Photography in the Illustrated Press, 1855-1904». Journal of Visual Culture 9, no. 3 (2010): 370-384.
Gómez, Juan. La Fotografía en la Argentina. Su Historia y Evolución en el Siglo XIX, 1840-1899. Temperley: Abadía Ediciones, 1986.
Gorelik, Adrián. «Buenos Aires, 1850-1900: una ciudad en tránsito». En Buenos Aires, Memoria Antigua. Fotografías 1850-1900, editado por Luis Priamo, 29-67. Buenos Aires: Fundación CEPPA Ediciones, 2018.
Gunning, Tom. «What's the Point of an Índex? Or, Faking Photographs». En Still Moving. Between Cinema and Photography edited by Karen Beckman & Jean Ma, 23-40. Durham, NC & London: Duke University Press, 2008.
Hernández, Santos S.J.. Juegos de los niños en las escuelas y colegios. Madrid: Editorial Saturnino Calleja, 1876.
Hunt, Lynn & Vanessa Schwartz. «Capturing the Moment: Images and Eyewitnessing in History». Journal of Visual Culture 9, no. 3 (2010): 259-271.
Kline, Stephen. «The Making of Children's Culture». En The Children's Culture Reader, edited by Henry Jenkins, 95-109. New York: New York University Press, 1998.
Lindeperg, Sylvie. La voie des images. Quatre histoires de tournage au printemps-été 1944. Paris: Verdier, 2013.
Londe, Alberto. La fotografía moderna. Práctica y aplicaciones. Madrid: Fuentes y Capdeville, 1889. Edición facsimilar- Sevilla: Extramuros, 2007.
Mirás, Marta. Imágenes del espacio público. Buenos Aires 1900. Buenos Aires: Instituto de Arte Americano e Investigaciones Estéticas, 2001.
Mirzoeff, Nicholas. How to See the World. A Pelican Introduction. London: Penguin Books, 2015.
Nóvoa, António. «Ways of Saying, Ways of Seeing: Public Images of Teachers (19th- 20th Centuries)». Paedagogica Historica 36, no, 1 (2000): 20-52.
Pererneau, Marcos. «Construcción de la referencia». En Antología de Argumentos teatrales en Argentina, 2003-2013, 11-21. Buenos Aires: Libretto, 2015.
Pestarino, Julieta. «La imagen fotográfica bajo la mirada antropológica. El caso de la Sociedad Fotográfica Argentina de Aficionados». XI Jornadas de Sociología. Facultad de Ciencias Sociales, Universidad de Buenos Aires, Buenos Aires, 2015.
Poole, Deborah. Vision, Race and Modernity. A Visual Economy of the Andean Image World. Princeton, NJ: Princeton University Press, 1997.
Priamo, Luis. «La Sociedad Fotográfica Argentina de Aficionados y sus fotografías nacionales», ponencia presentada en I Encontro de História da Fotografía Latino-Americana Gilberto Ferrez, Río de Janeiro, Brazil, 1997.
Quijada, Mónica, Carmen Bernand y Arnd Schneider (eds.). Homogeneidad y Nación con un estudio de caso: Argentina, siglos XIX y XX. Madrid: CSIC, 2000.
Rose, Clare. Children's Clothes. London: B.T. Batsford Limited, 1989.
Schorsch, Anita. Images of Childhood. An Illustrated Social History. New York: Mayflower Books, 1979.
Spencer Sternberger, Paul. Between Amateur and Aesthete: The Legitimation of Photography as Art in America, 1880-1900. Albuquerque, NM: University of New Mexico Press, 2002.
Szendy, Peter. En lo profundo de un oído. Una estética de la escucha. Santiago de Chile: Ediciones Metales Pesados, 2010.
Szir, Sandra M. Infancia y cultura visual. Los periódicos ilustrados para niños (1880-1910). Buenos Aires: Miño y Dávila editores, 2007.
Tell, Verónica. «Gentlemen, gauchos y modernización. Una lectura del proyecto de la Sociedad Fotográfica Argentina de Aficionados». Caiana. Revista de Historia del Arte y Cultura Visual del Centro Argentino de Investigadores de Arte (CAIA) 3 (2013): 1-19. http://caiana.caia.org.ar/template/caiana.php?pag=articles/article_2.php&obj=110&vol=3.
Tell, Verónica. El lado visible. Fotografía y progreso en la Argentina a fines del siglo XIX. San Martín: UNSAM EDITA, 2017.
Wolfenstein, Sarah. «Fun Morality: An Analysis of Recent American Child-Training Literature». En Childhood in contemporary cultures, editado por Margaret Mead & Sarah Wolfenstein, 179-203.Chicago and London: The University of Chicago Press, 1995.
Yacavone, Kathryn. Benjamin, Barthes, and the Singularity of Photography. New York & London: Bloomsbury, 2013.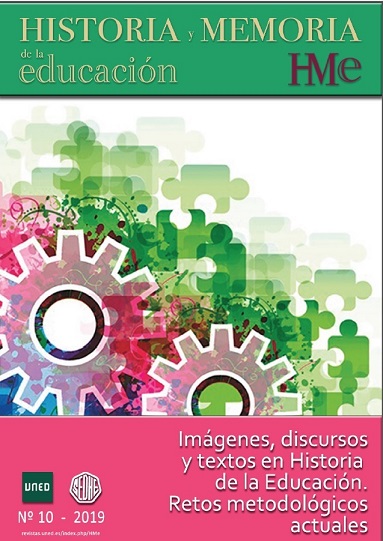 Downloads
How to Cite
Dussel, I. (2019). Photos found in the archive. An approximation to the work with images based on an amateur album about children's games (Argentina, end of the 19th century. Historia Y Memoria De La Educación, (10), 51–129. https://doi.org/10.5944/hme.10.2019.22962
License
Authors who publish in Historia y Memoria de la Educación agree to the following terms:
Authors retain copyright and grant the journal right of first publication with the work simultaneously licensed under a Creative Commons Attribution License that allows others to share the work with an acknowledgement of the work's authorship and initial publication in this journal.
Authors are able to enter into separate, additional contractual arrangements for the non-exclusive distribution of the journal's published version of the work (e.g., post it to an institutional repository or publish it in a book), with an acknowledgement of its initial publication in this journal.
Authors are permitted and encouraged to post their work online (e.g., in institutional repositories or on their website) prior to and during the submission process, as it can lead to productive exchanges, as well as earlier and greater citation of published work (See The Effect of Open Access).