Music Education in Portugal during the First Republic (1910-1926)
Keywords:
Music education, Music, Portugal, First Republic
Abstract
 The republican movement erupted in Portugal in the last decades of the nineteenth century, probably driven by a natural assimilation —although late in comparison with other European countries— of the values that followed the Ancien Régime, but above all by the exhaustion of the bipartisan system of the Portuguese constitutional monarchy. The crown tried to contain the political instability with authoritarian governmental solutions, but the regicide of 1908 in which the king D. Carlos and the crown prince Luís Filipe were murdered ended up being an omen of the fall of the monarchy two years later. On October 5, 1910  the republican revolution triumphed, not surprisingly, and the country experienced a series of important social and political transformations. In many cases the revolution did not represent a sudden break with the past but rather the confirmation of a new phase of transition and transformation of Portuguese society, especially in the cultural and artistic field. The music sector —this article refers exclusively to classical music, commonly known as western vocal and instrumental music, excluding parallel sectors such as electronic music or jazz, for example— was not alien to these transformations.  This text investigates some paradigmatic cases of the new and effervescent climate of the First Republic, revealing a certain instability and incoherence of a period more distinguished by its expectations than by its achievements.
Downloads
Download data is not yet available.
References
Barreiros, Maria José Conde Artiaga. «A disciplina de Canto Coral no período do Estado Novo». Tesis de Máster, Universidade Nova de Lisboa, Faculdade de Ciências Sociais e Humanas, 1999.
Branco, João de Freitas. História da Música Portuguesa, 4. ed. Lisboa: Biblioteca da História, 1959.
Caspurro, Maria Helena Ribeiro da Silva. «O Conservatório de Música do Porto: das origens à integração no Estado». Tesis de Máster, Universidade de Coimbra, Faculdade de Letras, 1992.
Costa, Fernando José Monteiro da. «Canto Coral, escola de higienização». Revista da Faculdade de Letras - História III, no.11 (2010): 237-238.
Fernandes, Domingos, Jorge Ramos do Ó y Mário Boto Ferreira (coord.). Estudo de Avaliação do ensino artístico. Lisboa: Direcção Geral de Formação Vocacional do Ministério da Educação e Faculdade de Psicologia e de Ciências da Educação da Universidade de Lisboa, 2007.
Gomes, Carlos Alberto Faísca Fernandes. «Discursos sobre a especificidade do ensino artístico: a sua representação histórica nos séculos XIX e XX». Tesis de Máster, Universidade de Lisboa, Faculdade de Psicologia e Ciências da Educação, 2002.
Guerra, Rui Moreira de Sá e. Bernardo Valentim Moreira de Sá (1853-1924): um renovador da cultura musical no Porto. Porto: Fundação Eng. António de Almeida, 1997.
Monteiro, Maria do Amparo Carvas. «A Universidade de Coimbra e as Ciências Musicais». Revista Brasil-Europa 111 (2008): 2.
Mota, José Viana da, y Oliva Guerra: In Memoriam. Lisboa: Ramos, Afonso & Moita, 1952.
Nery, Rui Vieira. Os sons da República. Lisboa: Imprensa Nacional Casa da Moeda, 2015.
Paz, Ana. «Ensino da Música em Portugal (1868-1930): uma história de pedagogia e do imaginário musical». Tesis de Doctorado, Universidade de Lisboa, Instituto de Educação, 2014.
Peixinho, Ana Teresa y Clara Almeida Santos (coord.). 1911-2011: Comunicação e Educação Republicanas. Coimbra: Universidade de Coimbra, 2011.
Pintassilgo, Joaquim: «A utopia demopédica da República». En Viva a República! 1910-2010, editado por Luís Farinha, 139. Lisboa: Comissão Nacional para as Comemorações da República, Imprensa Nacional Casa da Moeda, 2010.
Rigaud, João-Heitor. O Porto musical no início do séc. XX. Porto: Meloteca, 2013.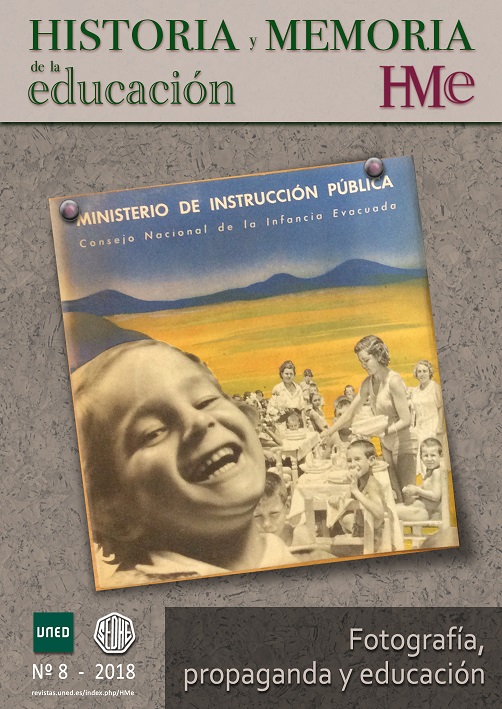 Downloads
How to Cite
Borralhinho, B. (2018). Music Education in Portugal during the First Republic (1910-1926). Historia Y Memoria De La Educación, (8), 597–617. https://doi.org/10.5944/hme.8.2018.17639
Section
Historical Researches
License
Authors who publish in Historia y Memoria de la Educación agree to the following terms:
Authors retain copyright and grant the journal right of first publication with the work simultaneously licensed under a Creative Commons Attribution License that allows others to share the work with an acknowledgement of the work's authorship and initial publication in this journal.
Authors are able to enter into separate, additional contractual arrangements for the non-exclusive distribution of the journal's published version of the work (e.g., post it to an institutional repository or publish it in a book), with an acknowledgement of its initial publication in this journal.
Authors are permitted and encouraged to post their work online (e.g., in institutional repositories or on their website) prior to and during the submission process, as it can lead to productive exchanges, as well as earlier and greater citation of published work (See The Effect of Open Access).