Education and Teaching: a matter of agreement or dispute between the State and the Catholic Church during the Portuguese authoritarian regime?
Keywords:
Politics, Religion, Religious Education, Portugal
Agencies:
Fundação para a Ciência e a Tecnologia
Abstract
This paper discusses whether the issues related to education and teaching were the object of understanding or of conflict between the authoritarian State and the Catholic Church in Portugal. The period covered spans the entire dictatorship (1933-1974). An analysis is made of both the status given to religion in public education and in the State structures for youth integration, as well as the treatment given to private confessional education. The paper starts with a brief characterisation of the State-Church relationship model, here referred to as «second separation». The paper then seeks to confirm the framework outlined by focusing on the principal issues taken up by the State and the Catholic Church regarding «mixed matters»: constitutional amendments related to the guiding principles of public education, the placing of crucifixes in schools, religious assistance in State youth organisations, the situation of private education, the creation of the Portuguese Catholic University and regulation of the task of religious and moral education.
Certain governance strategies are questioned: the political agenda, policy making and legislating. The paper explores the behaviour of Church agents by looking at their strategies of commitment, their resistance or promotion of religious interests, and their ability to influence policy makers.
Downloads
Download data is not yet available.
References
Araújo, António de. A Lei de Salazar. Coimbra, Edições Tenacitas, 2007.
Catroga, Fernando. «Secularização e Laicidade. A Separação das Igrejas e da Escola». In História da Escola em Portugal e no Brasil. Circulação e apropriação de modelos culturais, edited by Joaquim Pintassilgo et al.. Lisboa: Edições Colibri/Centro de Investigação em Educação da Faculdade de Ciências da Universidade de Lisboa, 2006.
Cerejeira, Manuel Gonçalves. «Natureza da Acção Católica. Discurso aos assistentes eclesiásticos diocesanos da Acção Católica Portuguesa, segundo as notas tomadas pelo Novidades de 13 de Maio de 1936». In Obras Pastorais. Lisboa: União Gráfica, 1961.
Cotovio, Jorge. O Ensino Privado nas décadas de 50, 60 e 70 do século XX. O contributo das escolas católicas. Coimbra, Gráfica de Coimbra 2, 2012.
Freire, José Geraldes. Resistência Católica ao Salazarismo-Marcelismo. Porto, Telos, 1976.
Kuin, Simon. «Mocidade Portuguesa». In Dicionário de História do Estado Novo, edited by Fernando Rosas and J.M. Brandão de Brito. Lisboa: Círculo de Leitores, 1996.
Moreira, António Montes. «Universidade Católica Portuguesa». In Dicionário de História Religiosa de Portugal, edited by Carlos Moreira Azevedo. Lisboa, Círculo de Leitores, 2001.
Pimentel, Irene Flunser. História das Organizações Femininas do Estado Novo. Lisboa, Temas e Debates, 2001.
Pintassilgo, Joaquim. «Igreja, Estado e Família no debate sobre o ensino particular em Portugal (meados do século XX)». In Estado, Igreja e Educação: o mundo ibero-americano nos séculos XIX e XX, edited by Carlos Henrique de Carvalho e Wenceslau Gonçalves Neto. Campinas, Editora Alínea, 2010.
Santos, Paula Borges. A Questão Religiosa no Parlamento1935-1974. Lisboa, Assembleia da República, 2011.
Valente, Vasco Pulido. «Caetano, Marcelo». In Dicionário de História de Portugal, edited by António Barreto and Maria Filomena Mónica. Porto, Livraria Figueirinhas, 1999.
Vicente, Ana Cláudia. «A introdução do escutismo em Portugal». Lusitania Sacra, 2.ª série, 16 (2004): 232-234.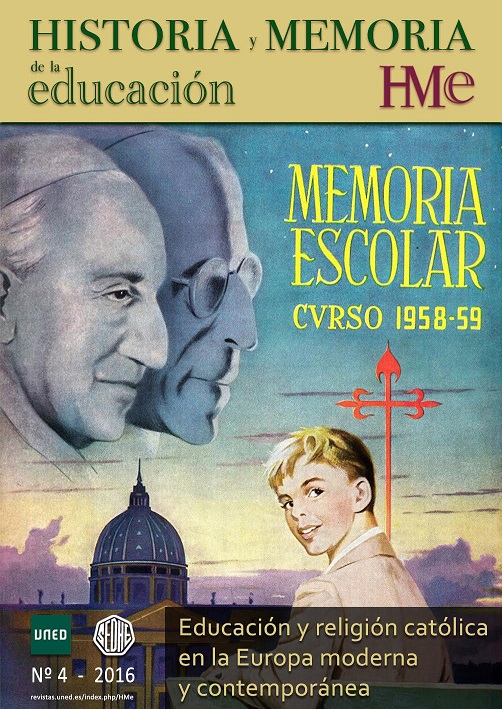 Downloads
How to Cite
Santos, P. B. (2016). Education and Teaching: a matter of agreement or dispute between the State and the Catholic Church during the Portuguese authoritarian regime?. Historia Y Memoria De La Educación, (4), 215–247. https://doi.org/10.5944/hme.4.2016.15761