Tridentine renewal and spiritual education of women in the experience of female monasticism. The case of Verona in the sixteenth century
Keywords:
Women's education, Religious education, Catholic Reformation, Agostino Valier, Gian Matteo Giberti, Italy, Sixteenth century
Abstract
The catholic world of the Sixteenth century, especially after the Council of Trent, exalted the condition of monastic life as the most perfect and noblest of the conditions of life traditionally reserved for women. The monastic state became the model to which the educational path of every woman had to conform to, even if she was destined to live in the world (as mother, virgin, widow, or married woman). The strong paradigmatic value exerted by the monastic condition of life is clear from the analysis of the pedagogical literature devoted to women published in this period.
The present article focuses on two relevant examples of this literature: the Costituzioni per le monache (Constitutions for Nuns, 1539) by Gian Matteo Giberti and the Ricordi lasciati alle monache (Recollections left to nuns, 1575) by Agostino Valier. The two texts contain very interesting reasons for understanding the pedagogical directions of the time, which are highlighted by the author with specific references to the historical context and thanks to the support of documentary and published sources. These two works were written by two great reformer bishops, and are highly meaningful not only because they complement each other, since both were prepared for the religious women of the diocese of Verona, but mainly because they offer one very vivid insight into the growing importance assigned to the monastic modus vivendi in Sixteenth century Catholic society.
Downloads
Download data is not yet available.
References
Alberigo, Giuseppe et al., eds. Conciliorum Oecumenicorum decreta, edizione bilingue. Bologna: EDB, 1991.
Baldi Cammarota, Franca. «Origini della domus degli Umiliati di S. Christopher di Verona». Studi storici veronesi Luigi Simeoni 24 (5), (1974-75): 46-73.
Barbieri, Gino. «Un insediamento dell'Ordine degli Umiliati». In Chiese e monasteri nel territorio veronese, edited by Giorgio Borelli, 196-208. Verona: Banca popolare di Verona, 1981.
Belotti, Gianpietro. «La Compagnia di San'Orsola dalla crisi al consolidamento». In La sponsalità dai monasteri al secolo, edited by Gianpietro Belotti and Xenio Toscani, 441-455. Brescia: Centro Mericiano, 2009.
Bolis, Ezio. «Tra concilio e postconcilio: la vita religiosa femminile dopo Trento». In La sponsalità dai monasteri al secolo. La diffusione del carisma di Sant'Angela nel mondo. Atti del Convegno internazionale di studi (22-25 novembre 2007, Brescia-Desenzano), edited by Gianpietro Belotti and Xenio Toscani, 159-181.. Brescia: Centro mericiano, 2009.
Borromeo, Carlo. Ordo tractationis De oratione. Milano: Gentrino Italiana, 1968.
Buzzi, Franco, and Zardin, Danilo, eds. Carlo Borromeo e l'opera della «grande riforma». Cultura, religione e arti del governo nella Milano del pieno Cinquecento. Cinisello Balsamo: Silvana editoriale, 1997.
Cavattoni, Cesare. «Sulla vita e sopra alquante opere del prestantissimo Agostino Valerio cardinale e vescovo di Verona. Discorso dell'editore». In Due opere latine del precarissimo Agostino Valerio cardinale e vescovo di Verona le quali col loro volgarizzamento il sacerdote Cesare Cavattoni pone a luce […]. Verona: dalla tipografia di Giuseppe Civelli, 1862.
Creytèns, Raymond. «La riforma nei monasteri femminili». In Il Concilio di Trento e la riforma tridentina. Atti del convegno internazionale, Trento, 2-6 settembre 1963, vol 1, 45-8. Roma: Herder, 1965.
Crispolti, Tullio. Alcune cose sopra li voti et costumi delle Monache ad instruttione loro, utili anco a tutti christiani che sono sotto il voto del battesimo ad obedientia di Iesu Christo nostro Salvatore, raccolte da Tullio Crispoldo da Riete. Vinegia: per Stephano da Sabbio, 1539.
Dall'Olio, Guido. «La disciplina dei religiosi all'epoca del Concilio di Trento: sondaggi bolognesi». Annali dell'Istituto storico italo-germanico in Trento 21 (1995): 93-140.
Del Re, Niccolò. La curia romana. Cenni storico-giuridici, 4 ed. aggiornata e accresciuta. Città del Vaticano: Libreria editrice Vaticana, 1998.
Di Filippo Bareggi, Claudia. «Le donne nella chiesa borromaica» Studia Borromaica, 20 (2006): 155-184.
Evangelisti, Silvia. Nuns. A History of Convent life. Oxford-New York: Oxford University Press, 2007.
Fumaroli, Marc. L'école du silence. Le sentiment des images au XVIIe siècle. Paris: Flammarion, 1994.
Giberti, Gian Matteo. Constitutioni de le monache per la città et Diocesi di Verona, utili anco alle altre città. Verona: per Antonio da Portese, 1539.
Gill, Katherine. «Women and the Production of Religious Literature in the Vernacular, 1300-1500». In Creative Women in Medieval and Early Modern Italy. A Religious and Artistic Renaissance, edited by E. Ann Matter and John Coakley, 64-104. Philadelphia: Pennsylvania University Press, 1994.
Headley, John M., and Tomaro, John B., eds., San Carlo Borromeo: catholic reform and ecclesiastical politics. Washington: The Folger Shakespeare library, 1988.
Knox, Dilwyn. «Disciplina: le origini monastiche clericali del buon comportamento nell'Europa cattolica del Cinquecento e del primo Seicento». In Disciplina dell'anima, disciplina del corpo e disciplina della società tra medioevo ed età moderna, edited by Paolo Prodi, 63-100. Bologna: il Mulino, 1994.
Lenotti, Tullio. Chiese e conventi scomparsi. Verona: edizioni di Vita Veronese, 1995.
Medioli, Francesca. «La clausura delle monache nell'amministrazione della Congregazione romana sopra i regolari». In Il monachesimo femminile in Italia dall'Alto medioevo al secolo XVII. A confronto con l'oggi, edited by Gabriella Zarri, 249-282. San Pietro in Cariano: Il segno dei Gabrielli, 1997.
Medioli, Francesca. L'inferno monacale di Arcangela Tarabotti. Torino: Rosenberg & Sellier, 1990.
Mongini, Guido. «Devozione e illuminazione. Direzione spirituale e esperienza religiosa negli Esercizi spirituali di Ignazio di Loyola». In Storia della direzione spirituale, vol. 3, edited by Giovanni Filoramo. Brescia: Morcelliana, 2006-2008.
Monson, Craig A., ed. The Crannied Wall. Women, religion, and the Arts in Early Modern Europe. Ann Arbor: University of Michigan press, 1992.
Paschini, Pio. «I monasteri femminili in Italia nel Cinquecento». In Problemi di vita religiosa in Italia nel '500, 31-60. Padova: Antenore, 1960.
Patrizi, Elisabetta. «For good education of my beloved people: Agostino Valier and the Company of St. Ursula of Verona». Estudios sobre educación 23 (2012): 99-116.
Pavignani, Paola. «Tullio Crispoldi da Rieti e il suo Sommario di prediche» Rivista di storia della Chiesa in Italia 28 (1974): 536-562.
Plebani, Tiziana. Il genere dei libri: storie e rappresentazioni della lettura al femminile e al maschile tra Medioevo ed età moderna. Milano: FrancoAngeli, 2001.
Pomata, Gianna, and Zarri, Gabriella, eds. I monastery femminili come centri di cultura fra Rinascimento e Barocco. Roma, Edizioni di Storia e Letteratura, 2005.
Pozzi, Giovanni. «Occhi Bassi». In Alternatim, edited by Giovanni Pozzi, 93-142. Milano, Aldelphi, 1996.
Prosperi, Adriano. Tra evangelismo e Controriforma. Gian Matteo Giberti. 1495-1543. Roma: Edizioni di storia e letteratura, 1969.
Rosa, Mario. «La religiosa». In L'uomo barocco, edited by Rosario Villari, 222-229. Roma-Bari: Laterza, 2005.
Rusconi, Roberto. «La storia religiosa "al femminile" e la vita religiosa delle donne». In Innesti. Donne e genere nella storia sociale, edited by Giulia Calvi, 175-182. Roma: Viella, 2004.
Salvetto, Paolo. Tullio Crispoldi nella crisi religiosa del Cinquecento: le difficili pratiche del viver cristiano. Brescia: Morcelliana, 2009.
Tacchella, Lorenzo. «La diocesi di Verona nei secoli XVI e XVII. Dai processi Concistoriali e dalle Relazioni delle Visite ad Limina Apostolorum». Studi storici veronesi Luigi Simeoni 24-25 (1974-1975): 119-120
Tacchella, Lorenzo. San Carlo Borromeo e il card. Agostino Valier: carteggio; prefazione di sua eminenza il cardinale Michele Browne. Verona: Istituto per gli studi storici, 1972.
Valier, Agostino. Instituttione d'ogni stato lodevole delle donne christiane. Venetia: per Bolognino Zalieri, 1575.
Valier, Agostino. Instituzione d'ogni stato lodevole delle donne cristiane
and Ricordi di Monsignor Agostino Valier Vescovo di Verona lasciati alle monachenella sua visitazione fatta l'anno del santissimo Giubileo 1575. Cambridge: Modern Humanities Research Association, 2015.
Valier, Agostino. Ricordi di monsignor Agost. Valerio, vesc. di Verona lasciati alle monache nella sua visitatione fatta l'anno del santiss. giubileo, 1575. Venetia: appresso Bolognino Zaltieri, 1575.
Viviani, Olindo. «Il vescovo di Verona G.M. Giberti e il riordinamento dei monasteri femminili», Atti dell'Accademia di Agricoltura, Scienze e lettere di Verona, 6 (8), (1956-1957): 135-166.
Weaver, Elissa B. Convent theatre in Early Modern Italy: spiritual fun and learning for women. Cambridge, Cambridge University Press, 2002.
Zardin, Danilo. «Mercato librario e letture devote nella svolta del Cinquecento tridentino. Note in margine ad un inventario milanese di libri di monache». In Stampa, libri e letture a Milano nell'età di Carlo Borromeo, edited by Nicola Raponi and Angelo Turchini, 135-243. Milano: Vita e Pensiero, 1992.
Zarri, Gabriella, ed. Donna, disciplina e creanza cristiana dal XV al XVII secolo. Roma: Edizioni di Storia e Letteratura, 1996.
Zarri, Gabriella, Medioli, Francesca, and Vismara, Paola. «De monialibus (Secoli XVI-XVII-XVIII)». Rivista di storia e Letteratura Religiosa 33 (1998): 643-715.
Zarri, Gabriella. Recinti. Donne, clausura e matrimonio nella prima età moderna. Bologna: il Mulino, 2000.
Zarri, Gabriella. «Storia delle donne e storia religiosa: un innesto riuscito». In Innesti. Donne e genere nella storia sociale, edited by Giulia Calvi, 149-173.. Roma: Viella, 2004.
Zarri, Gabriella. «Dalla profezia alla disciplina (1450-1650)». In Donne e fede. Santità e vita religiosa in Italia, edited by Lucietta Scaraffia and Gabriella Zarri. Roma-Bari: Laterza, 2009.
Zarri, Gabriella. «I circoli spirituali femminili della riforma. Gian Matteo
Giberti e le Constitutioni per le monache». In Atti del Convegno di Studi Gian Matteo Giberti (1495-1543), edited by Marco Agostini and Giovanna Baldissin Molli, 29-37. Verona: Biblos, 2012.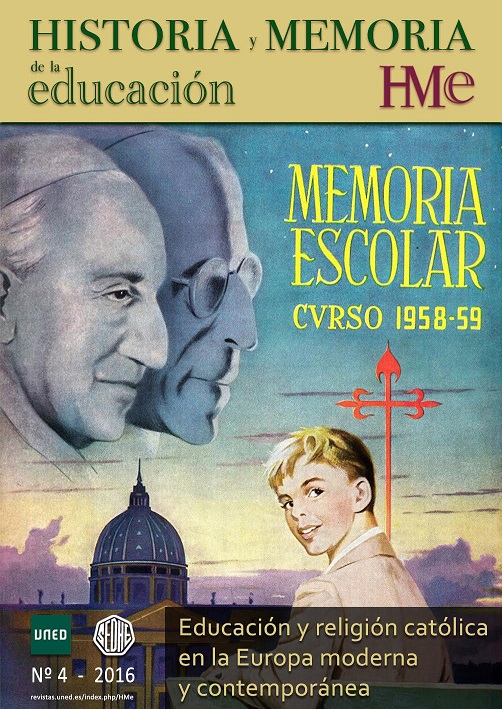 Downloads
How to Cite
Patrizi, E. (2016). Tridentine renewal and spiritual education of women in the experience of female monasticism. The case of Verona in the sixteenth century. Historia Y Memoria De La Educación, (4), 19–48. https://doi.org/10.5944/hme.4.2016.15479