Professional and personal consequences of Franco's purge of the teachers of teacher training schools: the Andalusian case (1936-1941)
Keywords:
Francoism, Purge, Teachers, Teacher training schools
Abstract
In this article we focus on the purge carried out by Franco's regime against teachers of the teacher training schools in Andalucía. Our purpose is not only to provide an interpretation of the quantitative data, but to take a closer look at the way that this repressive action affected the personal and working lives of the teachers. In our search for documentary sources we faced a handicap derived from the fact that the files of the teachers affected by the purge were not to be found in the General Archive of the Administration (AGA), where by law they should have been deposited. As a result we were forced to seek out and interpret alternative sources such as those published in the Official Bulletin of the State and the Provinces or those found in the historic archives from the niversities of Malaga, Granada and Seville, where the rectors were responsible for processing the documentation generated by the purging process. With regard to some of the conclusions reached, in the teacher training schools, whereas the ratio of male to female teachers was almost even, the proportion of women that were sanctioned was very low, lower even than their colleagues in secondary school, who were very few, meanwhile more than 34% of men were punished, usually for political reasons, special severity being taken against those actively related with republican politic (mayors, city councillors, deputies, general directors of education,...). Anyway, there are no significant differences with the purge of others educational sectors.
Downloads
Download data is not yet available.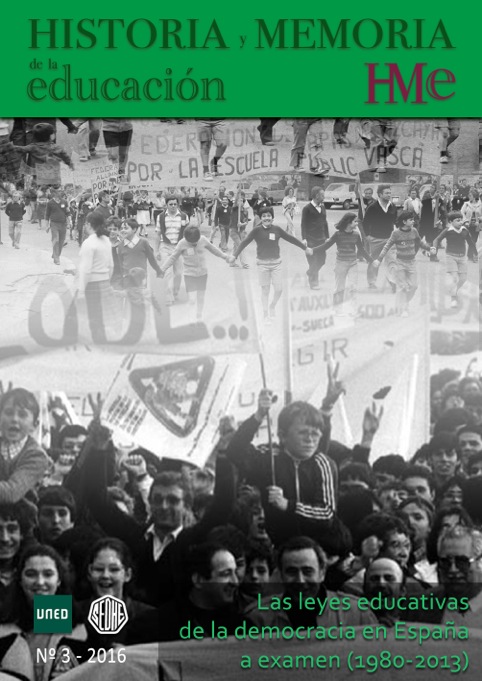 Downloads
How to Cite
Martín Zúñiga, F. (2015). Professional and personal consequences of Franco's purge of the teachers of teacher training schools: the Andalusian case (1936-1941). Historia Y Memoria De La Educación, (3), 229–257. https://doi.org/10.5944/hme.3.2016.14005
Section
Historical Researches