Type A & B Behavior Pattern and its relation to behavioral addictions
Keywords:
type A behavior pattern, type B behavior pattern, no substance addictive behaviors, youth
Abstract
This research aimed to relate the possibility of sub­mitting the Type A and the Type B behavior patterns to the no-substance addiction. We investigated the Internet addiction, the gambling, the shopping, and the misuse of mobile in a sample of youth people. With a prospective design ex-post-facto two groups, a questionnaire was developed to collect sociodemo­graphic data, in which we included the Test of Shop­ping Addiction, the Test of Internet Addiction from Echeburúa (2003), the Pathological Gambling Brief Questionnaire from Fernandez-Montalvo Echeburúa y Baez (1997), some items on Mobile Phone Usage, and the Jenkins Activity Survey. Young people from the Province of Córdoba, Spain, have participated (N = 3815, age range between 18 and 29). Results in­dicated that young people characterized as Type A behavior pattern show bigger propension to shop­ping, to playing, to Internet connection, and to use of mo­bile phone. According to logistic regression, The Type B behavior pattern showed to be a protective factor for addiction to shopping. In conclusion it can be inferred that young people of Type A behavior pattern are more likely to have addictive behaviors that young people of Type B behavior pattern.
Downloads
Download data is not yet available.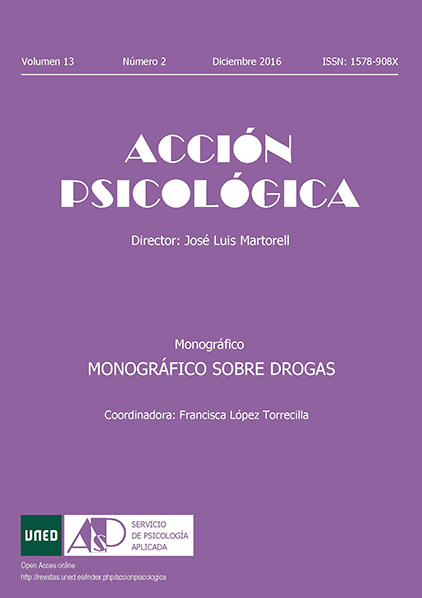 Downloads
How to Cite
Belmonte Steibel, G., Ruiz-Olivares, R., & Herruzo Cabrera, J. (2016). Type A & B Behavior Pattern and its relation to behavioral addictions. Acción Psicológica, 13(1), 119–128. https://doi.org/10.5944/ap.13.1.17430
Section
Artículos del monográfico [Monograph´s articles]
License
Accion Psicologica is published under Creative Commons Attribution-Non Commercial (CC BY-NC). The opinions and contents of the articles published in Acción Psicológica are responsibility of the authors and do not compromise the scientific and political opinion of the journal. Authors are also responsible for providing copies of the raw data, ratings, and, in general, relevant experimental material to interested readers.