Sex differences in the perception of risk associated with drug use in young
Keywords:
illegal and legal drugs, youth 18-29 years old, risk perception, sex
Agencies:
Este trabajo ha sido posible gracias al convenio de colaboración entre la Consejería de Igualdad y Bienestar Social de la Junta de Andalucía y la Universidad de Córdoba para el estudio de las adicciones en jóvenes.
Abstract
The aim of this study was to characterize the perception of the risk associated to both legal substances (alcohol, tobacco and inhalants) as illegal (cannabis, cocaine, heroin, amphetamines, designer drugs, hallucinogens) among youth 18 to 29 years old in six dimensions (problems for the physical health, mental health, traffic, ability to perform tasks, interpersonal relations and legal problems), and also, if weather such perceptions are different by sex. With a ex post facto single group design, were studied the perceptual profiles of 3,819 Andalusian young people about cited drugs. The perceptions of young people show different patterns for each drug, enhancing that there are certain biases about the psychic problems derivatives of alcohol, which are viewed as less dangerous than the problems of health; or the health effects of cannabis, which are seen as less dangerous than the tobacco. With regard to sex variable, women perceive drugs studied as more dangerous, except in the case of inhalants and certain specific dimensions of other drugs, in particular, the risk to the physical health in cocaine, and traffic accidents and the risk to the physical health in the case of amphetamines. Emphasizing these aspects in information campaigns and preventive measures is suggested.
Downloads
Download data is not yet available.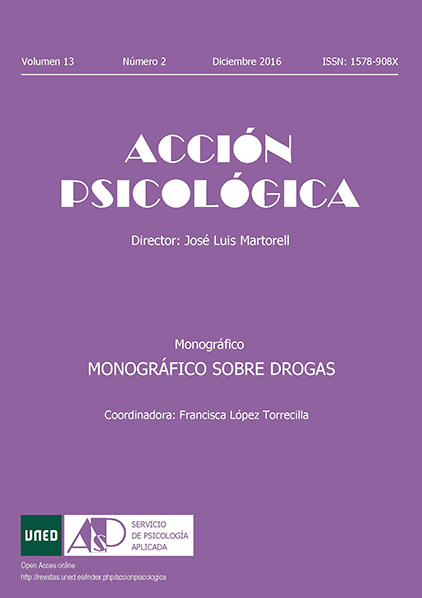 Downloads
How to Cite
Herruzo, C., Lucena, V., Ruiz-Olivares, R., Raya, A., & Pino, M. J. (2016). Sex differences in the perception of risk associated with drug use in young. Acción Psicológica, 13(1), 79–90. https://doi.org/10.5944/ap.13.1.17422
Section
Artículos del monográfico [Monograph´s articles]