Empathy in adolescence. Relations with prosocial moral reasoning, prosocial behavior and aggression
Keywords:
empathy, prosocial behavior, prosocial moral reasoning, aggressiveness, adolescence
Agencies:
Financiación del Proyecto I D para Grupos de Investigación de Excelencia (Referencia PROMETEO 2011/009) Generalitat Valenciana. España. Proyecto I D del Ministerio de Ciencia y Tecnología (Referencia PSI2011-27158) y de la Red de Excelencia ISIC/2013/001
Abstract
This study has two objectives. On the one hand, to analyze the relationships between empathy, prosocial behavior and prosocial moral reasoning, as well as the differences between them in terms of gender. On the other hand, to analyze the predictive value of these variables on empathy, taken as a criterion vari­able. The sample comprised 1,557 participants (M = 13.13; DT = .86) from 12 to 15 years (47.4 % girls and 52.6 % boys). Comparison of means shows significant differences based on gender. The girls ex­pressed higher levels of empathy, prosocial behavior, prosocial moral reasoning, in the dimensions of in­ternalized, facing the necessity and stereotyped. The boys, meanwhile, show higher rates in physical and verbal aggressiveness and hedonistic and approval-oriented prosocial moral reasoning. Regression anal­ysis identified as predictors of empathy in boys and girls, prosocial behavior and hedonistic reasoning. Prosocial behavior maintains direct relationships with empathy, in the case of hedonism relationships are negative. In the group of boys there are other predic­tors of empathy. These variables are positively asso­ciated with internalized prosocial moral reasoning and moral reasoning led to the need, and negatively with aggressiveness. Perhaps more importantly, more efficient intervention programs designed to foster specific types of prosocial behaviors. 
Downloads
Download data is not yet available.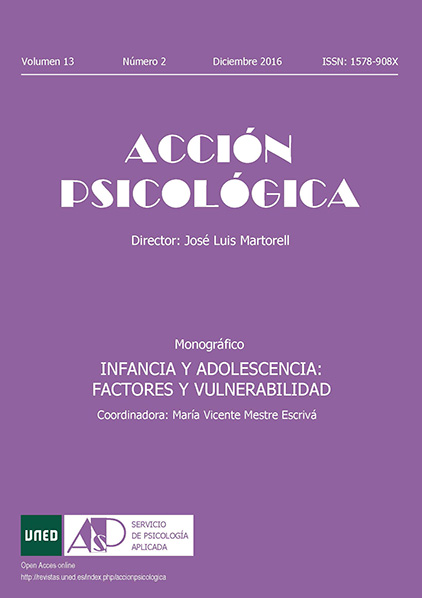 Downloads
How to Cite
Tur-Porcar, A., Llorca, A., Malonda, E., Samper, P., & Mestre, M. V. (2016). Empathy in adolescence. Relations with prosocial moral reasoning, prosocial behavior and aggression. Acción Psicológica, 13(2), 3–14. https://doi.org/10.5944/ap.13.2.17802
Section
Artículos del monográfico [Monograph´s articles]