Positive emotions and empathy as promotors of prosocial behavior and inhibitors of aggressive behavior
Keywords:
positive emotions, empathy, social self-efficacy, prosocial behavior, aggression
Abstract
The aim of this paper is to analyze what proportion of variance of prosociality and aggressiveness predicts positive emotions (joy and gratitude, serenity and personal satisfaction), empathy (perspective taking and empathic concern), and social self-efficacy. Since there is abundant research showing that there are significant differences in prosocial behavior and aggression by sex it is that these separate analyzes were performed on children. The sample consisted of 221 children of both sexes (42.2 % males), 10 to 13 years (M = 11.45, DT = .80), middle class, who at­tended primary schools in the city of Buenos Aires, Argentina. The results indicate that both empathy and positive emotions are involved in predicting prosocial behavior in both boys and girls. However, it seems clear that in the case of boy's empathy has greater predictive power that positive emotions, unlike girls where both variables seem to share similar power. On the other hand, social self-efficacy predicts prosocial behavior only in girls. Finally, the results indicated that both empathy and positive emotions inhibit ag­gressive behavior in girls only. 
Downloads
Download data is not yet available.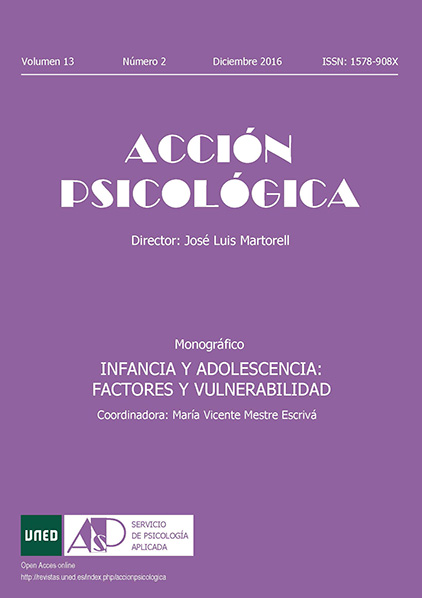 Downloads
How to Cite
Richaud, M. C., & Mesurado, B. (2016). Positive emotions and empathy as promotors of prosocial behavior and inhibitors of aggressive behavior. Acción Psicológica, 13(2), 31–42. https://doi.org/10.5944/ap.13.2.17808
Section
Artículos del monográfico [Monograph´s articles]