Anthropometric variables, eating habits and diets in adolescents and youth: Sex differences
Keywords:
anthropometric variables, eating habits, diet, sex, adolescents and youth
Abstract
The study aimed to analyze sex differences in an­thropometric variables (real, perceived, and desired), eating habits, and the use of diets. Participants were 1,075 adolescents and youth aged 14 to 25 (49.9 % males, 50.1 % females). Using a descriptive and comparative design, three assessment instruments were administered. The results confirm many signifi­cant sex differences. In anthropometric variables, girls perceive themselves as more obese than they are and they want to be thinner; boys perceive them­selves as thin as or thinner than they are and they want to have greater body volume. Boys want to have a higher Body Mass Index (BMI), and girls want a lower one. Girls score significantly higher in eating habits, although boys perceive their diet as more bal­anced. The girls have followed more diets and be­lieve they need them more. In boys, the reasons for weight gain are biological and in girls, due to im­proper eating habits. Girls follow more diets, both healthy and not recommended. In girls, the reason for starting a diet is body image and in boys, peer ac­ceptance. Boys attribute quitting a diet to the diet it­self, and girls attribute it to themselves. The study provides relevant data for the design of prevention and/or treatment programs targeting adoles­cents/youth with eating problems, either due to alter­ations in body image, unsuitable eating habits, and/or misuse of diets. 
Downloads
Download data is not yet available.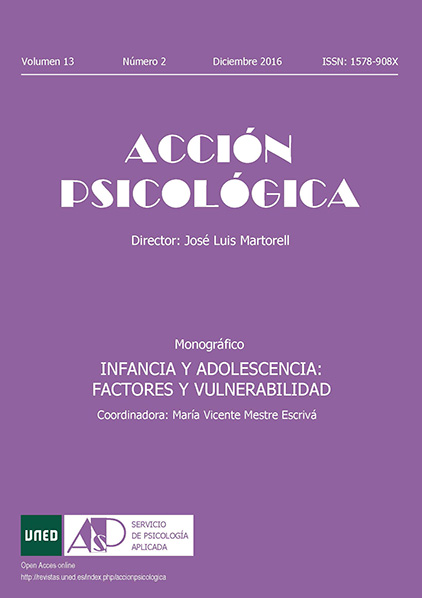 Downloads
How to Cite
Maganto, C., Garaigordobil, M., & Kortabarria, L. (2016). Anthropometric variables, eating habits and diets in adolescents and youth: Sex differences. Acción Psicológica, 13(2), 89–100. https://doi.org/10.5944/ap.13.2.17817
Section
Artículos del monográfico [Monograph´s articles]
License
Accion Psicologica is published under Creative Commons Attribution-Non Commercial (CC BY-NC). The opinions and contents of the articles published in Acción Psicológica are responsibility of the authors and do not compromise the scientific and political opinion of the journal. Authors are also responsible for providing copies of the raw data, ratings, and, in general, relevant experimental material to interested readers.