An Underground Church-run School during the Communist Rule in Hungary (1948-1990)
Keywords:
Communist dictatorship, Nationalisation of schools, Churchrun and parochial schools, Religious Education, Marginalised pupils, Gypsy/Romani children
Abstract
Denominational schools have played a fundamental role in Hungarian education for centuries. The relations between church and state were characterised by co-operation and a division of tasks. As a result of the Communist takeover, however, church schools were nationalised in 1948. Only 10 of them were allowed to exist within strict constraints. During the decades of communism they became from the asylum of the social groups deprived of their learning opportunities and forced into a marginal situation in the 1950s into partly elite schools by the 1980s. The transformation of the role of church-run schools determined how they sought their mission after the political transformation of 1989-90. Meanwhile, church policy started softening in parallel with the erosion of state socialism. The ideological and political loss of marginalised social strata was unimportant for the communist regime, but certain churches started to gain experience in working with those groups at that time, e.g. in Gypsy mission. During our research we collected archive documents, photographs and interviews.
The most important hypothesis was the existence of a so-called underground school that had operated at a Roma village in spite of the fact that no Greek Catholic schools were allowed to exist during the communist regime. The school was very successful in educating the highly marginalised Roma community, which lived under substandard conditions. The methodology of the school, fitted out in a chapel, foreshadowed what we call culturally responsive teaching today. In the first part of the study the political climate of religious education is presented during the communist regime in Hungary. In the second part, the first results of our empirical research about the underground church-run school during the time of the founder of the school (Sója Miklós) are presented.
Downloads
Download data is not yet available.
References
Aceves,Terese C., and Orosco, Michael J. «Culturally Responsive Teaching». CEEDAR Document, No. IC-2 (2014), 7.
Andor, Mihály. Romák és oktatás. Budapest: Iskolakultúra, 2001.
Andorka, Rudolf. «A Magyarországi Evangélikus Egyház és az evangélikusok helyzete és problémái 1941-től». Valóság 5 (1994): 32-46.
Banks, James A. Integrating the Curriculum with Ethnic Content, in Multicultural Education. Boston: Allyn and Bacon, 1989.
Barcza, József. A Debreceni Református Kollégium története. Budapest: A Magyarországi Református Egyház Zsinati Irodájának Sajtóosztálya,1988.
Birdsell, Jo, Matsui, Bruce, and Solis, Carol. Meeting the Needs of LEP Students California School Leadership Academy. Los Angeles: LA County Office of Education, 1992.
Boreczky, Ágnes. «Kultúraazonos pedagógia. A differenciáláson innen és túl». Új Pedagógiai Szemle July-August (2000).
Castañeda, Alfredo. The Educational Needs of Mexican Americans, in The Educational Needs of Minority Groups. Lincoln, NE: Professional Educators, 1974.
Cazden, Courtney B., and Leggett, Hellen L. «Culturally responsive education: Recommendations for acheving LAU remedies». In Culture and the bilingual classroom. Studies in classroom ethnograhy, edited by Henry T Trueba, Grace Pung Guthrie and Kathryn Hu-Pei Au, 69-86. Rowley, MA: Newbury House, 1981.
Csejoszki, Szabolcs. «Katolikus nevelés a politikai diktatúra oktatási rendszerében – A Pannonhalmi Bencés Gimnázium oktatásszociológiai vizsgálata (1950–1990)». Magyar Pedagógia (2012): 149–166
Dallavis, Christian M. Extending theories of culturally responsive pedagogy: an ethnographic examination of catholic schooling in an immigrant community in Chicago. University of Michigan, 2002.
Denig, Stephen J, and Dosen, C.M. Anthony J. «The Mission of the Catholic School in the Pre-Vatican II Era (1810-1962) and the Post-Vatican II Era (1965-1995): Insights and Observation for the New Millennium». Catholic Education 13 (2009):136.
Diós, István, and Viczián, János. Magyar Katolikus Lexikon. Budapest: Szent István Társulat, 2004.
Drahos, Péter. «Katolikus iskolák az államosítás után». Educatio 1 (1992): 46-64.
Ericson, F. «Transformation and school success. The politics and culture of educational achievement». Anthropology and Education Quaterly 18 (1987): 335-356.
Forray, Katalin. «A cigányság oktatásának egyes kérdései Európában». Magyar Pedagógia 98 (1998): 3-16.
Gergely, Jenő, Glatz, Ferenc, and Pölöskei, Ferenc. Magyarországi pártprogramok 1919- 1944. Budapest: Kossuth Könyvkiadó, 1991.
Gergely, Jenő. Az 1950-es egyezmény és a szerzetesrendek felszámolása Magyarországon. Budapest: Vigília Kiadó,1990.
Gerlóczy, Ferenc. «Roma katolikusok. A cigányság és vallásosság». Heti Világgazdaság 23 (2001): 81-84; http://www.gerlo.hu/gerloczy/romavall.html (accesssed January 17, 2015).
Janka, György. A 100 éves Hajdúdorogi Egyházmegye története. Nyíregyháza, Hajdúdorogi Egyházmegye, 2012.
Jordan, Cathie. «Cultural compatibility and the education of ethnic minority children». Educational Research Quarterly 8 (4), (1984): 59-71.
Juhász, Éva .«Elsők között a pasztorációban – in memoriam Sója Miklós (1912-1996». In Együtt az Isten tenyerén, edited Éva Juhász. Nyíregyháza, Hajdúdorogi Egyházmegye, 2013.
Kádár, János. «A cigányság helyzetének megjavításával kapcsolatos egyes feladatokról Az MSZMP KB Politikai Bizottságának határozata». In A magyarországi cigánykérdés dokumentumokban 1422-1985, edited by Mezey Barna. Budapest: Kossuth Könyvkiadó, 1986.
Kemenes, László. «A mai katolikus középiskolák». In Magyar Katolikus Almanach II. köt, edited by László Turányi, 123-12. Budapest: Szent István Társulat, 1988.
Kemény, István, Rupp, Kálmán, Csalog, Zsolt, and Havas, Gábor. «Beszámoló a magyarországi cigányok helyzetével foglalkozó, 1971-ben végzett kutatásról». In Amikor nem volt tiszta víz a cigánytelepeken, edited by Hajnáczky Tamás. Budapest: MTA Szociológiai Intézetének kiadványai, 1976.
Ladányi, Sándor. «Vázlatos történeti áttekintés a magyarországi református egyház közelebbi múltjából». Valóság 4 (1994): 3-31.
Marshalkó, Linda. Görögkatolikus Egyház a kommunista diktatúra idején. Budapest: Pázmány Péter Katolikus Egyetem 2005.
Martin, Brenda. Culturally Responsive Teaching (EDEL/EDSE 501,1997), 10.
Mészáros, István. Kimaradt tananyag. I-III. Budapest: Márton Áron Kiadó,1993.
Mezey, Barna. Magyar alkotmánytörténet. Budapest: Osiris,1995.
Mohatt, G., and. Erickson, F. «Cultural Differences in Teaching Styles in an Odawa Shool: A sociolinguistic approach». In Culture and the Bilingual Classroom Ethnography . Rowley, MA: Newbury House, 1981.
Nieto, Sonia, and Bode, Patty. «School reform and student learning: A multicultural perspective». In Multucultural education:Issues and perspectives, edited by J.A. Banks and C. A. McGee Banks, 395-415. Hoboken: Wiley and Sons, 2012.
Palasik, Mária. Üstökön ragadni a reakciót Az államrendőrség és a politikai rendőrség kezdetei. Budapest: Beszélő, 1999.
Puskás, László. Megalkuvás nélkül, Romzsa Tódor élete és halála. Budapest: Barbaföldi Gábor Archivum, 2001.
Pusztai, Gabriella. «Kimaradt generációk». Magyar Egyháztörténeti Vázlatok 3 (4), (1996): 155-167.
Pusztai, Gabriella. «Egy törvény és szelleme». Valóság 6 (2000): 89-100.
Pusztai, Gabriella. Iskola és közösség. Felekezeti középiskolások az ezredfordulón. Budapest: Gondolat, 2004.
Pusztai, Bertalan. «Discursive Tactics and Political Identity: Shaping Hungarian Greek Catholic Identity at the Turn of the Nineteenth and Twentieth Centuries». In National Identities, 117-131. Abingdon: Routledge, 2005.
Rajki, Zoltán. «Szabadegyházak helyzete Magyarországon 1945 és 1950 között». Egyháztörténeti Szemle 2 (2011): 77-95.
Romsics, Ignác. Magyarország története a XX. században. Budapest: Osiris, 1999.
Scarcella, Robin. Teaching Language Minority Students in Multucultuar Classroom. New Jersey: Prentice Hall Regent,1990.
Smith, Willfred Cantwell. The meaning and the end of religion: New approach to the religious traditions of mankind. New York: The Macmillan Company, 1991.
Sója, Miklós. «Cigány híveink katekézisének problémái és lehetőségei». In Útkeresők, edited by Éva Juhász. Nyíregyháza: Görögkatolikus Püspöki Levéltár és a Sója Miklós Alapítvány, 1979.
Sója, Miklós. «Lelkipásztor a cigányok között». In Küldetésben, edited by Korzenszky, 287-288. Miskolc: Teologia, 1987.
Soltész, János. «A görög katolikus egyház élete az elmúlt 10 évben». Athanasiana 15 (2002): 103.
Szántó, A kommunizmusnak sem sikerült. Miskolc: Új Misszió Alapítvány, 1992.
Tomka, Ferenc. «Hitre nevelés az ateista diktatúrában». Új ember április (2003): 8.
Tomka, Miklós. «A felekezeti oktatásügy társadalmi megítélése». Educatio 3 (2005): 492-501.
Véghseő, Tamás. «Út az egyházmegye felállításig: útkeresés és kálváriaút». Byzantinohungarica (2010)
http://byzantinohungarica.hu/node/56 (accessed March 25, 2015).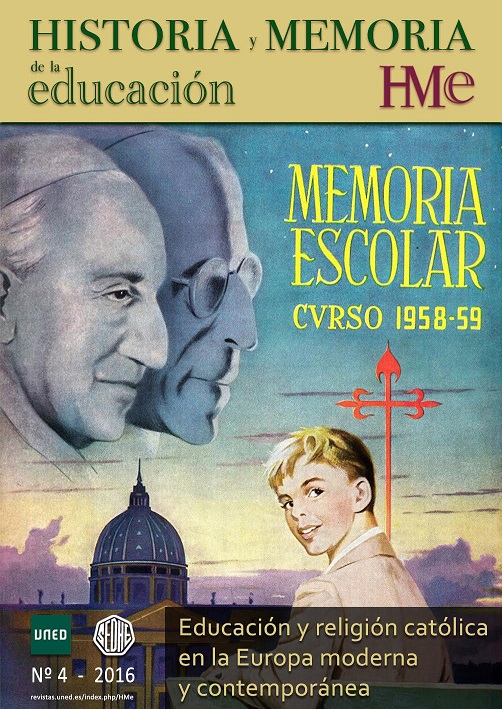 Downloads
How to Cite
Pusztai, G., & Inántsy-Pap, Ágnes. (2016). An Underground Church-run School during the Communist Rule in Hungary (1948-1990). Historia Y Memoria De La Educación, (4), 177–213. https://doi.org/10.5944/hme.4.2016.15734
License
Authors who publish in Historia y Memoria de la Educación agree to the following terms:
Authors retain copyright and grant the journal right of first publication with the work simultaneously licensed under a Creative Commons Attribution License that allows others to share the work with an acknowledgement of the work's authorship and initial publication in this journal.
Authors are able to enter into separate, additional contractual arrangements for the non-exclusive distribution of the journal's published version of the work (e.g., post it to an institutional repository or publish it in a book), with an acknowledgement of its initial publication in this journal.
Authors are permitted and encouraged to post their work online (e.g., in institutional repositories or on their website) prior to and during the submission process, as it can lead to productive exchanges, as well as earlier and greater citation of published work (See The Effect of Open Access).