La escuela neoliberal en la Comunidad de Madrid. Estrategias y prácticas políticas, 2003-2015.
Keywords:
Privatisation, Neoliberalism, Neoconservatism, Autonomy, Excellence, Market
Abstract
The politics of education can be analyzed from two points of view: as a
structure, one that affects institutions and the rules that regulate them, and as
a process one that focuses on the behaviour of those involved and on outcomes.
This article deals with the politics of education as seen in outcomes, this being
the essential core of the policies implemented in the field of education by the
Partido Popular in Madrid. As we will see, the measures undertaken make this
region a genuine laboratory of neoliberal and neoconservative educational
practices.
We will observe how we are facing coherent educational practices, guided
predominantly by the neoliberal ideology: an instrumental design of
administrative organization in keeping with the government's ideology and
political orientation; an increasing and shameless process of privatization of
educational opportunities; the primacy of school choice on the families' part
which, together with the defense and promotion of the schools' autonomy,
inevitably leads to the triumph of competition within the educational market,
thus completing the link between the sum of the educational goods and the
satisfaction of the family desires; a
differentiated curriculum and a proposed
evaluation of the subjects. Under the guise of traditional education, this
endorsement of a culture of effort, talent and individual merit are meant to come
together under the equivocal concept of excellence. This approach, which, takes
a suspicious view of laicism, also takes a posture clearly favouring conservative
groups and even religious institutions, all intent on creating educational centres
that will vehemently defend the liberal and spiritual ideologies and the political
system they support.
Downloads
Download data is not yet available.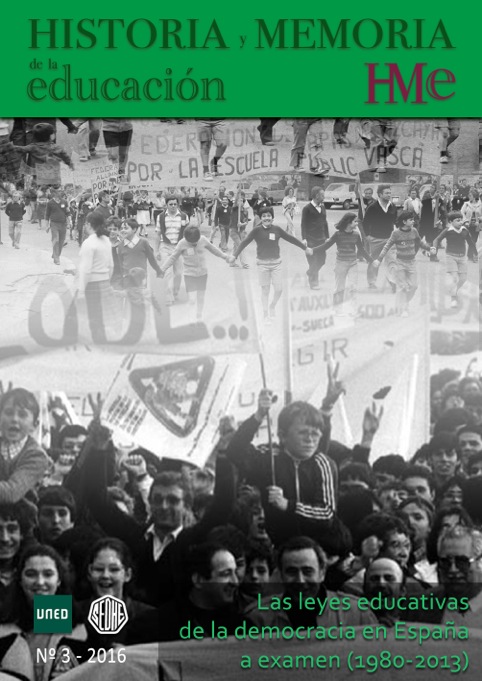 Downloads
How to Cite
Ramírez Aísa, E. (2016). La escuela neoliberal en la Comunidad de Madrid. Estrategias y prácticas políticas, 2003-2015. Historia Y Memoria De La Educación, (3), 99–135. https://doi.org/10.5944/hme.3.2016.14990