Architecture and Pedagogy in France: 1970, an aborted revolution
Keywords:
school buildings, open-plan schools, Plowden Report, Centre Beaubourg Paris, Saint-Merri School Paris, David and Mary Medd, Edith Schreiber-Aujame, Édouard-Marc Roux
Abstract
According to historian Antoine Prost, education in France is marked by two periods of profound reform. The first (1880-1902) occurred during the Third Republic and the second (1960-1985) was set in motion under de Gaulle. From an architectural point of view, the former gave rise to the Jules Ferry school, while the latter sought to introduce the English open-space school model into France. Taking the example of the École Saint-Merri, built in Paris between 1971 and 1973, this article examines the impact of this second reform from an architectural point of view.
Downloads
Download data is not yet available.
References
Bouillon, Auguste. De la construction des maisons d'école primaire. Paris: L. Hachette, 1834.
Châtelet, Anne-Marie. La naissance de l'architecture scolaire. Les écoles élémentaires parisiennes de 1870 à 1914. Paris: Honoré Champion, 1999.
Châtelet, Anne-Marie. Le Souffle du plein air. Histoire d'un projet pédagogique et architectural novateur. Genève: MètisPresse, 2011.
Dorison, Catherine and Kahn, Pierre. "Roger Gal et Louis Legrand ou les trente glorieuses de la réforme pédagogique", Carrefours de l'éducation, 31, no. 1 (2011): 89-104. In: https://www.cairn.info/revue-carrefours-de-l-education-2011-1-page-89.htm (consulted 3 March 2020).
Gloton, Robert (ed.), À la recherche de l'école de demain. Le Groupe expérimental de pédagogie active du XXe arrondissement de Paris. Paris: Bourrelier, A. Colin, 1970.
Gréard, Octave. Éducation et instruction. Paris: Hachette, 1895.
Guttierez, Laurent; Besse, Laurent and Prost, Antoine. Réformer l'école. L'apport de l'Éducation nouvelle (1930-1970). Grenoble, Presses universitaires, 2012.
Illich, Ivan. Une société sans école. Paris: Seuil, 1971.
Jomard, Edme François. Abrégé de la méthode des écoles élémentaires. Paris: L. Colas, 1816.
Jomard, Edme François. "Remarques sur les écoles de Bell et Lancaster extraites d'un journal de voyage en Angleterre (mars-avril 1815)", Journal d'éducation 1 (Oct. 1815-March 1816): 55-89.
Korganow, Alexis. "L'heure de gloire de l'équipement intégré. Une forme de centralité en ville nouvelle", Les Annales de la Recherche Urbaine 98 (2005): 74-82.
La Salle, Jean-Baptiste de. Conduite des écoles chrétiennes. Paris: Procure générale, 1951.
Mesmin, Georges. L'Enfant, l'architecture et l'espace. Paris: Casterman, 1971.
Narjoux, Félix. Règlement pour la construction et l'ameublement des maisons d'école, arrêté par le ministre de l'instruction publique le 7 juin 1880; suivi d'un commentaire et de plans explicatifs. Paris, 1880.
Neill, Alexander Sutherland. Summerhill: A Radical Approach to Child Rearing. New York: Hart Publishing Company, 1960.
Piaget, Jean. La psychologie de l'enfant. Paris: PUF, 1966.
Planat, Paul. Nouveau règlement pour la construction et l'ameublement des écoles primaires avec analyse, article par article, commentaires et développements pratiques. Paris: Ducher, 1881.
Prost Antoine, Histoire des réformes de l'éducation, de 1936 à nos jours. Paris: Seuil, 2013.
Seaborne, Malcolm and Lowe, Roy. The English School, its Architecture and Organization 1870-1970. London: Routledge, 1977.
Tronchot, Raymond. "L'enseignement mutuel en France de 1815 à 1633. Les luttes politiques et religieuses autour de la question scolaire" (Thèse de l'Université de Paris I, 1972).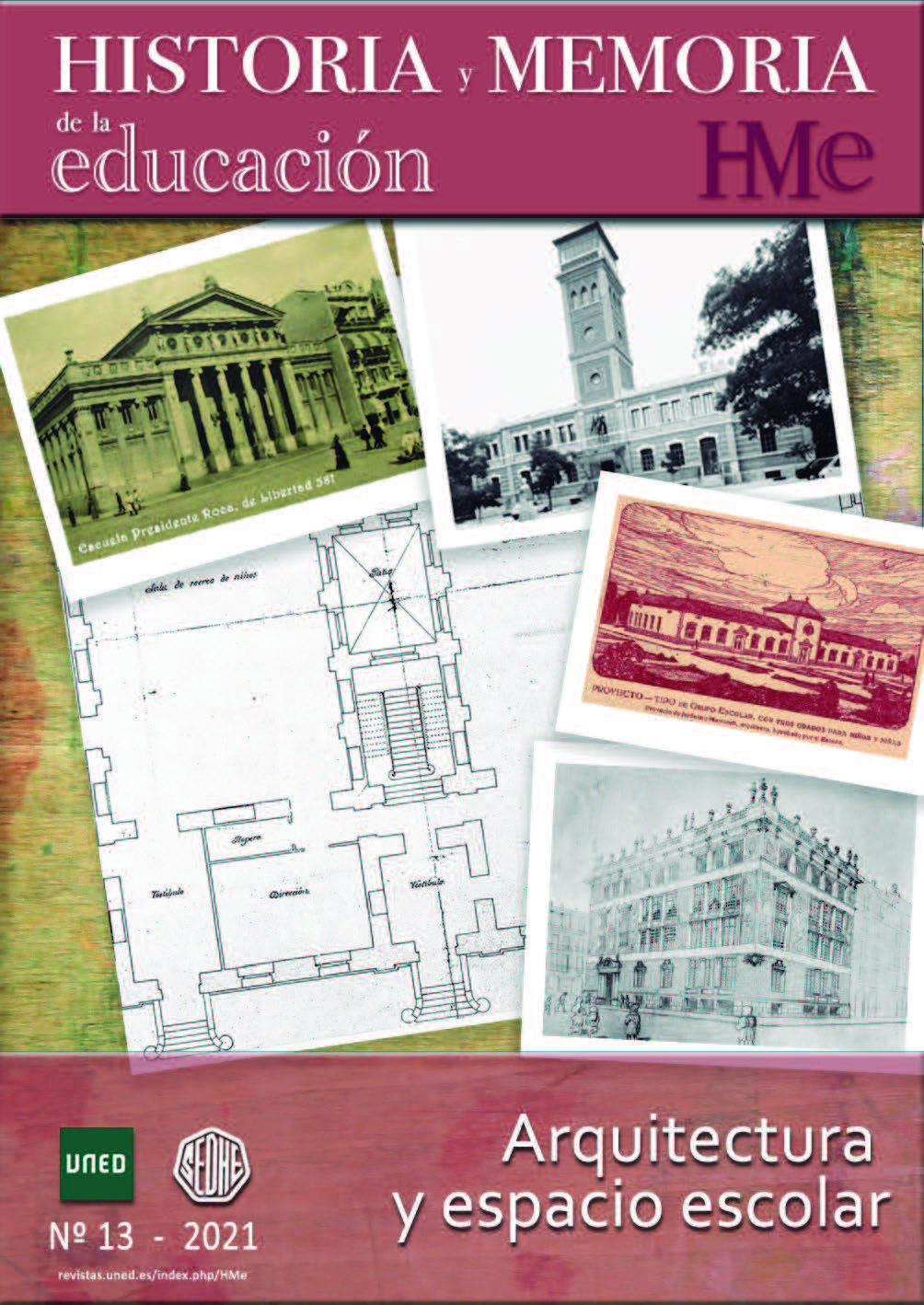 Downloads
How to Cite
Chatelet, A.-M. (2020). Architecture and Pedagogy in France: 1970, an aborted revolution. Historia Y Memoria De La Educación, (13), 49–111. https://doi.org/10.5944/hme.13.2021.27463