Divergent Meanings of the «Popular». Sarmiento, Sastre and their allies in the field of primary education of the City of Buenos Aires during the early liberal era (1852-1872)
Keywords:
Popular education, School policy, Domingo F. Sarmiento, Marcos Sastre, Liberalism
Abstract
This article analyses the changing school policies in the city of Buenos Aires between the fall of Juan Manuel de Rosas' regime and the imposition of a unified curriculum in the city in 1872. Local school policies were erratic and even conflicting in their priorities and were influenced by different social
and educational groups. Different strategies and the emergence of educational factions within the school administration are seen as being largely the result of different postures regarding the crucial issue of the meanings of the «popular ». These meanings affected both the political and the educational spheres. In this constellation, a liberal faction led by Sarmiento maintained the strong political meanings associated with the popular, which included a strong confidence in the active participation of civil society in the regulation and improvement of the schools as well as a consistent concern about the extension of school attendance. Another faction was rather Catholic in its liberalism and had in Marcos Sastre, a writer and educationist, its central figure. This faction defended a sceptical perspective about the popular in the field of education and focused on pedagogical issues to the detriment of a more political approach
Downloads
Download data is not yet available.
References
Basualdo, Federico y Estela Pagani, eds. La educación pública. Del Municipio a la Nación (1857-1886). Buenos Aires: Dirección General de Patrimonio e Instituto Histórico, 2009.
Bonaudo, Marta. «Los grupos dominantes entre la legitimidad y el control». In Liberalismo, estado y orden burgués (1852-1880), edited by Marta Bonaudo, 27-96. Buenos Aires: Sudamericana (1999).
Botana, Natalio. La tradición republicana. Buenos Aires: Editorial Sudamericana, 1997.
Brandariz, Gustavo A. «La actividad masónica en la educación argentina (1810- 1910)». Temas de patrimonio cultural 8 (2003): 33-51.
Bustamente Vismara, José. «Entre el decir y el hacer. Sarmiento, los municipios y la administración de las escuelas». Estudios de Teoria Literaria 1 (1), (2012): 27-34.
Caruso, Marcelo. «Literacy and Suffrage. The politicisation of schooling in postcolonial Hispanic America (1810-1850)». Paedagogica Historica 46 (4), (2010): 463-478.
Chamosa, Oscar. «To Honor the Ashes of Their Forebears: The Rise and Crisis of African Nations in the Post-Independence State of Buenos Aires, 1820- 1860». The Americas 59 (3), (2003): 347-378.
De la Fuente, Ariel. Children of Facundo. Caudillo and Gaucho Insurgency During the Argentine State-Formation Process (La Rioja, 1853-1870). Durham & Londres: Duke University Press, 2000.
Di Meglio, Gabriel. ¡Viva el bajo pueblo! La plebe urbana de Buenos Aires y la política entre la Revolución de Mayo y el rosismo. Buenos Aires: Prometeo, 2006.
Eujanián, Alejandro. «La cultura: público, autores y editores». In Liberalismo, estado y orden burgués (1852-1880), edited by Marta Bonaudo, 545-605. Bue¬nos Aires: Sudamericana, 1999.
FernándezSebastián, Javier y Juan Francisco Fuentes, eds. Diccionario político y social del siglo xix español. Madrid: Alianza, 2002.
Goldman, Noemí y Gabriel Di Meglio. «Pueblo/Pueblos». In Lenguaje y revolución. Conceptos políticos clave en el Río de la Plata, 1780-1850, edited by Noemí Goldman, 131-145. Buenos Aires: Prometeo, 2008.
GonzálezBernaldo de Quirós, Pilar. Civilidad y política en los orígenes de la Na¬ción Argentina. Las sociabilidades en Buenos Aires, 1829-1862. Buenos Aires: FCE, 2000.
Halperin Donghi, Tulio. Una nación para el desierto argentino. Buenos Aires: CEAL, 1992.
Jalif de Betranou, Clara Alicia. «Luis José de la Peña, primer profesor de filo¬sofía de la Universidad de Montevideo: sus lecciones de filosofía (1827)». Cuadernos americanos 3 (105), (2004): 138-144.
Lettieri, Alberto. «De la "República de la Opinión" a la "República de las Instituciones"». In Liberalismo, estado y orden burgués (1852-1880), edited by Marta Bonaudo, 97-160. Buenos Aires: Sudamericana, 1999.
Levene, Ricardo. Historia de la Provincia de Buenos Aires y formación de sus pueblos, Tomo I. La Plata: Taller de Impresiones Oficiales, 1940.
Levene, Ricardo, ed. Fundación de escuelas públicas en la Provincia de Buenos Aires durante el gobierno escolar de Sarmiento (1856-1861; 1875-1881). La Plata: Talleres de Impresiones Oficiales, 1939.
Lewcowicz, Lidiy F. Juana Paula Manso (1819-1875). Una mujer del siglo xxi. Buenos Aires: Corregidor, 2000.
Manso, Juana. Curso graduado de instrucción en las escuelas públicas de Chicago. Para servir de modelo a las de la República Argentina. Buenos Aires: Imprenta Americana, 1869.
Moreno, Gabriel René. Nicomedes Antelo. Santa Cruz de la Sierra: Publicaciones de la Universidad, 1960.
Narodowski, Mariano. «La expansión lancasteriana en Iberoamérica. El caso de Buenos Aires». Anuario del Instituto de Estudios Históricos y Sociales 9 (1994): 255-278.
Narodowski, Mariano. «El lado oscuro de la luna. El temprano siglo XIX y la historiografía educacional argentina». In Historia de la educación en debate, edited by Rubén Cucuzza, 269-280. Buenos Aires: Miño y Dávila, 1996.
Narodowski, Mariano. «Los libros de texto de pedagogía en la formación de docentes de Buenos Aires (1810-1830)». In Los manuales escolares como fuente para la historia de la educación en América Latina, edited by Gabriela Ossenbach Sauter y José Miguel Somoza Rodríguez, 83-94. Madrid: UNED, 2001.
Newland, Carlos. «La educación primaria privada en la Ciudad de Buenos Aires (1820-1834)». Libertas 4 (1986): 25-38.
Newland, Carlos. Buenos Aires no es Pampa: la educación elemental porteña, 1820-1860. Buenos Aires: GEL, 1992.
Oría, Angela Inés. «Desafíos a la "educación popular". Sarmiento en el Departa¬mento de Escuelas, 1856-1862». PhD diss., Universidad de San Andrés, 2004.
Pasquali, Patricia. La instauración liberal. Urquiza, Mitre y un estadista olvidado: Nicasio Oroño. Buenos Aires: Planeta, 2003.
Pineau, Pablo. La escolarización en la provincia de Buenos Aires (1875-1930). Buenos Aires: FLACSO/ CBC-UBA, 1997.
Puiggrós, Adriana. Sujetos, disciplina y currículum en los orígenes del sistema educativo argentino, 1884-1916. Buenos Aires: Galerna, 1990.
Ramos, Juan P. Historia de la instrucción primaria en la República Argentina, 1810-1910. Tomo 2. Buenos Aires: Peuser, 1910.
Sábato, Hilda. The Many and the Few. Political Participation in Republican Buenos Aires. Stanford: Stanford University Press, 2001.
Sá e Melo Ferreira, Fátima. «Povo e povos no mundo ibero-americano». Jahrbuch für Geschichte Lateinamerikas 45 (2008): 245-274.
SáenzQuesada, María. El estado rebelde. Buenos Aires entre 1850-1860. Buenos Aires: Editorial de Belgrano, 1982.
Salvadores, Antonino. La instrucción primaria desde 1810 hasta la sanción de la ley 1420. Buenos Aires: Talleres gráficos del Consejo Nacional de Educación, 1941.
Szuchman, Mark D. «Childhood Education and Politics in Nineteenth-Century Argentina: The Case of Buenos Aires». Hispanic American Historical Review 70 (1), (1990): 109-138.
Szuchman, Mark D. «In Search of Deference: Education and Civic Formation in Nineteenth-Cen-tury Buenos Aires». In Molding the Hearts and Minds. Education, Communi¬cations, and Social Change in Latin America, edited by John A. Britton, 1-18. Wilmington: Scholarly Ressources, 1994.
Ternavasio, Marcela. La revolución del voto. Política y elecciones en Buenos Aires, 1810-1852. Buenos Aires: Siglo XXI, 2002.
Veiga, Raúl. «La instrucción pública elemental y la organización nacional. Argentina, 1810-1880». In École et société en Espagne et en Amérique Latine (xviiie-xxe siècles), edited by Jean-René Aymes, Ève-Marie Fell y Jean-Louis Guereña 103-118. Tours: Publications de l'Université de Tours,1983.
Villavicencio, Susana. Sarmiento y la nación cívica. Ciudadanía y filosofías de la nación en Argentina. Buenos Aires: Eudeba, 2008.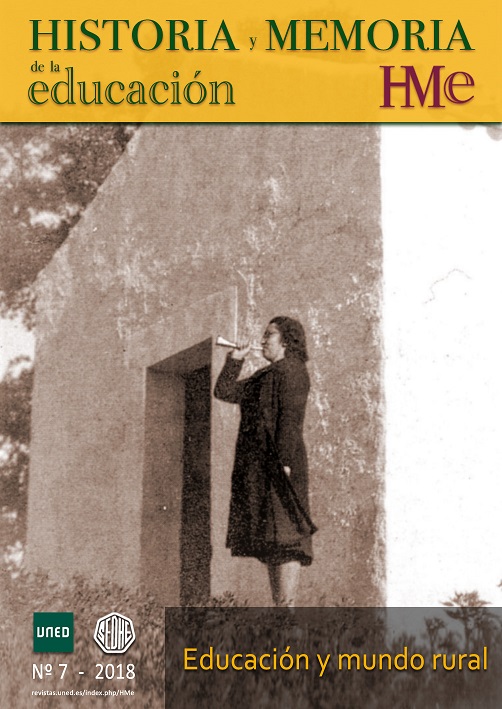 Downloads
How to Cite
Caruso, M., & Rodríguez Wehrmeister, M. (2018). Divergent Meanings of the «Popular». Sarmiento, Sastre and their allies in the field of primary education of the City of Buenos Aires during the early liberal era (1852-1872). Historia Y Memoria De La Educación, (7), 423–465. https://doi.org/10.5944/hme.7.2018.17978
Section
Historical Researches