Queer Teachers Negotiating Geographies of Safety in the 1990s
Keywords:
queer, LGBTQ teachers, 1990s, history
Abstract
This study demonstrates how three queer teachers in conservative spaces created geographies of safety during the 1990s. Each of the three teachers discussed initiated a geography of safety, and these histories are relevant to the ongoing negotiation that queer elementary and secondary educators today engage as they reconcile their moral authority as teachers with their gender(s) and sexualities.
Downloads
Download data is not yet available.
References
Bailey, Marlon M. Butch queens up in pumps: gender, performance, and ballroom culture in Detroit. Lansing: University of Michigan Press, 2013.
Baim, Tracy. Out and proud in Chicago: an overview of the city's gay community. Evanston, IL: Agate Publishing, 2009.
Bérubé, Allan. D'Emilio, John. and Freedman, Estelle B. Coming out under fire: the history of gay men and women in World War II. Chapel Hill: University of North Carolina Press, 2010.
Blount, Jackie M. Fit to teach: same-sex desire, gender, and school work in the twentieth century. Albany: State University of New York Press, 2005.
Blount, Jackie M. "Spinsters, bachelors, and other gender transgressors in school employment, 1850-1990", Review of Educational Research 7, no.1, 2000: 83-101.
Boag, Peter, Same-sex affairs: constructing and controlling homosexuality in the Pacific Northwest. Berkeley: University of California Press, 2003.
Canaday, Margot. The straight state: sexualty and citizenship in twentieth-century America. Princeton, NJ: Princeton University Press, 2011.
Carter, Mike. "Lesbian teacher fired from coaching job, sues school for civil rights violation", The Greenville News, October 22 (1997).
Castiglia, Christopher and Reed, Christopher. If memory serves: gay men, AIDS, and the promise of the queer past. Minneapolis, MN: University of Minnesota, 2012.
Cvetkovich ,Ann. An archive of feelings: trauma, sexuality, and lesbian public cultures. Durham, NC: Duke University Press Books, 2003.
D'Amico, Diana. Blaming teachers: professionalization policies and the failure of reform in American history. New Brunswick, NJ: Rutgers University Press, 2020.
Dilley, Patrick. Gay liberation to campus assimilation: early non-heterosexual student organizing at midwestern universities. New York: Palgrave Macmillan, 2019.
Downs, Jim. Stand by me: the forgotten history of gay liberation. New York: Basic Books, 2016.
Fellows, Will and Branson, Helen. Gay bar: the fabulous, true story of a daring woman and her boys in the 1950s. Madison: University of Wisconsin Press, 2010.
Frank, Miriam. Out in the union: a labor history of queer America. Philadelphia, PA: Temple University Press, 2014.
Goldstein, Dana. The teacher wars: a history of America's most embattled profession. New York: Anchor, 2015.
Graves, Karen L. And they were wonderful teachers: Florida's purge of gay and lesbian teachers. Urbana, IL: University of Illinois Press, 2009.
Harbeck, Karen Marie. Gay and lesbian educators: personal freedoms, public constraints. Malden, MA: Amethyst Press, 1997.
Howard, John. Men like that: a southern queer history. Chicago: University of Chicago Press, 2001.
Kevin, Jennings. Mama's boy, preacher's son: a memoir of growing up, coming out, and changing America's schools. Boston: Beacon Press, 2007.
Kissen, Rita M. The last closet: the real lives of lesbian and gay teachers. Portsmouth, NH: Heinemann, 1996.
Lugg, Catherine A. "Sissies, faggots, lezzies, and dykes: Gender, sexual orientation, and a new politics of education?", Educational Administration Quarterly 39, no.1 (2003): 95-134.
Lugg, Catherine A. US public schools and the politics of queer erasure. New York: Palgrave Pivot, 2015.
MacLean, Nancy. Freedom is not enough: the opening of the American workplace, Cambridge, MA: Harvard University Press, 2008.
Massey, Doreen B. Space, place, and gender. Minneapolis, MN: University of Minnesota Press, 1994.
Mayernick, Jason, "The Gay Teachers Association of NYC and LGB students: 1974-1985", Teachers College Record 122, no.9 (2020): 1-30.
Nash, Margaret A. and Graves, Karen L. Mad River, Marjorie Rowland, and the quest for LGBTQ teachers' rights. New Brunswick: Rutgers University Press, 2022.
Rofes, Eric E. A radical rethinking of sexuality and schooling: status quo or status queer. Lanham, MD: Rowman & Littlefield Publishers, 2005.
Sanlo, Ronni L. Unheard voices: the effects of silence on lesbian and gay educators. Westport, CT: Bergin & Garvey, 1999.
Seidman, Steven. The social construction of sexuality, 2nd edition. New York, NY: W. W. Norton & Company, 2009.
Stein, Marc. Rethinking the gay and lesbian movement. New York, NY: Routledge, 2012.
Tiemeyer, Philip James Plane queer: labor, sexuality, and AIDS in the history of male flight attendants. Berkeley: University of California Press, 2013.
Warner, Michael. Publics and counterpublics. New York: Zone Books, 2005.
Windham, Lane. Knocking on labor's door: union organizing in the 1970s and the roots of a new economic divide. Chapel Hill, NC: The University of North Carolina Press, 2017.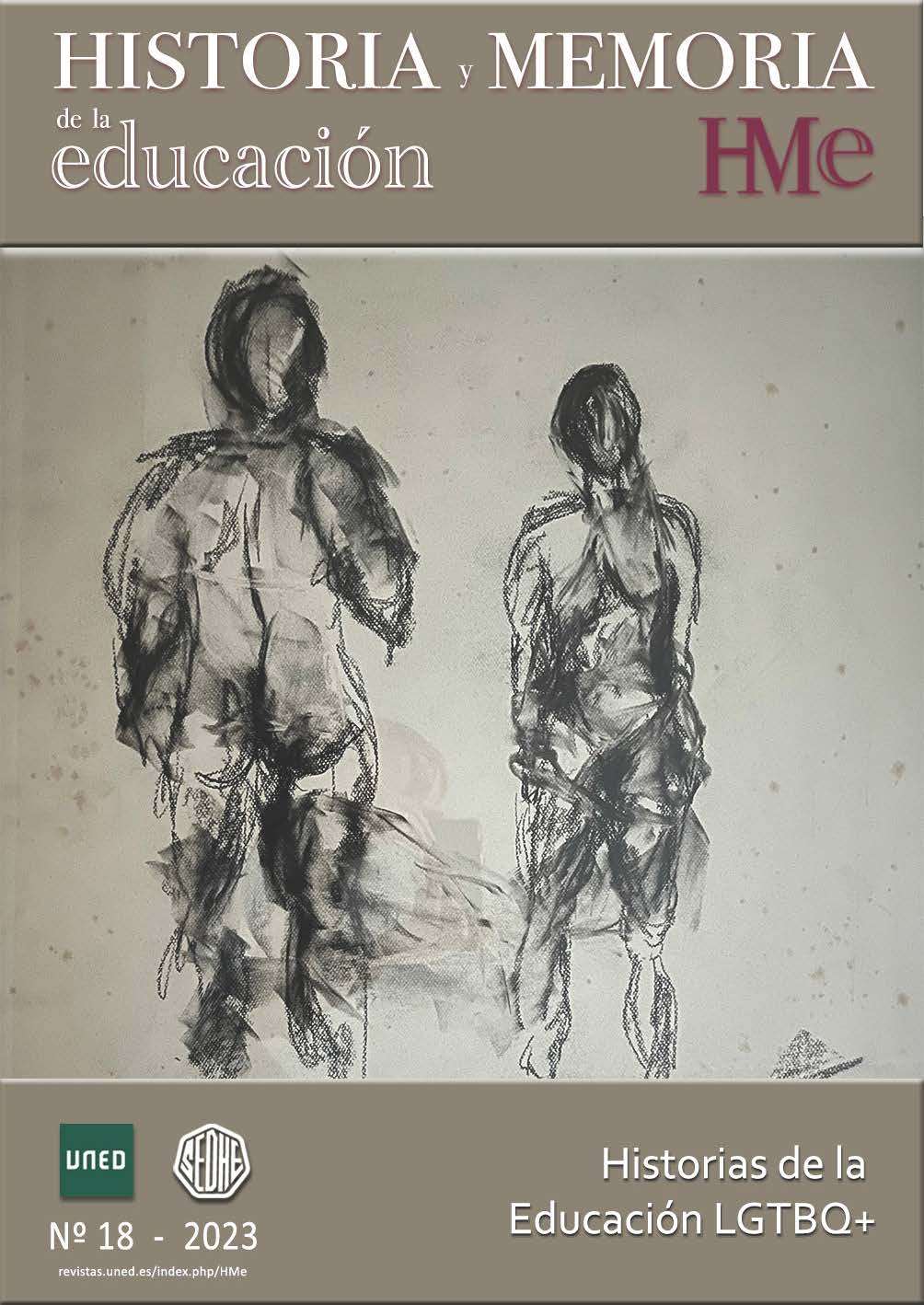 Downloads
How to Cite
Mayernick, J. (2023). Queer Teachers Negotiating Geographies of Safety in the 1990s. Historia Y Memoria De La Educación, (18), 77–109. https://doi.org/10.5944/hme.18.2023.34639
License
This work is licensed under a Creative Commons Attribution-NonCommercial 4.0 International License.