School Memories. New Trends in the History of Education, por Cristina Yanes-Cabrera; Juri Meda; Antonio Viñao (editores). Cham, Springer, 2017, 278 pp. ISBN: 978-3-319-44062-0
Abstract
Review of the book:Yanes-Cabrera, Cristina; Meda, Juri and Viñao, Antonio (eds.), School Memories. New Trends in the History of Education (Cham: Springer, 2017)
Downloads
Download data is not yet available.
References
Grosvenor, Ian; Lawn, Martin and Rousmaniere, Kate (eds), Silences and images. The social history of the classroom (Nueva York: Peter Lang, 1999).
Tagsorean, Carmen. «Between Manipulation, Propaganda and Education – the Activity of the Romanian Journals for Children during the Communist Regime», Espacio, Tiempo y Educación, 4(1), (2017): 7.
Yanes-Cabrera, Cristina; Meda, Juri and Viñao, Antonio (eds.), School Memories. New Trends in the History of Education (Cham: Springer, 2017)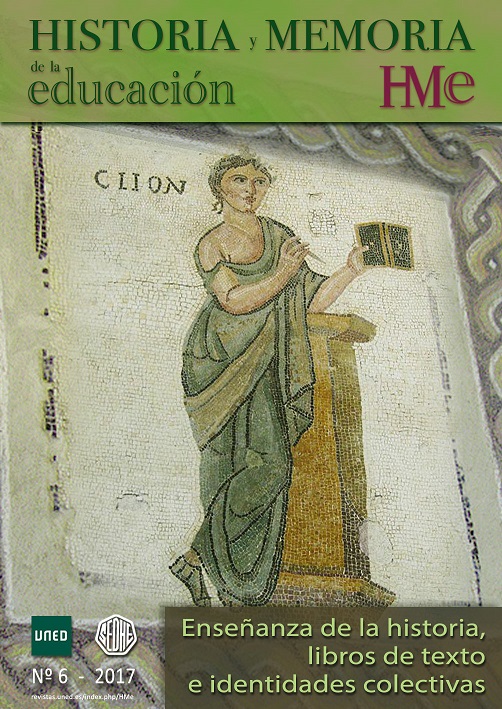 Downloads
How to Cite
Collelldemont Pujadas, E., & Padrós Tuneu, N. (2017). School Memories. New Trends in the History of Education, por Cristina Yanes-Cabrera; Juri Meda; Antonio Viñao (editores). Cham, Springer, 2017, 278 pp. ISBN: 978-3-319-44062-0. Historia Y Memoria De La Educación, (6), 523–536. https://doi.org/10.5944/hme.6.2017.18320