E-Guess: Evaluación de usabilidad para juegos educativos
Palabras clave:
juegos educativos, método heurístico, evaluación, tecnología educacional, juego de ordenador
Agencias Financiadoras:
Department of Education - Federal University of Lavras, Minas Gerais State Research Support Foundation - FAPEMIG
Resumen
Usabilidad es un aspecto relevante en el análisis de la interfaz hombre-máquina, ya que se trata del diálogo que se establece entre sujetos, artefacto y calidad de uso e interacción que permite el sistema. Este trabajo presenta una heurística específica para la evaluación de juegos educativos, creada a partir de Game User Experience Satisfaction (GUESS) y, concomitantemente, las herramientas de evaluación de Nielsen. Para ello, se realizó una investigación aplicada con un enfoque cuantitativo-cualitativo - con la participación de 3 usuarios especializados y 4 usuarios potenciales en un juego educativo utilizado como estudio de caso. La elección de GUESS como punto de partida se debió a una revisión sistemática de la literatura sobre usabilidad. Según el modelo, se invitó a los usuarios a operar el juego educativo y presentar sus impresiones. A partir de los resultados seleccionados, se formuló una nueva herramienta de evaluación de uso, denominada E-GUESS. Con Educational-GUESS, introdujimos cambios dirigidos a temas pedagógicos y contenidos educativos que también busca dilucidar puntos importantes en el desarrollo de un juego educativo al permitir percepciones que son fácilmente ignorados durante la fase de diseño con la intención de superar la supuesta bipolaridad entre "divertido" y "educativo" en los juegos de software educativo. Otro aporte de la investigación fue el análisis de usabilidad realizado para el juego educativo utilizado en la recolección de datos. Este juego, que trata sobre el tema Tabla Periódica de Química y se encuentra en fase de validación, recibió valiosos aportes para ajustes en su jugabilidad.
Descargas
Los datos de descargas todavía no están disponibles.
Citas
Allen, W. C. (2006). Overview and evolution of the ADDIE training system. Advances in Developing Human Resources, 8(4), 430-441. https://doi.org/10.1177/1523422306292942
Azevedo, D., Silveira, A. C., Lopes, C. O., Amaral, L. O., Goulard, I. C. V., & Martins, R. X (2018). Letramento digital: uma reflexão sobre o mito dos 'Nativos Digitais'. Renote. Revista Novas Tecnologias na Educação, 16, 1-11. https://doi.org/10.22456/1679-1916.89222
Barbacci, M., & Klein, M., Longstaff, T., & Weinstock, C. (1995). Quality Attributes (CMU/SEI-95-TR-021). http://resources.sei.cmu.edu/library/asset-view.cfm?AssetID=12433. https://doi.org/10.21236/ADA307888
Bruner, J. (2009). Interaction de guidage, étayage et développement. Université de Genève. http://www.unige.ch/fapse/SSE/teachers/crahay/PDA/Bruner
Busch, C., Claßnitz, S., Selmanagić, A., Steinicke, M. (2015). Developing and Testing a Mobile Learning Games Framework. Electronic Journal of e-Learning, 13(3), 151-166.
Czauderna, A., Guardiola, E. (2019). The Gameplay Loop Methodology as a Tool for Educational Game Design. Electronic Journal of e-Learning, 17(3), 201-227. https://doi.org/10.34190/JEL.17.3.004
Freitas, S. (2017). Are Games Effective Learning Tools? A Review of Educational Games. Educational Technology & Society, 21(2), 74-84.
Fisch, S., M. (2005). Making Educational Computer Games "Educational". Proceedings of the 2005 conference on Interaction design and children. (pp. 56-61). ISBN:1-59593-096-5. https://doi.org/10.1145/1109540.1109548
Garcia-Ruiz, M. A., Xu, S., Santana-Mancilla, P. C., & Iniguez-Carrillo, A. L. (2020). Experiences in Teaching and Learning Video Game Testing with Post-mortem Analysis in a Game Development Course. In Proceedings of EdMedia + Innovate Learning (pp. 597-602). Online, The Netherlands: Association for the Advancement of Computing in Education (AACE). https://www.learntechlib.org/primary/p/217358/
Gunther, H. (2003). Como Elaborar um Questionário. Laboratório de Psicologia Ambiental Universidade de Brasília. Série: Planejamento de Pesquisa nas Ciências Sociais, Nº 01. Instituto de Psicologia.
Hawlitschek, A., & Joeckel, S. (2017). Increasing the effectiveness of digital educational games: The effects of a learning instruction on students learning, motivation and cognitive load. Computers in Human Behavior. Elsevier. https://doi.org/10.1016/j.chb.2017.01.040
Hermawati, S., & Lawson, G. (2016). Establishing usability heuristics for heuristics evaluation in a specific domain: Is there a consensus? Applied ergonomics, 56, 34-51. https://doi.org/10.1016/j.apergo.2015.11.016
Heinecke W., & Adamy, P. (2010). Evaluating Technology in Teacher Education: Lessons from the Preparing Tomorrow's Teachers for Technology. Research Methods in Educational Technology. Information. ISBN-10: 1607521350. ISBN-13: 978-1607521358.
IEEE Standard for Software Quality Assurance Processes," in IEEE Std 730-2014 (Revision of IEEE Std 730-2002), v.1. pp.1-138, 13 June 2014. https://doi.org/10.1109/IEEESTD.2014.6835311
Joyce, A. (2019). 10 Usability Heuristics Applied to Video Games. Nielsen Norman Group. https://www.nngroup.com/articles/usability-heuristics-applied-video-games/
Junior, A. M. (2006). O videogame nas aulas de educação física. Grupo de Pesquisas em Educação Física Escolar da FEUSP/CNPq.
Kielgast, S., & Hubbard, B. A. (1997). Valor agregado à informação: da teoria à prática. Ciência da informação, 26(3). https://doi.org/10.1590/S0100-19651997000300007
Lamb, R. L., Anneta, L. A., & Firestone, J. B. (2018). A meta-analysis with examination of moderators of student cognition affect, and learning outcomes while using serious educational games, serious games and simulations. Computer in Human Behavior. Issue. 80, 158-167. https://doi.org/10.1016/j.chb.2017.10.040
Lauesen, S. (2005). User Interface Design: A Software Engineering Perspective. Pearson/Addison-Wesley. ISBN: 0321181433, 9780321181435
Lévy, P. (2003). A inteligência coletiva: por uma antropologia do ciberespaço. 4.ed. São Paulo: Loyola.
Lope, R. P., Arcos, J. R. L., Medina-Medina, N., Paderewski, P., & Guiérrez-Vela, F. L. (2017). Design Methodology for Educational Games based on Graphical Notations: Designing Urano. Entertainment Computing, 18, 1-14. https://doi.org/10.1016/j.entcom.2016.08.005
Nielsen, J. (1994). Usability inspection methods. In Conference companion on Human factors in computing systems, (pp. 413-414). https://doi.org/10.1145/259963.260531
Nielsen, J. (2000). How to Conduct a Heuristic Evaluation. https://www.nngroup.com/articles/how-to-conduct-a-heuristic-evaluation/
Phan, M., Keebler, J., & Chaparro, B. (2016). The Development and Validation of the Game User Experience Satisfaction Scale (GUESS). Human Factors: The Journal of the Human Factors and Ergonomics Society, 58. https://doi.org/10.1177/0018720816669646
Ray, B. B., Powell, A., & Jacobsen, B. (2014). Exploring Preservice Teacher Perspectives on Video Games as Learning Tools. Journal of Digital Learning in Teacher Education, 31(1), 28-34. https://doi.org/10.1080/21532974.2015.979641
Root, R. W., & Draper, S. (1983). Questionnaires as a software evaluation tool. Proceedings of CHI 83, (pp. 83-87). New York: NY: ACM. https://doi.org/10.1145/800045.801586
Sweller, J. (2002). Visualisation and instructional design. En R. Ploetzner (Ed.), Proceedings of the International Workshop on Dynamic Visualizations and Learning (pp. 1501-1510). Tübingen, Germany.
Squire, K. (2011). Video Games and Learning: Teaching and Participatory Culture in the Digital Age (Technology, Education–Connections (The TEC Series)). Technology, Education–Connections (The TEC Series). Publisher: Teachers College. ISBN-10: 0807751987. ISBN-13: 978-0807751985.
Smolka, A. L. B. (2000). O (im)próprio e o (im)pertinente na apropriação das práticas sociais. Cadernos Cedes, 50, 26-40. https://doi.org/10.1590/S0101-32622000000100003
Vieira, E. A. O., Silveira, A. C., & Martins, R. X. (2019). Heuristic Evaluation on Usability of Educational Games: A Systematic Review. Informatics in Education, 18, 1-20. https://doi.org/10.15388/infedu.2019.20
Whitson, J. R. (2020). What Can We Learn from Studio Studies Ethnographies? A "Messy" Account of Game Development Materiality, Learning, and Expertise. Games and Culture, 15(3), 266-288. https://doi.org/10.1177/1555412018783320
Yeni, S., & Gagiltay, K., (2017). A heuristic evaluation to support the instructional and enjoyment aspects of a math game. Program electronic library and information systems, 51(4), 406-423. https://doi.org/10.1108/PROG-07-2016-0050
Zhonggen, Y. (2019). A Meta-Analysis of Use of Serious Games in Education over a Decade. Hindawi International Journal of Computer Games Technology. Article ID 4797032. https://doi.org/10.1155/2019/4797032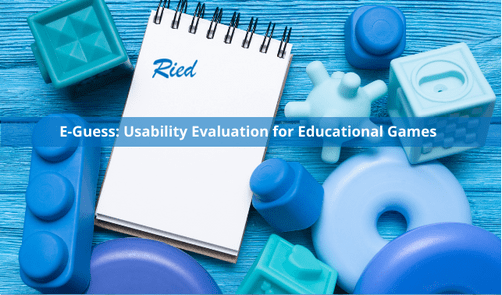 Descargas
Cómo citar
Silveira, A. C., Martins, R. X., & Vieira, E. A. O. (2021). E-Guess: Evaluación de usabilidad para juegos educativos. RIED-Revista Iberoamericana De Educación a Distancia, 24(1), 245–263. https://doi.org/10.5944/ried.24.1.27690
Licencia
Esta obra está bajo una licencia internacional Creative Commons Atribución 4.0.