Juegos digitales y gamificación aplicados en el ámbito de la educación
Palabras clave:
juego educativo, metodología, investigación acción, educación, participación del profesor
Resumen
Los juegos digitales y las estrategias de gamificación mantienen la atención de los jugadores, les exigen que resuelvan problemas, adquieran nuevos conocimientos y aprendan nuevas habilidades. A pesar de la considerable inversión emocional, incluida la frustración, los jugadores persisten y los educadores se han dado cuenta de que también pueden aprender del éxito de los juegos y utilizar los principios del juego para "gamificar" las actividades de aprendizaje. No es de extrañar entonces que la idea de incorporar juegos digitales o gamificación en el aula se haya apoderado de profesores e investigadores durante los últimos años. Este monográfico muestra cómo se usan los juegos digitales y la gamificación en la educación, al tiempo que señala algunas preocupaciones relacionadas.
Descargas
Los datos de descargas todavía no están disponibles.
Citas
All, A., Nuñez, P., Van, J. (2014). Measuring effectiveness in Digital Game-Based Learning: A Methodological Review. International Journal of Serious Games. 1 (2), p 3-21.
Bonk, C., & Dennen, V. (2005). Massive multiplayer online gaming a research framework for military training and education. Washington, D.C.: Office of the Under Secretary of Defense (Personnel and Readiness), Readiness and Training Directorat, Advanced Distributed Learning (ADL) Initiative.
Fui-Hoon Nah, F., Zeng, Q., Rajasekhar, V., Padmanabhuni, A., Eschenbrenner, B. (2014). Gamification of Education: A review of Literature. HCI in Business, 8527, 401-409.
Higgins, E., Grant, H., & Shah, J. (1999). Self Regulation and quality of life: Emotional and nonemotional life experiences. In D. Kahneman, E. Diener, & N. Schwarz (Eds.), Well-being: The foundations of hedonic psychology, pp. 244-266. New York: Russell Sage Foundation.
Kenny, R., & McDaniel, R. (2011). The role teachers' expectations and value assessments of video games play in their adopting and integrating them into their classrooms. British Journal of Educational Technology, 42(2), 197-213.
Kirriemuir, J., & McFarlane, A. (2004). Literature review in games and learning. Retrieved May 2, 2010, from http://www.futurelab.org.uk/download/pdfs/research/lit_reviews/Games_Review1
Lieberoth, A., Roepstorff, A. (2015). Mixed methods in games research, playing on strengths and countering weaknesses. In: Lankoski, P., Staffan, B. Game research methods: An overview. ETC Press, pp. 271-289. Pittsburgh, USA.
Mayer, I., Bekebrede, G., Harteveld, C., Warmelink, Q.Z., Van Ruijven, T., Lo, J., Kortmann, R., Wenzler, I. (2013). The research and evaluation of serious games: Toward a comprehensive methodology. British Journal of Education Technology, 45 (3), 502-527.
Mitchell, A., & Savill-Smith, C. (2004). The use of computer and video games for learning: A review of the literature. London: Learning and Skills Development Agency.
Paris, S., Lipson, M., & Wixson, K. (1983). Becoming a Strategic Reader. Contemporary Educational Psychology, 8, 293-316.
Perrotta, C., Featherstone, G., Aston, H., Houghton, E. (2013). Game-based Learning: Latest Evidence and Future Directions. En: NFER Research Programme: Innovation in Education. Slough- Berkshire, abr. 2013. Disponible en: http://ocw.metu.edu.tr/pluginfile.php/10919/mod_resource/content/1/GAME01.pdf
Zawacki-Richter, O., Anderson, T. (2015). Educação a Distância Online: construindo uma agenda de pesquisa. São Paulo:Artesanato Educacional.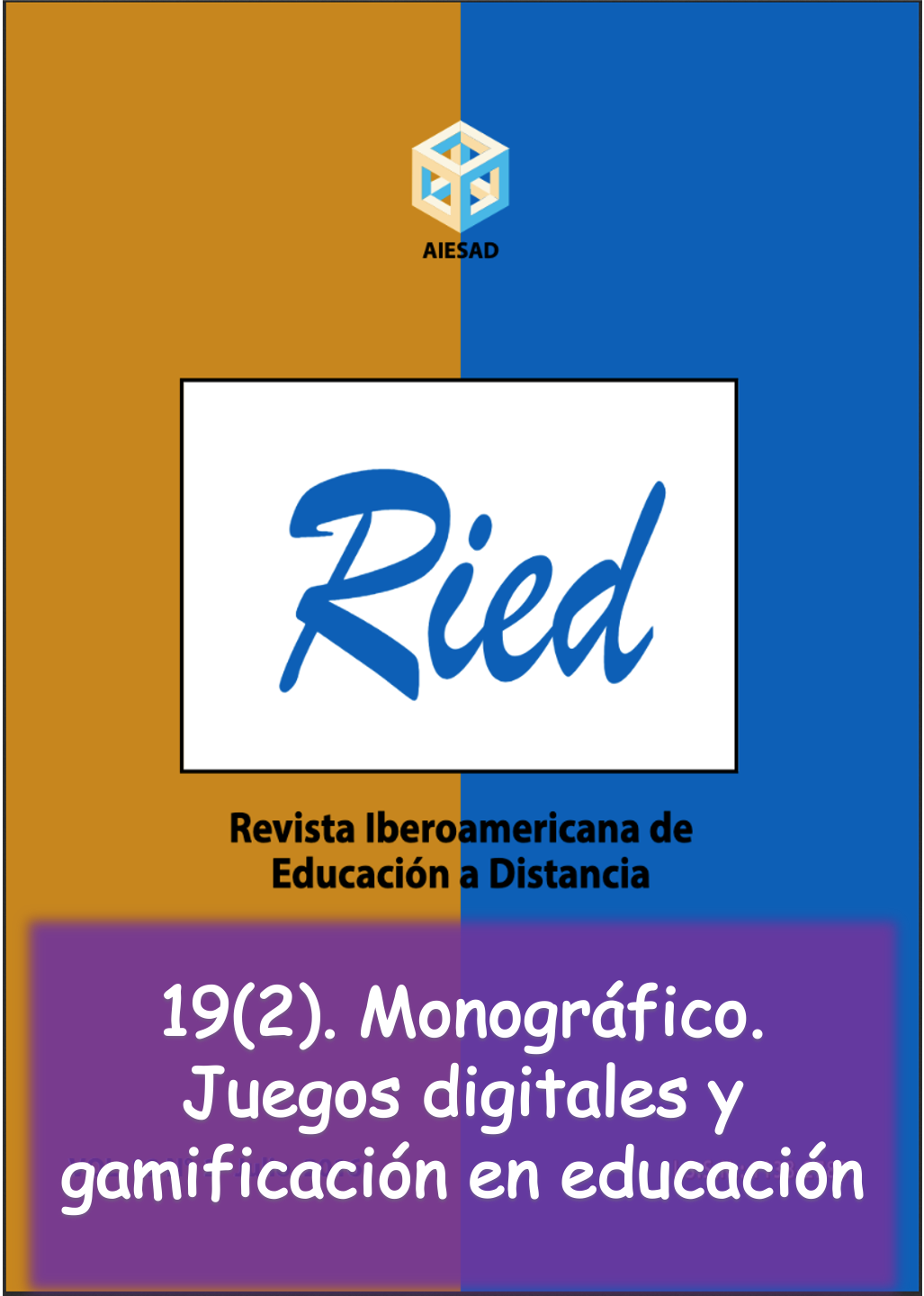 Cómo citar
Contreras Espinosa, R. S. (2016). Juegos digitales y gamificación aplicados en el ámbito de la educación. RIED-Revista Iberoamericana De Educación a Distancia, 19(2), 27–33. https://doi.org/10.5944/ried.19.2.16143
Licencia
Esta obra está bajo una licencia internacional Creative Commons Atribución 4.0.