¿Cómo se encuentran las anoréxicas tratadas por Mara Palazzoli y su equipo desde el 1971 al 1987?
Palabras clave:
anorexia, terapia familiar, métodos de investigación
Resumen
En este artículo presentamos los resultados de una investigación (aún en curso) sobre el seguimiento de chicas anoréxicas tratadas por Mara Palazzoli y sus equipos. Los resultados obtenidos no sólo confirman la eficacia de la Terapia Familiar sino que muestran también como la disponibilidad de las familias a implicarse en el tratamiento es un factor predictivo muy favorable. Finalmente, la presente investigación se orienta a poner a debate los modelos de terapia familiar breve, prescriptiva y estratégica, a favor de otros modelos basados en tratamientos más prolongados en el tiempo, que integren un trabajo individual y familiar.
Descargas
Los datos de descargas todavía no están disponibles.
Citas
American Psychiatric Asociation (1992). DSM-4. Masson Editore.
Anderson, C.M. (1986). The all-too-short trip form positive to negative connotation. Journal of Marital and Family Therapy, 12 (4), 351-354. 130 REVISTA DE PSICOTERAPIA / Vol. VIII - Nº 30-31
Bruch, H. (1974). Perils of behavior modification in the treatment of bulimia nervosa. Jama, 230, 1419-1422.
Cassano, G.B. (1992). Disturbi della condotta alimentare. In Cassano et al., Tratatto italiano di Psichiatria, Vol. 2 (pp. 2143-2185). Edizioni Masson.
Cuzzolaro, M. et al. (1993). To recover form what? The long-term psychiatric outcome of people who recover from eating disorders. In Advancements in diagnosis and treatment of anorexia bulimia and obesity (pp. 63- 74). Roma: Edizioni Promo Leader Service.
Gabbard, G.O. (1995). Psichiatria psicodinamica. Milano: R. Cortina Editore.
Garfinkel, P.E., & Garner, D.M. (1982). Anorexia nervosa: a multidimensional perspective. New York: Brunner-Mazel.
Gordon, R.A. (1991). Anorexia e bulimia. Anatomia di un'epidemia sociale. Milano: R. Cortina Editore.
Hall, A., Slim, E., Hawker, F., & Salmond, C. (1984). Anorexia nervosa: long-term outcome in 50 female patients. British Journal of Psychiatry, 145, 407-413.
Hawley, R.M. (1985). The outcome of anorexia nervosa in younger subjects. British Journal of Psychiatry, 146, 657-660.
Herzog, D.B., Keller, M.B., & Lavori, P.W. (1988). Outcome in anorexia nervosa and bulimia nervosa. A review of literatura. Journal of Nervous and Mental Disease, 176 (3), 131-143.
Hsu, L.K.G., Crisp, A.H., & Harding, B. (1979). Outcome of anorexia nervosa. Lancet, 1, 61-65.
Jeammet, P. et al. (1991). Le dévenir de l'anorexie mentale: une étude prospective de 129 patients evalues au moins 4 ans après leur prémière admission. Psychiatrie de l'Enfant, 34 (2), 381-442.
Morgan, H.G., Hayward, A.E. (1988). Clinical assesment in anorexia nervosa. The Morgan-Russell outcome assesment schedule. British Journal of Psychiatry, 152, 367-371.
Morgan, H.G., & Russell, G.F.M. (1975). Value of family background and clinical features as predictors of long-term outcome in anorexia nervosa: four year follow-up study of 41 patients. Psychological Medicine, 5, 355-371.
Ratnasuriya, R.H., Eisler, I., Szmukler, G.I., Russell, G.F.M. (1991). Anorexia nervosa: outcome and prognostic factors after 20 years. British Journal of Psychiatry, 20, 8-17. Santoanastaso, p., Favaretto, G., & Canton, G. (1987). Anorexia nervosa in Italy: clinical feature and outcome in a long-term follow-up study. Psychopatology, 20, 8-17.
Selvini, M. (1985). Cronaca di una ricerca. L'evoluzione della terapia familiare nelle opere di Mara Selvini Palazzoli. Roma: La Nuova Italia Scientica.
Selvini Palazzoli, M., Boscolo, L., Cecchin, G., & Prata, G. (1975). Paradosso e controparadosso. Un nuovo modello nella terapia della famiglia a transazione schizofrenica. Milano: Feltrinelli Editore.
Selvini Palazzoli, M., Cirillo, S., Selvini, M., Sorrentino, A.M.(1988). I giochi psicotici nella famiglia. Milano: R. Cortina Editore.
Steinhausen, H.C., & Seidel, R. (1992). A prospective follow-up study in early-onset eating disorder. In W. Herzog, H.C. Deter, & W. Vanderycken, The course of eating disorder (pp. 108-117). Berlin: SpringerVerlag.
Sturzenberger, S., Cantweil, D.P., Burroughs, J., Salkin, B., Green, J.K. (1977). A follow-up study of adolescent psychiatric inpatients with anorexia nervosa: The assesment of outcome. Journal of th American Academy of Child Psychiatry, 16, 703-715.
Tolstrup, K., Brinch, M., Isager, T., Nielsen, S., Nystrup, J., Severin, B., & Olesen, N.S. (1985). Long-term outcome of 151 cases of anorexia nervosa: The Copenhagen anorexia nervosa followup study. Acta Psychiatrica Scandinavica, 71, 380-387.
Walford, G., Mc cune, M. (1991). Long-term outcome in early-onset anorexia nervosa. British Journal of Psychiatry, 159, 383-389.
Warren, W. (1968). A study of anorexia nervosa in young girls. Journal of Child Psychology and Psychiatry, 9, 27-40.
Watzlavick, P., Beavin, J.H., & Jackson, D.D. (1967). Pragmatica della comunicazione umana. Roma: Astrolabio.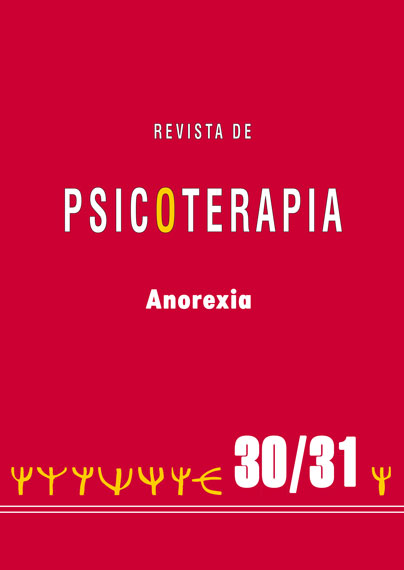 Cómo citar
Selvini, M., Pasin, E. ., Panico, D., Mancini, A. ., Gogliani, A., Bedarida, L. ., Basile, P., Babando, R., Allegra, G. ., Palazzoli, M. ., & Serra, T. . (1997). ¿Cómo se encuentran las anoréxicas tratadas por Mara Palazzoli y su equipo desde el 1971 al 1987?. Revista De Psicoterapia, 8(30/31), 111–130. https://doi.org/10.33898/rdp.v8i30/31.694
Sección
Artículo de monográfico