Talking about emotions with children at risk of social exclusion: A preliminary study
Keywords:
emotional competence, emotion regulation, emotional instability, children at risk of social exclusion
Abstract
The aim of this work was to pilot the efficacy of an intervention programme to enhance emotional com­petences in children aged 9 and 10 living in poverty and risk of social exclusion. The programme focuses on specific components of emotion knowledge and emotion regulation. A one group pre-experimental design with pre and posttest measures was used (N = 14). Children attended weekly sessions during four months. Results showed a significant improve­ment in emotion managing, adaptability and emo­tional instability. Children also showed a more effi­cient use of emotion regulation strategies. No differ­ences were found among Spanish children and chil­dren from other countries. In the discussion section we point out the convenience of this kind of pro­grammes to prevent mental health problems in this population.
Downloads
Download data is not yet available.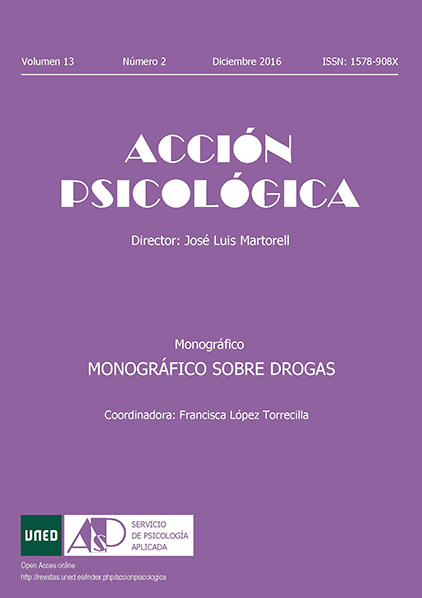 Downloads
How to Cite
Fernández Angulo, A., Quintanilla, L., & Gimenez-Dasi, M. (2016). Talking about emotions with children at risk of social exclusion: A preliminary study. Acción Psicológica, 13(1), 191–206. https://doi.org/10.5944/ap.13.1.15787
Section
Artículos de temática libre [Selection of articles]
License
Accion Psicologica is published under Creative Commons Attribution-Non Commercial (CC BY-NC). The opinions and contents of the articles published in Acción Psicológica are responsibility of the authors and do not compromise the scientific and political opinion of the journal. Authors are also responsible for providing copies of the raw data, ratings, and, in general, relevant experimental material to interested readers.