¿A qué interés sirve la tecnología?, ¿quién está incluido y quién excluido?
Palabras clave:
práctica digital, determinismo tecnológico, realismo crítico, teoría social realista, tecnología educativa.
Resumen
Este artículo da cuenta de lo que está ocurriendo hoy en día en la intersección de la educación y la tecnología. Tiene como objetivo ofrecer una visión general que comienza no en el presente sino en el pasado para que seamos conscientes de cómo con frecuencia estamos atrapados en la retórica política y en los discursos capitalistas. En los titulares de los periódicos se lee desde 1963: "Escuelas abarrotadas. Maestros desbordados de trabajo. En la confusión de la educación de hoy, ¿puede su hijo obtener la enseñanza personalizada que todo niño, estándar o avanzado, necesita?" y, para ese problema, la solución propuesta fue tecnológica, por lo que poco ha cambiado en relación con las escuelas abarrotadas y los profesores desbordados. Escudriño a continuación el presente a través de la invasión de las plataformas y el discurso de acompañamiento de Silicon Valley sobre soluciones universales a la educación, concluyendo que la situación no parece muy diferente a la de principios del siglo XX. El futuro está ilustrado con mis propias investigaciones que dan cuenta de mi enfoque sociológico a la investigación educativa en este campo. Se describen brevemente el realismo crítico y la teoría social realista y se proponen como marco teórico para pensar sobre estos temas de una manera menos determinista, dando su debida importancia a lo local. Ofrece un enfoque teórico de una metodología que contempla cómo capturar los enredos diarios de los estudiantes con herramientas digitales abiertas y participativas en el contexto de sus estudios buscando desvelar las estructuras invisibles y, por tanto, ocultas que funcionan como restricciones para la agencia de los estudiantes en su práctica digital.
Descargas
Los datos de descargas todavía no están disponibles.
Citas
Archer, Margaret. 1995. "Realist Social Theory: The Morphogenetic Approach Thus Not Only Rejects." : 370. http://books.google.co.uk/books?id=SMbNRp5EseMC.
—. 2000. Being Human: The Problem of Agency. Cambridge: Cambridge University Press.
—. 2003. Structure, Agency and the Internal Conversation. Cambridge: Cambridge University Press.
Archer, Margaret S. 1995. Realist Social Theory: The Morphogenetic Approach. Cambridge: Cambridge University Press.
Attwell, Graham. 2007. "Personal Learning Environments - the Future of ELearning." In ELearning Papers, 8.
Bhaskar, Roy. 1989. The Possibility of Naturalism: A Philosophical Critique of the Contemporary Human Sciences. 2nd ed. Harvester, Wheatsheaf.
—. 2008. A Realist Theory of Science A Realist Theory of Science. Routledge. http://www.jstor.org/stable/2184170?origin=crossref.
Case, Jennifer M. 2013. Researching Students Learning in Higher Education: A Social Realist Approach. London and New York: Routledge.
Castañeda, Linda, and Jordi Adell. 2013. "La Anatomía de Los PLEs." Entornos Personales de Aprendizaje: Claves para el ecosistema educativo en red: 11–27. https://digitum.um.es/jspui/handle/10201/30408.
Castañeda, Linda, and Neil Selwyn. 2018. "More than Tools? Making Sense of the Ongoing Digitizations of Higher Education." International Journal of Educational Technology in Higher Education 15(22). https://educationaltechnologyjournal.springeropen.com/track/pdf/10.1186/s41239-018-0109-y (May 21, 2018).
Coleman, John. 2008. The Educational and Social Impact of New Technologies on Young People in Britain. Oxford, UK.
Cronin, Catherine. 2017. "Openness and Praxis: Exploring the Use of Open Educational Practices in Higher Education." The International Review of Research in Open and Distributed Learning 18(5). http://www.irrodl.org/index.php/irrodl/article/view/3096 (July 4, 2018).
Cuban, Larry. 1986. Teachers and Machines: The Classroom Use of Technology since 1920. New York: Teachers college Press.
Danermark, Berth, Mats Ekström, Liselotte Jacobson, and Karlsson Jan Ch. 2002. Explaining Society: Critical Realism in the Social Science.
Hamilton, Edward. 2008. "The Atomatic Student and the Robot Professor: Online Education and the Politics of University Reform."
Hamilton, F., and Norm Friesen. 2013. "Online Education: A Science and Technology Studies Perspective." Canadian Journal of Learning and Technology 39(2): 1–21.
Herepath, Andrea. 2014. "In the Loop: A Realist Approach to Structure and Agency in the Practice Strategy." Organization Studies 35(6): 857–79.
Hooks, Bell. 1989. "Choosing the Margin as a Space of Radical Openness." Framework: The Journal of Cinema and Media (36): 15–23. http://www.jstor.org/stable/44111660.
—. 1994. Teaching to Transgress. Education as the Practice of Freedom Teaching to Transgress. Education as the Practice of Freedom. New York, London.
Kühn, Caroline. 2014. "Personal Learning Environment and the Learning of Mathematics -Possibility or Reality?" In Sinteza 2014 - Impact of the Internet on Business Activities in Serbia and Worldwide., 55–61. http://portal.sinteza.singidunum.ac.rs/paper/114.
—. 2017. "Are Students Ready to (Re)-Design Their Personal Learning Environment? The Case of the E-Dynamic.Space." NAER Journal of New Approaches in Educational Research JOURNAL OF NEW APPROACHES IN EDUCATIONAL RESEARCH 6(1): 11–19. http://naerjournal.ua.es.
Martins, Nuno. 2006. "Capabilities as Causal Powers." Cambridge Journal of Economics 30(5): 671–85.
Matthewmann, Steve. 2011. Ttechnology and Social Order. ed. Palgrave.
Morris, Sean. 2017. "Reading the LMS against the Backdrop of Digital
Pedadogy." http://digitallearning.middcreate.net/instructional-design/reading-the-lms-against-the-backdrop-of-critical-pedagogy-part-one/.
Oliver, Carolyn. 2011. "Critical Realist Grounded Theory: A New Approach for Social Work Research." British Journal of Social Work.
Popper, Karl. 1978. Three Worlds. Michigan.
Porlán, Isabel Gutiérrez et al. 2016. "Análisis Del PLE de Estudiantes Universitarios Españoles: Proyecto CAPPLE." In In-Red, http://dx.doi.org/10.4995/INRED2016.2016.4388 (September 17, 2016).
Selwyn, Neil. 2010. "Looking beyond Learning: Notes towards the Critical Study of Educational Technology." Journal of Computing Assisted Learning 26: 65–73.
Selwyn, Neil, and Keri Facer. 2013. "Recognizing the Politics of 'Learning' and Technology." In The Politics of Education and Technology, New York: Palgrave Macmillan.
Sen, Amartya. 1995. "The Perspective of Freedom." In Development as Freedom,.
Skinner, B.F. 1968. The Technology of Teaching. New York: Meredith Corporation.
Stommel, Jesse. 2017. "If Bell Hooks Made an LMS: Grades, Radical Opennes and Domain of One's Own." Higher Jesse Stommel. Education Pedagogy, Critical edtech. https://www.jessestommel.com/ (July 4, 2018).
Watters, Audrey. 2012. "The Plaforming of Education." Top Ed-Tech Trends of 2012 series. http://2012trends.hackeducation.com/platforms.html (July 4, 2018).
—. 2015. "The History of the Future of Education." Hack Education: The history of the future of education technology.
Winner, Langdon. 1980. "Do Artifacts Have Politics?" Daedalus 109(1): 121–36. http://www.jstor.org/stable/20024652.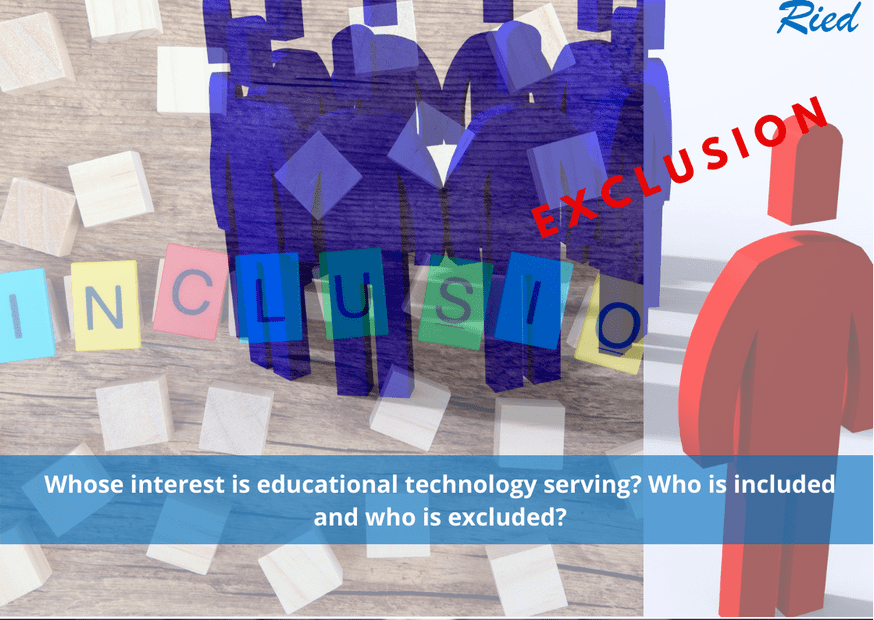 Descargas
Cómo citar
Kühn Hildebrandt, C. (2019). ¿A qué interés sirve la tecnología?, ¿quién está incluido y quién excluido?. RIED-Revista Iberoamericana De Educación a Distancia, 22(1), 207–220. https://doi.org/10.5944/ried.22.1.22293
Licencia
Esta obra está bajo una licencia internacional Creative Commons Atribución 4.0.