La paradoja neurótica en la perspectiva constructivista
Palabras clave:
acercamiento, evitacion
Resumen
El objetivo del articulo era demostrar que las paradojas neuroticas se generan en situaciones que por su naturaleza tienden a la  intolerancia.  Hemos visto un caso clinico de un conflicto acercamiento- evitacion. Hemos visto el caso de un paciente  que oscilaba durante años  establecer  un vinculo acercamiento- evitacion ,  porque  no era capaz de apreciar las diferencias entre perdidas mas o menos severas. Luego analizando el motivo por el cual el paciente no ha logrado,con el curso de los años, articular sus objetivos afectivos con el fin de poder discriminar el valor de las distintas perdidas.
Descargas
Los datos de descargas todavía no están disponibles.
Citas
ADAMS-WEBBER, 1.R.( 1 979). Personal Construct Theors-. New York:Wiley.
A.P.A. (1983). Diagnosiic and siafisiicnl mammal of merual disorders. Washington. A.P.A.
BECK, A.T. (1967). D‹•pressioii; clinical, e.sperimental and theoretical aspects. New York. Harper & Row. BECK, AT. (1976). Cognitive ihernpy nnd emotional disorders. New York. International University Press BOWLBY, 1. (1979). The itiakiiig and bre‹iking of nffeciional bonds. London: Tavistock:
CASTORINA,i4., M ANCINI,F.(1992). Construct system as a knowing system. Iniernaiional Journal ofPersoii‹il Construct Psycolog y 5. 3, 27I -295
ELLIS, A.( 1962). Re‹ison and emotion in ps)'choiherap)'. New York. Lyle Stuart.
GARDNER,G.G., MANCINI, F., SEIviERARI,A.(1988). Construction of psycho- logicaldisorders as invalidation of self-knowledge. In F. Fransella, NiL. Tlioma.s (eds.) E. perime•niing iviih personal ‹onsti uci psycholog5'. London: Routledge & Kegan Paul.
KELLY. G.A. (1955). Tlte fts-chology of f›ersonal coysiriu::t (2 Vols.). New York: Norton.
LINVILLE, P.W.( 1982). Al'fective consequences of complexity regarding lhe self and others. In M.S. Claret ‹k S.T. Fiske (Eds.) AJrr'r rrit‹f coyiiirirni. Hillsdale: LEA.
LINVILLE,P.W.(1985). Self-complexity ‹ind al'lective extremity: don'I put all your eggs in one cognitive basket.
S‹›cial Coyiiiiirui. 3, I, 94- 1.20.
LINVILLE, P.4'. JONES.E.E. (1980). Polarized appraisals of out gmup members. J. o/ Persoiuilii›' ‹mil S‹›c'iaf
Ps 'color y, 36. h89-703.
LORENZINI, R., SASSA ROLI. S. (1987), Lri p«iti-« deII‹i ›ni+i-ci. Romu: NIS
NIAHONEY, NI.G. ( l9d8). Conxtruclive metaiheory: iis basic features and historical foundation. fiiieriiriiir›iicf
low it.al of P‹r. ottal Coiii'trat I P› › cltuln( y. I ,1 -36.
NIANCIN I, F.. PALLIN1,S..DONATO. A. (1985). Lo sviluppo siruitura le della cono.seenza di sé. Psiclti‹iiriu dell 'lifaii‹-in • rfe//'Adole›'t eii‹-a. 52..I, 255-2'9?.
MONTE 'IAYOR,R.. EISEN,NI. (1977). The Development of self-conceptions from childhood to adolescence. J.
of Persoii‹ilin ouâ Soci‹il Ps y‹olo,g5'. 34. 314-319.
MULLENER, N., LA lRD,J.D. (197) ). Some developinenlul changes in lhe organization of self-x'‹iluaiions.
NEI MEYER, R.A., FEIXAS,Ci. (l9'?0). I disiurbi di coslru/ione. in F. Mancini, A. Semerari (Eds). M renrir• i'c›gitiiive ilei di.cnu-hi entotivi. Roma: NIS.
PARIS I. D., CASTELFRANCHI, C. (1950). Liitj«riy,pira. t'ouosr cii zri e .rcoJa/. Bologna: If Mulino. PIAGET,J. (1981). L'eqiiifibr‹izir›iie deffe so-tuture ciiyiiiiive. Torino: Borinphieri.
SARTRE. J.P. ( 1980). L 'e.mere cmd il truth. Milano: 11 Suggiatofe.
SEMER A R I, A..MANCINI,F. (1958). I inodelli cognilis'o-cosI rullivisli della sinionialologia nevrolica.
Psi‹'ohieitii'o,8, 39-46
WINTER, D.A. (1985). h'eurotic disorders: the course of certainily. In E. Button (Ed.) P‹ i s‹›ii‹il ‹'cii.sti'iit t the‹›i;
mid m‹•iiruf healtlt. London: Crooin Helm.
WINTER, D.A. ( 1992). P‹ r4ozin/ c•oiisirur'i prvc-/ic/r›p in r Jiiii‹ref /irrir /i‹'r. London: Routledge.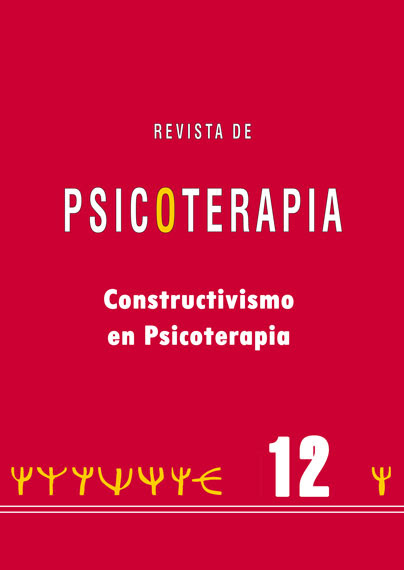 Cómo citar
Mancini, F. (1992). La paradoja neurótica en la perspectiva constructivista. Revista De Psicoterapia, 3(12), 77–87. https://doi.org/10.33898/rdp.v3i12.953
Sección
Artículo de monográfico