Children´s perfectionism: a normalization of an argentinian scale for its measure
Keywords:
perfectionism, children, measure, normative values
Abstract
Children's Perfectionism Scale (Oros, 2003) is an ar­gentinian instrument of simple implementation which allows investigating the presence of irrational thought, showed as a self-demanding behavior, and its related perfectionist reactions when those self-demands are not fulfilled as expected. The scale has proved to be a good psychometric instrument when applied in a sample of children attending school between the ages of 8 and 13 years old. However, it has not been de­veloped so far any national scale that provides refer­ence values for the interpretation of the scores. The aim of this paper is to provide the results of such scale standardization, establishing differences based of gender and age. Two thousand two hundred and seventy children completed the scale within the school context. Analysis of variance ANOVA and MANOVA showed higher scores for the boys in the global scale and in the self-demand dimension. With regards to age, it has been found that children aged 8 to 10 show differences in the self-demand dimension showing more irrational self-demands. Therefore, normative values are presented and segregated by gender and age, which represents a significant contri­bution for clinical practice and research. 
Downloads
Download data is not yet available.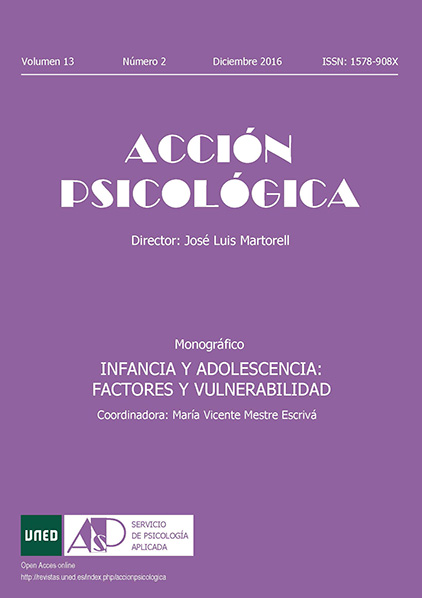 Downloads
How to Cite
Oros, L., & Vargas-Rubilar, J. (2016). Children´s perfectionism: a normalization of an argentinian scale for its measure. Acción Psicológica, 13(2), 117–126. https://doi.org/10.5944/ap.13.2.17822
Section
Artículos del monográfico [Monograph´s articles]
License
Accion Psicologica is published under Creative Commons Attribution-Non Commercial (CC BY-NC). The opinions and contents of the articles published in Acción Psicológica are responsibility of the authors and do not compromise the scientific and political opinion of the journal. Authors are also responsible for providing copies of the raw data, ratings, and, in general, relevant experimental material to interested readers.