Tobacco and alcohol consumption in a sample eviction process
Keywords:
tobacco, alcohol, eviction, economic crisis
Abstract
Introduction: In Spain, the current economic crisis has led to an unfortunate phenomenon little known until now: the eviction process. The aim was to eval­uate unhealthy habits such as consumption of tobacco and alcohol in a group of Granada as at risk of losing their residence. Methods: Participated 205 adult un­dergoing an eviction process from their homes (122 women and 83 men) who were given the items of health-related habits of the Andalusian Health Survey 2011. All participants were linked to the Platform Af­fected by Mortgage, Stop Desahucios of Granada. Results: Consumption of tobacco: observe higher percentage of daily smokers among men (54.22 %), people who live as a couple and workers. People who have entered the judicial process smoke more ciga­rettes per day (t = 1944, p = .055) and perceived an increase in the consumption of tobacco from the pro­cess of eviction. (c2 = 8.494, p = .037). Consumption of alcohol: find higher percentage in men (c2= 10.005, p = .019) and in people who do not live with a partner (c2= 8,553, p = .036); men perceive a greater increase in alcohol consumption due to the eviction process (c2 = 20,375, p = .000). Conclu­sions: The eviction process negatively affects health-related habits and should therefore be prioritized in Public Health policies as a population at risk
Downloads
Download data is not yet available.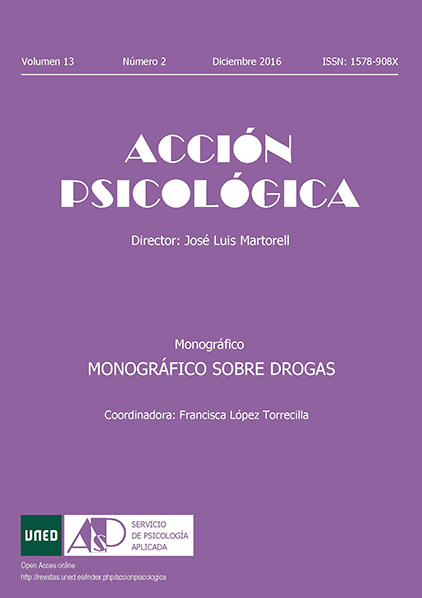 Downloads
How to Cite
Robles-Ortega, H., Mata-Martín, J. L., Fernández-Santaella, M. C., González-Usera, I., Vila-Castelar, J., Bernal-Solano, M., Bolívar-Muñoz, J., Mateo-Rodríguez, I., & Daponte-Codina, A. (2016). Tobacco and alcohol consumption in a sample eviction process. Acción Psicológica, 13(1), 41–52. https://doi.org/10.5944/ap.13.1.17416
Section
Artículos del monográfico [Monograph´s articles]