Tobacco and alcohol consumption in a sample eviction process
Keywords:
tobacco, alcohol, eviction, economic crisis
Abstract
Introduction: In Spain, the current economic crisis has led to an unfortunate phenomenon little known until now: the eviction process. The aim was to eval­uate unhealthy habits such as consumption of tobacco and alcohol in a group of Granada as at risk of losing their residence. Methods: Participated 205 adult un­dergoing an eviction process from their homes (122 women and 83 men) who were given the items of health-related habits of the Andalusian Health Survey 2011. All participants were linked to the Platform Af­fected by Mortgage, Stop Desahucios of Granada. Results: Consumption of tobacco: observe higher percentage of daily smokers among men (54.22 %), people who live as a couple and workers. People who have entered the judicial process smoke more ciga­rettes per day (t = 1944, p = .055) and perceived an increase in the consumption of tobacco from the pro­cess of eviction. (c2 = 8.494, p = .037). Consumption of alcohol: find higher percentage in men (c2= 10.005, p = .019) and in people who do not live with a partner (c2= 8,553, p = .036); men perceive a greater increase in alcohol consumption due to the eviction process (c2 = 20,375, p = .000). Conclu­sions: The eviction process negatively affects health-related habits and should therefore be prioritized in Public Health policies as a population at risk
Downloads
Download data is not yet available.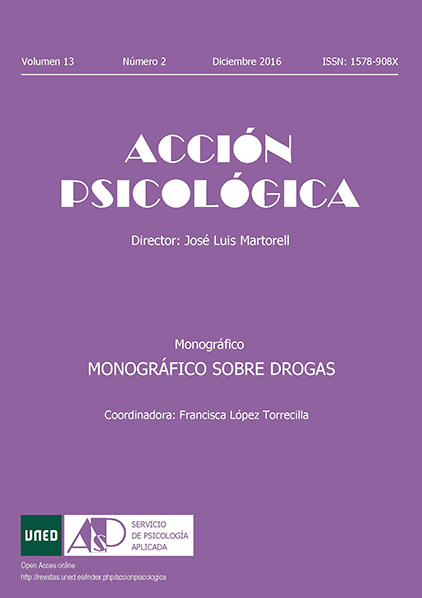 Downloads
How to Cite
Robles-Ortega, H., Mata-Martín, J. L., Fernández-Santaella, M. C., González-Usera, I., Vila-Castelar, J., Bernal-Solano, M., Bolívar-Muñoz, J., Mateo-Rodríguez, I., & Daponte-Codina, A. (2016). Tobacco and alcohol consumption in a sample eviction process. Acción Psicológica, 13(1), 41–52. https://doi.org/10.5944/ap.13.1.17416
Section
Artículos del monográfico [Monograph´s articles]
License
Accion Psicologica is published under Creative Commons Attribution-Non Commercial (CC BY-NC). The opinions and contents of the articles published in Acción Psicológica are responsibility of the authors and do not compromise the scientific and political opinion of the journal. Authors are also responsible for providing copies of the raw data, ratings, and, in general, relevant experimental material to interested readers.