Personality disorder profeiles in drug abuse and abuse
Keywords:
personality disorders, drug abuse, abusers
Abstract
There is empirical evidence showing the relationship between personality disorders, violence crime and substance abuse problem. This study aims to examine the prevalence of personality disorders in prison populations (drug abusers and abusers), using as a control group a population imprisoned without these types of crimes. The participants were 45 men within the prison in Albolote (Granada) (15 drug abusers, 15 abusers and 15 control) and were selected following the Severity Addiction Scale (EUROPASI; Bobes et al., 1996) and the Conflict Tactics Scale (CTS2; Strauss et al., 1996). The Millon Clinical Multiaxial Inventory was used to assess personality disorders. We found that drug abusers had higher scores than abusers and controls in histrionic, antisocial, borderline and aggressive-sadistic, and abusers had higher scores than drug abusers and controls in dependent personality disorder. Our results highlight the need to take into account the existence of personality disorders in clinical population in order to design prevention and intervention strategies for drug abuse and domestic violence.
Downloads
Download data is not yet available.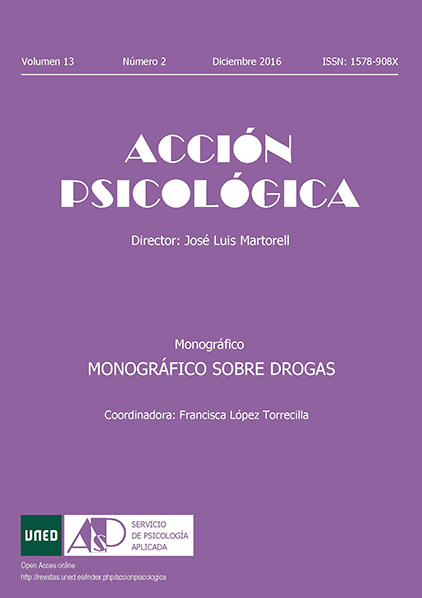 Downloads
How to Cite
Castillo Fernández, E., Gómez Sánchez, E. J., Mata-Martín, J. L., Ramírez Ucles, I., & López Torrecillas, F. (2016). Personality disorder profeiles in drug abuse and abuse. Acción Psicológica, 13(1), 31–40. https://doi.org/10.5944/ap.13.1.17394
Section
Artículos del monográfico [Monograph´s articles]
License
Accion Psicologica is published under Creative Commons Attribution-Non Commercial (CC BY-NC). The opinions and contents of the articles published in Acción Psicológica are responsibility of the authors and do not compromise the scientific and political opinion of the journal. Authors are also responsible for providing copies of the raw data, ratings, and, in general, relevant experimental material to interested readers.