Scale of myths in duel. Relationship with avoidant coping style and psychometric validation
Keywords:
avoidant coping style, grief, myths on grief, misconceptions
Abstract
In the elaboration of the duel both individual coping strategies as the concept that manages the grieving over death are fundamental. The purpose of this research is to analyze the relationship between the avoidant coping style and myths or misconceptions about the duel, apart from establishing the dimensionality of the Scale of Myths in Duel (SMD) (Amurrio and Limonero, 2007). The scale was passed to a sample of 265 people (81 % of women and 19 % men). Indicators revealed good fit to the data settling two dimensions: the first factor reflects the belief that it is better not to remember what happened and the second that it is better not to express it. Findings pointed that the use of avoidant coping strategies, being a man, the absence of university training and having lost a second-degree level of closeness familiar, predict a higher level of myths in duel.
Downloads
Download data is not yet available.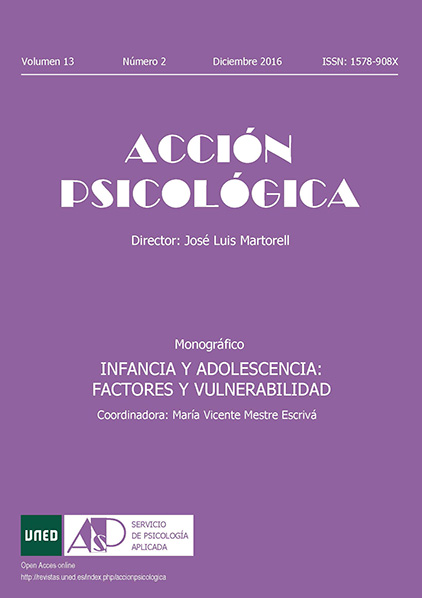 How to Cite
Bermejo, J. C., Villacieros, M., & Fernandez-Quijano, I. (2016). Scale of myths in duel. Relationship with avoidant coping style and psychometric validation. Acción Psicológica, 13(2), 129–142. https://doi.org/10.5944/ap.13.2.15965
Section
Artículos de temática libre [Selection of articles]