Emotions and Sentiments in the Process of Political Socialization: a Study from the History of Education
Abstract
The current historical-educational research responds to the affective turn in the sciences too by incorporating emotions and sentiments as categories of analysis and variables to consider in the processes of teaching, learning, acculturation and socialization. The evidence that they play an active role in cognitive, evaluative and axiological processes and in the formation of individual and collective identities, forces historians of education to examine their sources, contexts, subjects and phenomena paying attention (or at least not ignoring or underestimating) these components of the life experience of all human beings in their personal and social dimensions. The introduction to the special issue provides an overview of the historical development of research on emotions and sentiments focusing mainly on psychology, sociology and neuroscience, mentioning its importance in literature, art and politics, to finish deepening in the social feelings that are involved, influence, shape and are shaped (or constructed, incited, provoked, imposed, suggested...) in the processes of political socialization. Formal, non-formal and informal education, at different times and historical contexts, has been the prime mode of transmission of sociopolitical cultures impregnated with a heterogeneous but unavoidable emotional charge. The articles of the special issue evince through the variety of documentary sources, countries, periods and themes how emotions and sentiments -either being intentionally implemented or simply acting in the phenomena of political socialization- are core elements, and therefore carriers of relevant information, in configuring communication resources, teaching strategies and educational aims.
Downloads
Download data is not yet available.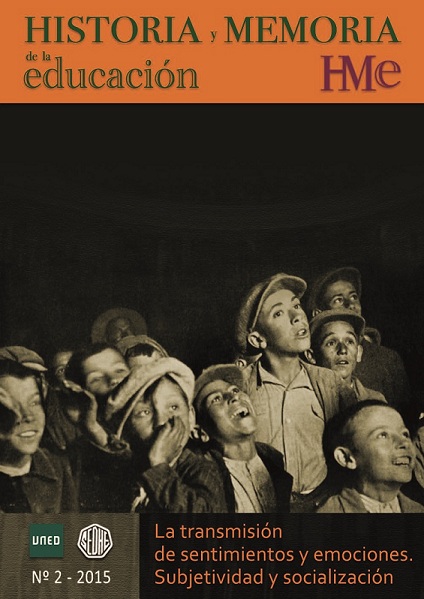 Downloads
How to Cite
Somoza Rodríguez, M., Mahamud Angulo, K., & Pimenta Rocha, H. H. (2015). Emotions and Sentiments in the Process of Political Socialization: a Study from the History of Education. Historia Y Memoria De La Educación, (2), 7–44. https://doi.org/10.5944/hme.2.2015.15541
License
Authors who publish in Historia y Memoria de la Educación agree to the following terms:
Authors retain copyright and grant the journal right of first publication with the work simultaneously licensed under a Creative Commons Attribution License that allows others to share the work with an acknowledgement of the work's authorship and initial publication in this journal.
Authors are able to enter into separate, additional contractual arrangements for the non-exclusive distribution of the journal's published version of the work (e.g., post it to an institutional repository or publish it in a book), with an acknowledgement of its initial publication in this journal.
Authors are permitted and encouraged to post their work online (e.g., in institutional repositories or on their website) prior to and during the submission process, as it can lead to productive exchanges, as well as earlier and greater citation of published work (See The Effect of Open Access).