MOOC "Competências digitais para professores": uma prática formativa inovadora
Palabras clave:
Competências digitais, elearning, interação virtual, modelo pedagógico, MOOC.
Resumen
Os Massive Open Online Courses (MOOC) são cursos abertos disponibilizados online, sem custos para o utilizador e desenhados de forma a poderem ser escalados, permitindo um grande número de participantes. Neste âmbito, uma equipa de investigadores da UAb desenvolveu um modelo pedagógico que tem vindo a ser testado, debatido e aprofundado, o qual assenta em pressupostos socioconstrutivistas que combinam a dimensão da autoaprendizagem com a dimensão social. Neste artigo analisa-se e discute-se em que medida a aplicação e aprofundamento deste modelo pedagógico no MOOC Competências Digitais para Professores promove a apropriação de conhecimento e partilha de experiências, bem como o desenvolvimento de competências digitais. Considerando que a aprendizagem se desenvolve através da interação com os materiais, os facilitadores e entre os participantes, procedeu-se à análise das interações ocorridas no espaço virtual; numa segunda fase, realizou-se uma análise de conteúdo das diferentes produções dos participantes. Em conclusão, o artigo evidencia a contribuição deste modelo pedagógico inovador para a apropriação de novos conhecimentos e a reflexão sobre as práticas, destacando a possibilidade destes cursos se constituírem como um instrumento poderoso na formação de professores e outros profissionais, proporcionando pontos de reflexão sobre as novas abordagens pedagógicas que emergem a partir dos MOOCs.
Descargas
Los datos de descargas todavía no están disponibles.
Citas
Amado, J. (org.) (2014). Manual de Investigação Qualitativa em Educação. Disponível em: http://hdl.handle.net/10316.2/35271.
Bardin, L. (2012). Análise de conteúdo. Lisboa: Edições 70.
Bogdan. R. & Biklen, S. (2003). Investigação Qualitativa em Educação: uma introdução à teoria e aos métodos. Porto: Porto Editora.
Boud, D. & Associates (2010). Assessment 2020: Seven propositions for assessment reform in higher education. Sydney: Australian Learning and Teaching Council.
Brouns, F., Mota, J., Morgado, L., Jansen, D., Fano, S., Silva, A. & Teixeira, A. (2014). A networked learning framework for effective MOOC design: the ECO project approach. In: A. Teixeira & A. Szücs (Eds.). 8th EDEN Research Workshop: Challenges for research into open & distance learning: doing things better: doing better things, 161-171. Budapest: EDEN. Disponível em: http://dspace.ou.nl/handle/1820/5544.
Carr, N. (2011). The Shallows: What the Internet Is Doing to Our Brains. New York: W. Norton & Company.
Cobb, P., Confrey, J., diSessa, A., Schauble, L. & Schauble, L. (2003). Design Experiments in Educational Research. Educational Researcher, 32(1), 9-13.
Cormier, D. (2010). What is a MOOC? [Youtube video]. December 8, 2010. Disponível em:www.youtube.com/watch?v=eW3gMGqcZQc.
Creswell, J. (2013). Qualitative inquiry & research design: choosing among five approaches. United States of America: SAGE.
Daniel, J. (2012). Making Sense of MOOCs: Musings in a Maze of Myth, Paradox and Possibility. Journal Of Interactive Media In Education, 3(0). Disponível em: http://www-jime.open.ac.uk/jime/article/view/2012-18.
Dillenbourg, P. (1999). What do you mean by collaborative learning? In P. Dillenbourg (Ed) Collaborative-learning: Cognitive and Computational Approaches, 1-19. Oxford: Elsevier.
Downes, S. (2012). Creating the Connectivist Course. [Blog post]. Half an hour. Jan 6, 2012. Disponível em: http://halfanhour.blogspot.pt/2012/01/creating-connectivist-course.html.
EADTU. (2015). Institutional MOOC strategies in Europe. EADTU. Fev. 2015. Disponível em: http://eadtu.eu/home/policy-areas/open-education-and-moocs/news/248-institutional-mooc-strategies-in-europe.
Floratos, N., Guasch, T. & Espasa, A. (2015). Recommendations on Formative Assessment and Feedback Practices for stronger engagement in MOOCs. In Open Praxis, 7 (2), April–June, 141–152. Disponível em: http://www.openpraxis.org/index.php/OpenPraxis/article/view/194/153.
Oliveira, I & Serrazina, L. (2002). A reflexão e o professor como investigador. In GTI (Ed.), Reflectir e investigar sobre a prática profissional, 30-42. Lisboa: APM.
Osuna, S. & Camarero, L. (2016). The ECO European Project: A New MOOC Dimension Based on an Intercreativity Environment. In TOJET: The Turkish Online Journal of Educational Technology, 15(1), 117-125. Disponível em: https://eric.ed.gov/?id=EJ1086187.
Pereira, A., Oliveira, I., Tinoca, L., Pinto, M.C. & Amante, L. (2015). Desafios da avaliação digital no ensino superior. Lisboa: Universidade Aberta. LE@D, (eBookLead). Disponível em: http://hdl.handle.net/10400.2/5774
Ponte, J. (1998). Da formação ao desenvolvimento profissional. In Actas do ProfMat 98, 27-44. Lisboa: APM.
Rolfe, V. (2015). A Systematic Review of the Socio-Ethical Aspects of Massive OnlineOpen Courses. Disponível em: http://www.eurodl.org/?p=current&article=670.
Siemens, G. (2012). What is the theory that underpins our moocs? [Blog post]. elearnspace. Disponível em : http://www.elearnspace.org/blog/2012/06/03/what-is-the-theory-that-underpins-our-moocs/.
Siemens, G. (2005). Connectivism: A Learning Theory for the Digital Age. International Journal of Instructional Technology and Distance Learning, 2 (1). Disponível em: http://www.itdl.org/journal/jan_05/article01.htm.
Suthers, D., Dwyer, N., Medina, R., & Vatrapu, R. (2009). Exposing interactional processes in online learning. In K. Kumpulainen, C. Hmelo-Silver, & M. César (Eds.), Investigating Classroom Interaction- Methodologies in Action (pp. 121-143). Rotterdam: Sense Publishers.
Teixeira, A., Mota, J., Morgado, L. & Spilker, M. (2015). iMOOC: Um Modelo Pedagógico Institucional para Cursos Abertos Massivos Online (MOOCs). Educação, Formação & Tecnologias, 8 (1), 4-12. Disponível em: http://www.eft.educom.pt/index.php/eft/article/view/465.
Teixeira, A. & Mota, J. (2014a). A Proposal for the Methodological Design of Collaborative Language MOOCs. In Elena Martín-Monje, Elena Bárcena. (eds). Language MOOCs: Providing learning, transcending boundaries, 33-47. De Gruyter Open. Disponível em: http://www.degruyter.com/viewbooktoc/product/455678.
Teixeira, A. & Mota, J. (2014b). The iMOOC Pedagogical Model: Bridging the gap between non-formal and formal education. Actas del V Congreso Internacional sobre Calidad y Accesibilidad de la Formación Virtual – CAFVIR 2014, 512-517. Guatemala. Disponível em: http://www.esvial.org/cafvir2014/documentos/LibroActasCAFVIR2014.pd.
Teixeira, A. & Mota. J. (2013). Innovation and openness through MOOCs: Universidade Aberta's pedagogical model for non-formal online courses. In M. Paulsen, & A. Szűcs. On behalf of the EDEN (eds). Proceedings of the European Distance and E-Learning Network. Annual Conference. The Joy of Learning Enhancing Learning Experience - Improving Learning Quality, 479-488. University of Oslo: Norway.
The Design-Based Research Collective. (2003). Design-based research: an emerging paradigm for educational inquiry. Educational Researcher, 32 (1) 5-8.
Tillema, H., Van Der Westhuizen, G. & Smith, K. (Eds). (2015). Mentoring for learning "Climbing the Mountain". Rotterdam: Sense Publishers.
Watters, A. (2012). Top Ed-Tech Trends of 2012: MOOCs. Hack Education. Disponível em: http://hackeducation.com/2012/12/03/top-ed-tech-trends-of-2012-moocs.
Wenger, E. (1998). Communities of practice: learning, meaning, and identity. Cambridge: Cambridge University Press.
Yuan, M. & Recker, M. (2015). Not all rubrics are equal: a review of rubrics for evaluating the quality of open educational resources. IRROLD, 16 (5). Athabasca University. Disponível em: http://www.irrodl.org/index.php/irrodl/article/view/2389/3412.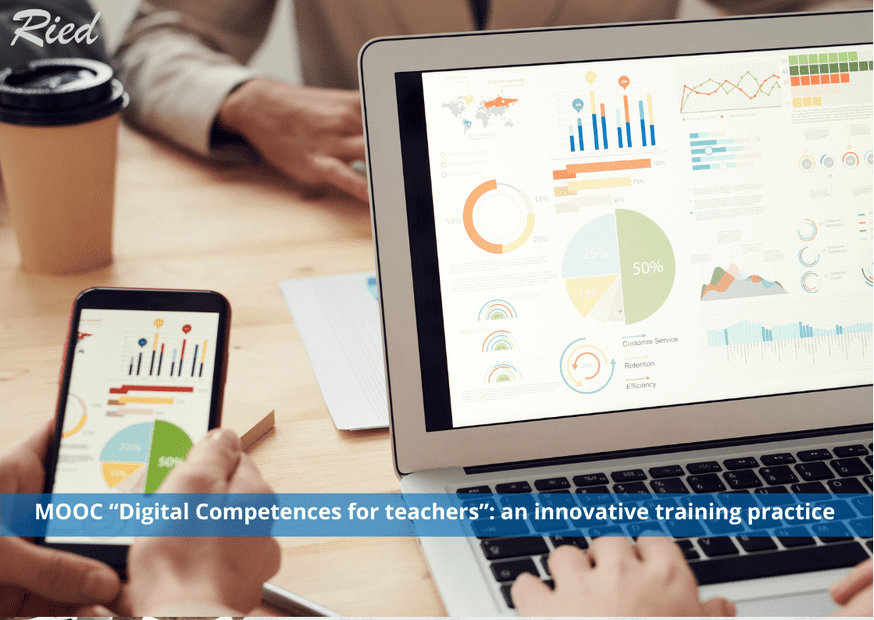 Cómo citar
Moreira Teixeira, A., Alberto Miranda, B., Pereira Oliveira, I., & Teixeira Pinto, M. do C. (2018). MOOC "Competências digitais para professores": uma prática formativa inovadora. RIED-Revista Iberoamericana De Educación a Distancia, 21(2), 243–261. https://doi.org/10.5944/ried.21.2.19784
Sección
Estudios e investigaciones
Licencia
Esta obra está bajo una licencia internacional Creative Commons Atribución 4.0.
Las obras que se publican en esta revista están sujetos a los siguientes términos:
1. Los autores ceden de forma no exclusiva los derechos de explotación de los trabajos aceptados para su publicación en "RIED. Revista Iberoamericana de Educación a Distancia," y garantizan a la revista el derecho a ser la primera en publicar ese trabajo, igualmente, permiten a la revista distribuir obras publicadas bajo la licencia indicada en el punto 2.
2. Las obras se publican en la edición electrónica de la revista bajo una licencia Creative Commons Reconocimiento 4.0 Internacional (CC BY 4.0). Se permite copiar y redistribuir el material en cualquier medio o formato, adaptar, remezclar, transformar y crear a partir del material para cualquier finalidad, incluso comercial. Debe reconocer adecuadamente la autoría, proporcionar un enlace a la licencia e indicar si se han realizado cambios. 
3. Condiciones de auto-archivo. Se permite e incentiva a los autores a difundir electrónicamente la versión Preprint (versión evaluada y aceptada para su publicación) de su obra antes de su publicación definitiva, siempre con referencia a su publicación en RIED, ya que favorece su circulación y difusión antes y así propiciar un posible aumento de su citación y alcance entre la comunidad académica. Color RoMEO: verde.