Factores predictores de la satisfacción de estudiantes de cursos virtuales
Palabras clave:
satisfacción, aprendizaje asistido por ordenador, enseñanza a distancia, administración educativa
Resumen
La facilidad de acceso y uso cotidiano de las recientes tecnologías de la información y la comunicación ha permitido un desarrollo impresionante de ofertas universitarias completamente virtuales. Estos desarrollos también han planteado importantes cuestiones sobre cuáles son los determinantes que afectan el aprendizaje, el desempeño y la retención de los estudiantes de estas ofertas académicas. Uno de estos determinantes es el grado en el cual los cursos o programas virtuales satisfacen las expectativas de los estudiantes. En este estudio se investigó los factores predictores de la satisfacción estudiantil identificados por Sun y sus colaboradores (2008) con estudiantes hispanohablantes. Se tradujo el cuestionario al español y fue respondido por 102 participantes. El análisis de consistencia interna dio como resultado alta confiabilidad. El análisis de correlación mostró que todos los factores estudiados, con excepción de la ansiedad por el uso de computadoras, están significativamente correlacionados con la satisfacción estudiantil. El análisis de regresión con pasos sucesivos encontró que los factores flexibilidad del curso, actitud docente hacia el e-learning, autoeficacia del estudiante en el uso de Internet y percepción de la interacción predicen el 47.2% de la satisfacción estudiantil. Basado en estos resultados se ofrecen orientaciones para los administradores de cursos virtuales de educación superior.
Descargas
Los datos de descargas todavía no están disponibles.
Citas
Akyol, Z. & Garrison, D. R. (2010). Community of inquiry in adult online learning: Collaborative-constructivist approaches. In T. T. Kidd & J. Keengwe (Eds.), Adult learning in the digital age: Perspectives on online technologies and outcomes (pp. 52-66). Hershey, PA: Information Science Reference.
Allen, M., Bourhis, J., Burrell, N. & Mabry, E. (2002). Comparing student satisfaction with distance education to traditional classrooms in higher education: A meta-analysis. American Journal of Distance Education, 16(2), 83-97. doi: 10.1207/S15389286AJDE1602_3
Allen, M., Omori, K., Burrell, N., Mabry, E. & Timmerman, E. (2013). Satisfaction with distance education. In M. G. Moore (Ed.), Handbook of distance education (3th ed., pp. 143-154). New York: Routledge.
Belsley, D. A., Kuh, E. & Welsch, R. E. (2005). Regression diagnostics: Identifying influential data and sources of collinearity (Vol. 571): John Wiley & Sons.
Bolliger, D. U. & Martindale, T. (2004). Key factors for determining student satisfaction in online courses. International Journal on E-Learning, 3(1), 61-67.
Bray, E., Aoki, K. & Dlugosh, L. (2008). Predictors of learning satisfaction in Japanese online distance learners. The International Review of Research in Open and Distributed Learning, 9(3).
Cohen, J. (1988). Statistical power analysis for the behavioral sciences (2nd ed.). Hillsdale, N.J.: L. Erlbaum Associates.
Drouin, M. A. (2008). The relationship between students' perceived sense of community and satisfaction, achievement, and retention in an online course. Quarterly Review of Distance Education, 9(3), 267-284.
Field, A. (2013). Discovering statistics using IBM SPSS statistics (4th ed.). Los Angeles: Sage.
García Aretio, L. (2001). La educación a distancia: De la teoría a la práctica. (1a. ed.). Barcelona: Editorial Ariel.
García Aretio, L., Ruíz, M. & Domínguez, D. (2007). De la educación a distancia a la educación virtual. Barcelona: Editorial Ariel.
Geisinger, K. F. (1994). Cross-cultural normative assessment: Translation and adaptation issues influencing the normative interpretation of assessment instruments. Psychological assessment, 6(4), 304. doi: 10.1037/1040-3590.6.4.304
Jung, I. (2011). The dimensions of e-learning quality: From the learner's perspective. Educational Technology Research and Development, 59(4), 445-464. doi: 10.1007/s11423-010-9171-4
Kirschner, P. A., Kreijns, K., Phielix, C. & Fransen, J. (2014). Awareness of cognitive and social behaviour in a CSCL environment. Journal of Computer Assisted Learning, 59-77. doi: 10.1111/jcal.12084
Kline, P. (1999). The handbook of psychological testing (2nd ed.). London; New York: Routledge.
Moore, J. C. & Shelton, K. (2014). The Sloan Consortium pillars and quality scorecard. In K. Shattuck (Ed.), Assuring quality in online education: Practices and processes at the teaching, resource, and program levels (pp. 40-49). Sterling, Virginia: Stylus Publishing, LLC.
Moore, M. G. (Ed.). (2013). Handbook of distance education (3th ed.). New York: Routledge.
Peralta Castro, R., Escobar Jurado, S. I., Mora Rodríguez, J. R., Martínez González, C. & Rocío Velandia, L. S. (2014). Caracterización de los factores de la deserción en la UNAD. Informe final de investigación. Universidad Nacional Abierta y a Distancia, Asociación Panamericana de Instituciones de Crédito Educativo. Bogotá. Recuperado de http://www.investigacion.apice.org.co/pdf/Caracterizacion-de-los-factores-de-la-desercion-en-la-UNAD-Informe-final-de-investigacion-Rafael-Peralta-y-Javier-Mora.pdf
Rubio Gómez, M. J. (2003). Memoria. Proyecto: Centro Virtual para el Desarrollo de Estándares de Calidad para la Educación Superior a Distancia en América Latina y el Caribe. Instituto Latinoamericano y del Caribe de Calidad en Educación Superior a Distancia. Loja, Ecuador. Recuperado de http://gdr1.utpl.edu.ec/centrovirtual/documentos/memorias.pdf
Rudestam, K. E. & Schoenholtz-Read, J. (2010). Handbook of online learning (2nd ed.). Thousand Oaks, Calif.: SAGE Publications.
Sanjuán Gómez, G., Gómez Martínez, M., Rabell Piera, O., Arcia Arcia, L. & Morales Velázquez, I. C. (2011). Resultados preliminares del grado de satisfacción con el empleo del aula virtual de la Facultad de Ciencias Médicas General Calixto García. Revista Habanera de Ciencias Médicas, 10(1), 114-125.
Shin, N. (2003). Transactional presence as a critical predictor of success in distance learning. Distance Education, 24(1), 69-86. doi: 10.1080/01587910303048
Simpson, O. (2003). Student retention in online, open, and distance learning. London; Sterling VA: Kogan Page.
Song, L., Singleton, E. S., Hill, J. R. & Koh, M. H. (2004). Improving online learning: Student perceptions of useful and challenging characteristics. The Internet and Higher Education, 7(1), 59-70. doi: 10.1016/j.iheduc.2003.11.003
Sun, P.-C., Tsai, R. J., Finger, G., Chen, Y.-Y. & Yeh, D. (2008). What drives a successful e-learning? An empirical investigation of the critical factors influencing learner satisfaction. Computers & Education, 50(4), 1183-1202. doi: doi:10.1016/j.compedu.2006.11.007
Swan, K. (2001). Virtual interaction: Design factors affecting student satisfaction and perceived learning in asynchronous online courses. Distance Education, 22(2), 306-331. doi: 10.1080/0158791010220208
Tabachnick, B. G. & Fidell, L. S. (2013). Using multivariate statistics (6th ed.). Boston: Pearson Education.
Van Mierlo, C. M., Jarodzka, H., Kirschner, F. & Kirschner, P. A. (2012). Cognitive load theory in e-learning. In Z. Yan (Ed.), Encyclopedia of Cyber Behavior (Vol. 3, pp. 1178-1211): IGI Global.
Williams, S. L. (2006). The effectiveness of distance education in allied health science programs: A meta-analysis of outcomes. American Journal of Distance Education, 20(3), 127-141. doi: 10.1207/s15389286ajde2003_2
Zambrano R., J. (2012). La docencia en la sociedad red: Apuntes para la formación de docencia virtual (Vol. I). Quito: Corporación para el Desarrollo de la Educación Universitaria.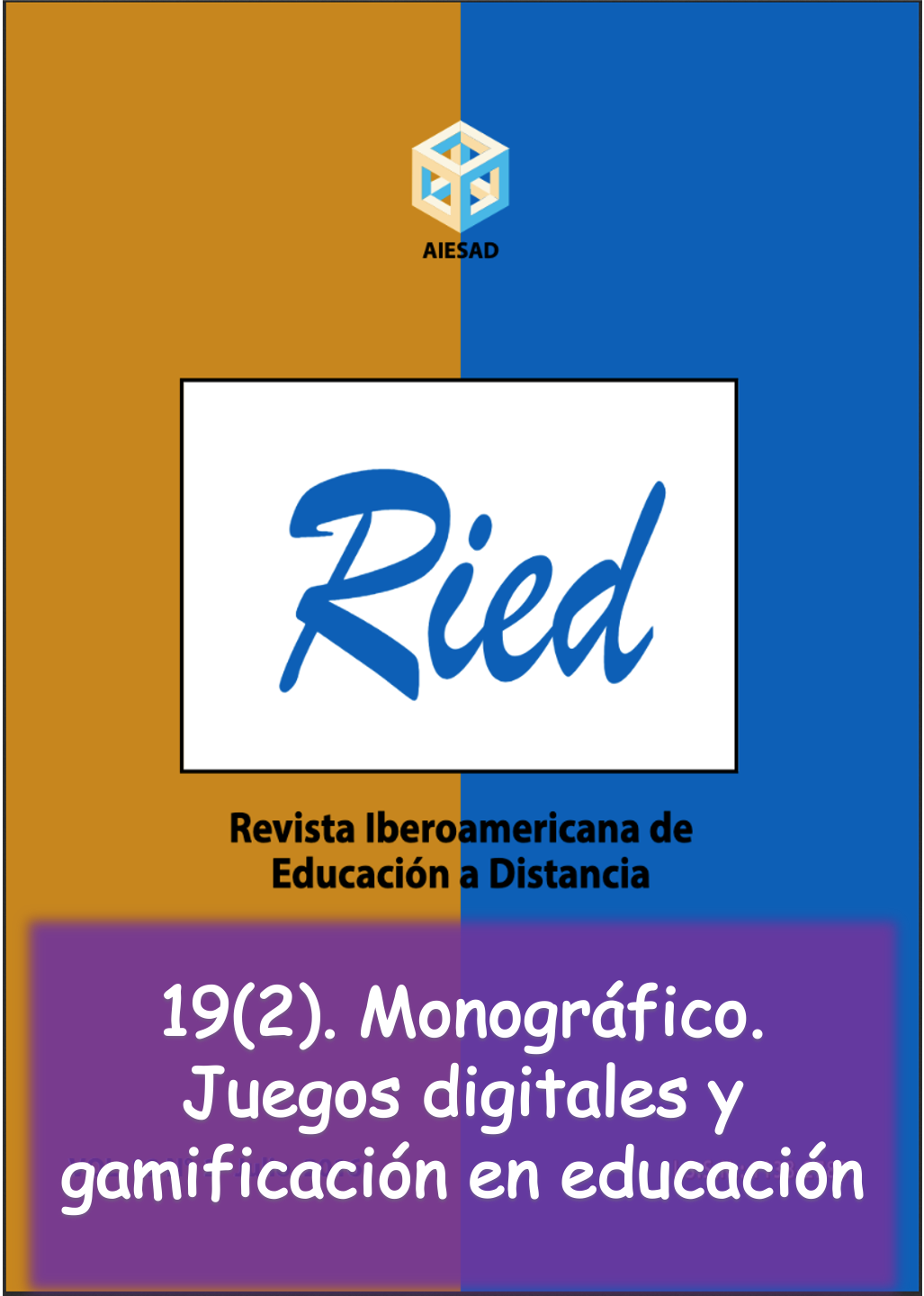 Cómo citar
Zambrano R., J. (2016). Factores predictores de la satisfacción de estudiantes de cursos virtuales. RIED-Revista Iberoamericana De Educación a Distancia, 19(2), 217–235. https://doi.org/10.5944/ried.19.2.15112
Sección
Estudios e investigaciones
Licencia
Esta obra está bajo una licencia internacional Creative Commons Atribución 4.0.