Caso Clínico de una Niña con Algoneurodistrofia
Palabras clave:
caso clínico, trastorno de ansiedad generalizada, algoneurodistrofia, intervención cognitivo-conductual
Resumen
Se presenta el caso clínico de una niña de 12 años con síntomas de ansiedad y diagnóstico de algoneurodistrofia en la mano izquierda. La evaluación psicológica se realizó mediante los siguientes instrumentos: observación, entrevista psicológica, Escala de Inteligencia Wechsler para Niños (WISC-III), Cuestionario de Ansiedad Estado/Rasgo para niños y Escalas de Conners para padres y profesores. La intervención tuvo como objetivo reducir los niveles de ansiedad, promover la autoestima y aliviar los sentimientos de dolor. Para ello, se realizó una intervención cognitivo-conductual con la niña y los padres.  A través de la educación, los padres de la niña fueron alertados sobre la necesidad de expresar el sentimiento de pérdida, brindando un entorno para la resolución del proceso de duelo de todos los miembros de la familia. Además, también se les advirtió sobre los factores de mantenimiento de los síntomas de ansiedad de la niña, como el tema de la alta demanda de los padres. Como resultado, se puede concluir que se apreciaron buenos avances terapéuticos, que se tradujeron en la resolución de los problemas de la niña y, en consecuencia, en un aumento de su bienestar psicológico.
Descargas
Los datos de descargas todavía no están disponibles.
Citas
Barrett, M. J., & Barnett, P. L. J. (2016). Complex regional pain type 1. Pediatric Emergency Care, 32(3), 185-191. https://doi.org/10.1097/PEC.0000000000000731
Beck, J. S. (2013). Terapia cognitivo-comportamental: teoria e prática (2nd ed.) [Cognitive-behavioral therapy: theory and practice]. Artmed.
Bernstein, G., & Borchardt, C. (1991). Anxiety disorders of childhood and adolescence: a critical review. Journal of the American Academy of Child and Adolescent Psychiatry, 30(4), 519–532. https://doi.org/10.1097/00004583-199107000-00001
Borges, C. S., Luiz, A. M. A. G., Aparecida, N., & Domingos, M. (2009). Intervenção cognitivo-comportamental em estresse e dor crônica [Cognitive-behavioral intervention in stress and chronic pain]. Arquivos de Ciências da Saúde, 16(4), 181-186.
Borges, A. I., Manso, D. S., Tomé, G., & Maros, M. G. (2008). Ansiedade e coping em crianças e adolescentes: Diferenças relacionadas com a idade e género [Anxiety and coping in children and adolescents: age and gender-related differences]. Análise Psicológica, 26(4), 551–561. https://doi.org/10.14417/ap.514
Carr, A. (2014). Manual de Psicologia Clínica da Criança e do Adolescente: Uma Abordagem Contextual (1st ed.) [Handbook of Clinical Psychology of Children and Adolescents: A Contextual Approach]. Psiquilibrios.
Castillo, A. R., Recondo, R., Asbahr, Fernando, R., & Manfro, G. (2000). Transtornos de ansiedade [Anxiety Disorders]. Revista brasileira de psiquiatria, 22(2), 20-23. https://doi.org/10.1590/S1516-44462000000600006
Crujo, M., & Marques, C. (2009). As perturbações emocionais – ansiedade e depressão na criança e no adolescente [Emotional disturbances - anxiety and depression in children and adolescents]. Revista Portuguesa de Clinica Geral, 25, 576-582. https://doi.org/10.32385/rpmgf.v25i5.10675
Dias, P. S. B., & Zavarize, S. F. (2016). A doença psicossomática e o uso da terapia cognitivo comportamental como intervenção [Psychosomatic illness and the use of cognitive behavioral therapy as an intervention]. Revista Científica Faculdades do Saber, 1(2), 108-120.
Eldufani, J., Elahmer, J., & Blaise, G. (2020). A medical mystery of complex regional pain syndrome. Heliyon, 6(2), e3329. https://doi.org/10.1016/j.heliyon.2020.e03329
Feliu, M. H., & Edwards, C. L. (2010). Psychological factors in the development of complex regional pain syndrome: history, myth, and evidence. The Clinical Journal of Pain, 26(3), 258-263. https://doi.org/10.1097/AJP.0b013e3181bff815.
Friedberg, R. D., & McClure, J. M. (2007). A prática clínica de terapia cognitiva com crianças e adolescentes [The clinical practice of cognitive therapy with children and adolescents]. Artmed.
Ginsburg, G. S., & Kingery, J. N. (2007). Evidence-based practice for childhood anxiety disorders. Journal of Contemporary Psychotherapy, 37(3), 123–132. https://doi.org/10.1007/s10879-007-9047-z
Heegaard, M. (1998). Quando alguém muito especial more (1st ed.) [When someone very special dies]. Artmed.
Kendall, P., & Hedtke, K. (2014). O livro do gato habilidoso - Manual do terapeuta: Terapia cognitivo-comportamental para crianças ansiosas (1st ed.) [The Skillful Cat's Book - Therapist's Handbook: Cognitive Behavioral Therapy for Anxious Children]. Coisas de ler.
Rabin, J., Brown, M., & Alexander, S. (2017). Update in the treatment of chronic pain within pediatric patients. Current Problems in Pediatric and Adolescent Health Care, 47(7), 167–172. https://doi.org/10.1016/j.cppeds.2017.06.006
Rissardi, G. G., & Godoy, M. (2007). Estudo da aplicação da técnica de relaxamento muscular progressivo de Jacobson modificada nas respostas das variáveis cardiovasculares e respiratórias de pacientes hansenianos [Study of the application of the modified Jacobson progressive muscle relaxation technique in the responses of cardiovascular and respiratory variables in leprosy patients]. Arquivos de Ciências da Saúde, 14(3), 175–180.
Ryan, V. (2010). Quando um dos avós morre: ser capaz de enfrentar o desgosto (2nd ed.) [When a grandparent dies: being able to face heartbreak]. Paulinas Editora.
Rosen, J. B., & Schulkin, J. (1998). From normal fear to pathological anxiety. Psychological Review, 105(2), 325–350. https://doi.org/10.1037/0033-295X.105.2.325
Souza, I. C. W., & Candido, C. F. G. (2010). Diagnóstico psicológico e a terapia cognitiva: considerações atuais [Psychological diagnosis and cognitive therapy: current considerations]. Revista Brasileira de Terapias Cognitivas, 5(2), 82-92. https://doi.org/10.5935/1808-5687.20090017
Spielberger, C., & Edwards, C. D. (1973). State-Trait Anxiety Inventory for Children: STAIC: how I feel questionnaire: professional manual. Mind Garden.
Stallard, P. (2010). Ansiedade: Terapia Cognitivo-Comportamental para crianças e jovens [Anxiety: Cognitive-Behavioral Therapy for Children and Youth]. Artmed.
Vescio, A., Testa, G., Culmone, A., Sapienza, M., Valenti, F., Di Maria, F., & Pavone, V. (2020). Treatment of complex regional pain syndrome in children and adolescents: a structured literature scoping review. Children, 7(11), 1–11. https://doi.org/10.3390/children7110245
Wechsler, D. (2003). WISC III: Escala de Inteligência de Wechsler para Crianças. Manual (3rd ed.) [WISC III: Wechsler Intelligence Scale for Children. Manual]. CEGOC TEA.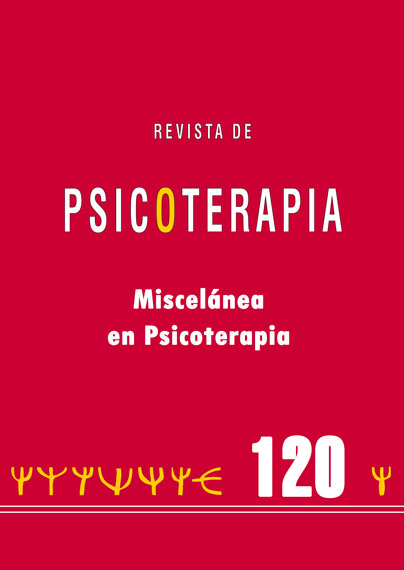 Descargas
Cómo citar
Santos, A. C., & Silva, C. M. (2021). Caso Clínico de una Niña con Algoneurodistrofia. Revista De Psicoterapia, 32(120), 221–229. https://doi.org/10.33898/rdp.v32i120.1075
Sección
Open Access: Caso clínico
Licencia
Esta obra está bajo una licencia internacional Creative Commons Atribución-NoComercial 4.0.