La evaluación de los obstáculos a la investigación por parte de estudiantes universitarios: construcción de una escala [The Assessment of Obstacles to Research by College Students: Building a Scale]
Keywords:
Obstáculo, inexperiencia, indiferencia, inseguridad, fiabilidad [obstacle, inexperience, indifference, insecurity, reliability]
Abstract
Resumen
Realizar investigaciones científicas resulta complejo para algunos estudiantes universitarios. Por este motivo se planteó como objetivo crear una escala que mida los obstáculos para investigar. Participaron 650 estudiantes que estaban realizando sus Trabajos Finales de Grado en la Universidad Técnica de Machala-Ecuador. Se desarrolló un grupo inicial de 32 ítems basados en literatura previa. Basándonos en los resultados de la validación de contenido se eliminaron siete ítems. Los resultados del análisis factorial exploratorio (AFE) y confirmatorio (AFC) revelan que los ítems se estructuran en un modelo bifactorial de 24 ítems. En cuanto a la fiabilidad, la escala mostró un alfa de Cronbach y un coeficiente Omega de 0.92 indicando una alta consistencia interna. Se concluye que la escala presenta adecuadas propiedades psicométricas para medir los obstáculos para investigar en los estudiantes universitarios. 
Abstract
Conducting scientific research is complex for some university students. For this reason, the objective was to create a scale that measures the obstacles to investigate. 650 students who were doing their Final Degree Works at the Universidad Técnica de Machala-Ecuador participated. An initial group of 32 items was developed based on previous literature. Based on the results of the content validation, 7 items were eliminated. The results of the exploratory factor analysis (EFA) and confirmatory (CFA) reveal that the items are structured in a bifactorial model of 24 items. Regarding reliability, the scale showed a Cronbach's alpha and an Omega coefficient of 0.92, indicating high internal consistency. It is concluded that the scale presents adequate psychometric properties to measure the obstacles to investigate in university students
Downloads
Download data is not yet available.
References
Anderson, J. (2019). Frequent feedback through google forms. PRIMUS: Problems, Resources, and Issues in Mathematics Undergraduate Studies, 29(2), 124–137. https://doi.org/10.1080/10511970.2017.1411408
Burton, D. (Ed.). (2000). Research Training for Social Scientists: A Handbook for Postgraduate Researchers. SAGE.
Cameron, P. y Este, D. (2008). Engaging Students in Social Work Research Education. Social Work Education, 27(4), 390–406. https://doi.org/10.1080/02615470701380006
Carter, S., Liew, S., Graeme , B. y Moaveni, A. (2018). Barriers to Completion of Research Projects among Orthopaedic Trainees. Journal of Surgical Education, 75(6), 1630–1634. https://doi.org/10.1016/j.jsurg.2018.04.008
Clements, D. (2007). Curriculum Research: Toward a Framework for "Research-Based Curricula". Journal for Research in Mathematics Education, 38(1), 35–70. https://doi.org/10.2307/30034927
Corrales, I., Rodríguez , M., Reyes , J. y García, M. (2017). Limitantes de la producción científica estudiantil [Limitations of the scientific student production]. Educación Médica, 18(3), 199–202. https://doi.org/10.1016/j.edumed.2016.11.005
Criollo, M., Romero, M. y Fontaines-Ruiz, T. (2017). Autoeficacia para el aprendizaje de la investigación en estudiantes universitarios [University students' self-efficacy for learning how to conduct research]. Psicología Educativa, 23(1), 63–72. https://doi.org/10.1016/j.pse.2016.09.002
De Jong, G., Meijer, E., Schout, G. y Abma, T. (2018). Involving Undergraduate Nursing Students in Participatory Health Research: Implications from the Netherlands. Journal of Professional Nursing, 34(6), 507–513. https://doi.org/10.1016/j.profnurs.2018.04.001
Dies, R. (1993). Writing for Publication: Overcoming Common Obstacles. International Journal of Group Psychotherapy, 43(2), 243–249. https://doi.org/10.1080/00207284.1994.11491220
Escobar-Pérez, J. y Cuervo-Martínez, Á. (2008). Validez de contenido y juicio de expertos: una aproximación a su utilización [Content Validity by Experts Judgment: Proposal for a Virtual Tool]. Avances en Medición, 6, 27–36.
Flowerdew, J. (2014). Academic Discourse. Routledge.
Gallart, A., Bardallo, D., Ángeles , D., Rodríguez, E., Fuster, P. y Monforte-Royo, C. (2015). Impact of the Bachelor's Thesis on the Nursing Profession. Nurse Education Today, 35(1), 16–17. https://doi.org/10.1016/j.nedt.2014.09.011
Gascón, Y. (2008). El síndrome de Todo Menos Tesis "TMT" como factor influyente en la labor investigativa [The Syndrome of Everything but Thesis "TMT" as Influential Factor in the Research Work]. Copérnico, 9, 46–57.
Gill, S., Levin, A., Djurdjev, O. y Yoshida, E. (2001). Obstacles to Residents' Conducting Research and Predictors of Publication. Academic Medicine, 76(5), 477. https://doi.org/10.1097/00001888-200105000-00021
Gladwin Mtshali, M. y Sooryamoorthy, R. (2018). A Research-Inducing Environment at a University of Technology in South Africa: Challenges and Future Prospects. Futures, 111, 194–204. https://doi.org/10.1016/j.futures.2018.06.017
Hassel, S. y Ridout, N. (2018). An Investigation of First-Year Students' and Lecturers' Expectations of university education. Frontiers in Psychology, 8, 1–13. https://doi.org/10.3389/fpsyg.2017.02218
Hernández-Pina, F. y Monroy, F. (2015). A Preliminary Study of Teachers' Perception of Core Competencies for Undergraduate Students. Psicología Educativa, 21, 11–16. http://doi.org/10.1016/j.pse.2015.02.001
Hoffait, A.-S. y Schyns, M. (2017). Early Detection of University Students with Potential Difficulties. Decision Support Systems, 101, 1–37. https://doi.org/10.1016/j.dss.2017.05.003
Hogarty, K., Kromrey, J., Ferron, J. y Hines, C. (2004). Selection of Variables in Exploratory Factor Analysis: An Empirical Comparison of a Stepwise and Traditional Approach. Psychometrika, 69(4), 593–611. https://doi.org/10.1007/BF02289857
Hoyt, G. y McGoldrick, K. (2017). Promoting Undergraduate Research in Economics. American Economic Review, 107(5), 655–659. https://doi.org/10.1257/aer.p20171069
Kaiser, H. (1970). A Second Generation Little Jiffy. Psychometrika, 35(4), 401–415. http://dx.doi.org/10.1007/BF02291817
King, B. y McGinnies, E. (Eds.). (2013). Attitudes, Conflict, and Social Change. Elsevier.
Kline, R. (2011). Principles and Practice of Structural Equation Modeling (3ª ed.). Guilford Press.
Lee, B., Farruggia, S. y Brown, G. (2013). Academic Difficulties Encountered by East Asian international university students in New Zealand. Higher Education Research and Development, 32(6), 915–931. https://doi.org/10.1080/07294360.2013.806444
Lorenzo-Seva, U. y Ferrando, P. (2006). Factor: A Computer Program to Fit the Exploratory Factor Analysis Model. Behavior Research Methods, 38(1), 88–91. https://doi.org/10.3758/BF03192753
Nikkar-Esfahani, A., Jamjoom, A. y Fitzgerald, J. (2012). Extracurricular Participation in Research and Audit by Medical Students: Opportunities, Obstacles, Motivation and Outcomes. Medical Teacher, 34(5), 317–324. https://doi.org/10.3109/0142159X.2012.670324
Pope, K., Soelen, J. y Butcher, J. (2006). The MMPI, MMPI-2, and MMPI-A in Court: A Practical Guide for Expert Witnesses and Attorneys (3ª ed.). American Psychological Association.
Pruzan, P. (2016). Research Methodology: The Aims, Practices and Ethics of Science. Springer.
Richardson, L. y McBryde-Wilding, H. (2009). Information Skills for Education Students. SAGE.
Ries, K. y Dimick , S. (2018). Fostering Undergraduate Research with a Nontraditional Student Population. Journal of Chemical Education, 95(9), 1443–1447. https://doi.org/10.1021/acs.jchemed.8b00284
Ruscio, J. y Roche, B. (2012). Determining the Number of Factors to Retain in an Exploratory Factor Analysis Using Comparison Data of Known Factorial Structure. Psychological Assessment, 24(2), 282–292. https://doi.org/10.1037/a0025697
Smith, K., Todd, M. y Waldman, J. (2009). Doing your Undergraduate Social Science Dissertation. Routledge.
Zimmerman, B., Bandura, A. y Martinez-Pons, M. (1992). Self-motivation for Academic Attainment: The Role of Self-Efficacy Beliefs and Personal Goal Setting. American Educational Research Journal, 29(3), 663–676. https://doi.org/10.3102/00028312029003663
Zwick, W. y Velicer, W. (1986). Comparison of Five Rules for Determining the Number of Components to Retain. Psychological Bulletin, 99(3), 432–442. https://doi.org/10.1037/0033-2909.99.3.432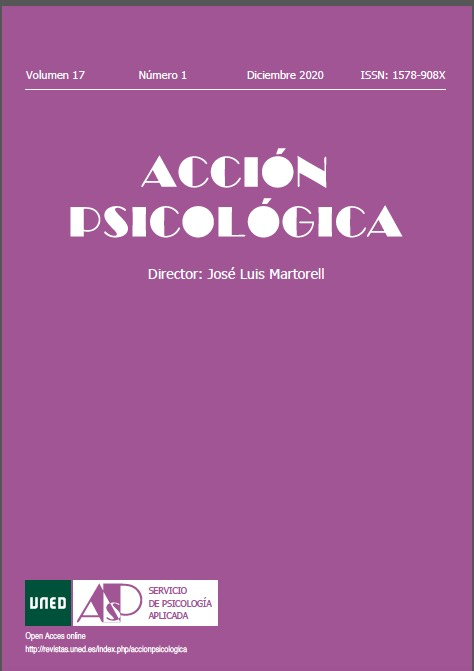 Downloads
How to Cite
Criollo, M., & Recio, P. (2021). La evaluación de los obstáculos a la investigación por parte de estudiantes universitarios: construcción de una escala [The Assessment of Obstacles to Research by College Students: Building a Scale]. Acción Psicológica, 17(1), 29–42. https://doi.org/10.5944/ap.17.1.27787
Section
Artículos de temática libre [Selection of articles]