Childhood adjustment: the effects of parenting styles on mood states
Keywords:
adjustment, parenting styles, emotional development, maladaptation
Agencies:
Esta investigación ha sido realizada gracias al apoyo del Ministerio de Economía y Competitividad (Proyectos PSI2010-18742 y PSI2013-43943-R) y la Consellería de Educació de la Generalitat Valenciana (PROMETEO/2011/009).
Abstract
Children's adjustment refers to personal, social and family stressors that children have to adapt to. Ad­justment is related to personal and family aspects that have influence on children's development. Emotional outcomes and parenting styles that par­ents use to ed­ucate their children are two of those aspects. This study examines parenting styles and emotional out­comes in predicting children's ad­justment. The sam­ple consists of 1165 children between 8 and 12 years from primary schools of Valencia. Participants com­pleted the Scales Identi­fication of "Family Educa­tional Practices", The Mood Questionnaire and The Multifactorial Child­hood Self-Reported Adjustment Test. The respec­tive authorities and their parents ap­proved the study. Data were statistically analysed using t-test, bivariate correlations and hierarchical re­gressions. Results indicated that boys score higher on author­itative parenting, maladaptation at school as well as social and general maladaptation. Girls score higher on democratic parenting and fear. Parenting styles are related to emotional outcomes and to­gether they predict children's adjustment (30 % of the vari­ance). Theses findings reveal that parenting styles have a strong effect on children's adjust­ment, espe­cially regarding school and social life. Moreover, emotional outcomes are better predictor of children's maladaptation than parenting styles. 
Downloads
Download data is not yet available.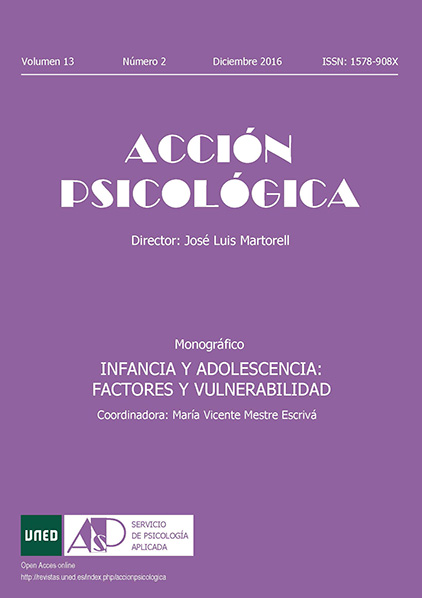 How to Cite
Montoya-Castilla, I., Prado-Gascó, V., Villanueva-Badenes, L., & González-Barrón, R. (2016). Childhood adjustment: the effects of parenting styles on mood states. Acción Psicológica, 13(2), 15–30. https://doi.org/10.5944/ap.13.2.17807
Section
Artículos del monográfico [Monograph´s articles]