Childhood adjustment: the effects of parenting styles on mood states
Keywords:
adjustment, parenting styles, emotional development, maladaptation
Abstract
Children's adjustment refers to personal, social and family stressors that children have to adapt to. Ad­justment is related to personal and family aspects that have influence on children's development. Emotional outcomes and parenting styles that par­ents use to ed­ucate their children are two of those aspects. This study examines parenting styles and emotional out­comes in predicting children's ad­justment. The sam­ple consists of 1165 children between 8 and 12 years from primary schools of Valencia. Participants com­pleted the Scales Identi­fication of "Family Educa­tional Practices", The Mood Questionnaire and The Multifactorial Child­hood Self-Reported Adjustment Test. The respec­tive authorities and their parents ap­proved the study. Data were statistically analysed using t-test, bivariate correlations and hierarchical re­gressions. Results indicated that boys score higher on author­itative parenting, maladaptation at school as well as social and general maladaptation. Girls score higher on democratic parenting and fear. Parenting styles are related to emotional outcomes and to­gether they predict children's adjustment (30 % of the vari­ance). Theses findings reveal that parenting styles have a strong effect on children's adjust­ment, espe­cially regarding school and social life. Moreover, emotional outcomes are better predictor of children's maladaptation than parenting styles. 
Downloads
Download data is not yet available.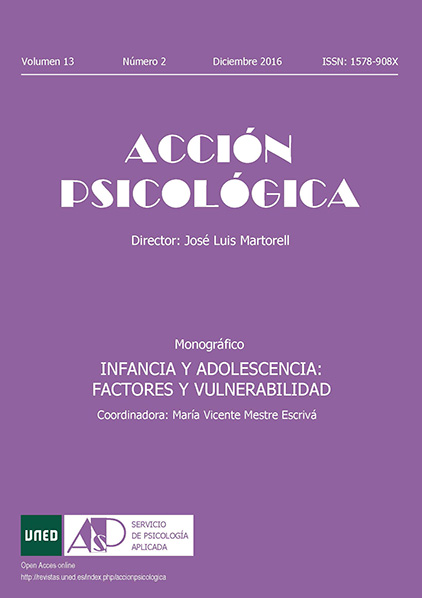 How to Cite
Montoya-Castilla, I., Prado-Gascó, V., Villanueva-Badenes, L., & González-Barrón, R. (2016). Childhood adjustment: the effects of parenting styles on mood states. Acción Psicológica, 13(2), 15–30. https://doi.org/10.5944/ap.13.2.17807
Section
Artículos del monográfico [Monograph´s articles]
License
Accion Psicologica is published under Creative Commons Attribution-Non Commercial (CC BY-NC). The opinions and contents of the articles published in Acción Psicológica are responsibility of the authors and do not compromise the scientific and political opinion of the journal. Authors are also responsible for providing copies of the raw data, ratings, and, in general, relevant experimental material to interested readers.