Introduction to the monografhic: Childhood and Adolescence. Protective and Vulnerability Factors
Abstract
The monograph we are presenting focuses on the last stage of childhood and adolescence.  It tries to tackle, from different empirical studies, the important role of emotions and emotional competence in children and adolescents' adapted and maladapted behaviour as well as the most representative contexts in the socialisation processes, being the family one of them, in particular through the parenting styles.
The empirical studies shown here have been carried out in different countries and bring a transcultural perspective to the variables under study and to the results obtained.
Childhood and adolescence are developmental key stages. Emotions, family environment or parenting styles and social relationships can be protection factors or vulnerability factors when facing an adapted or a maladapted behaviour.
The articles included in the monograph show that socioemotional competences, positive emotions and empathy, together with cohesion, communication, affection and satisfaction in family relationships facilitate family, school and social adaptation during childhood and adolescence. Furthermore, this relation is established in the different populations evaluated independently of their cultural differences.
The results are discussed from the perspective of gender, age and sociodemographic variables like the social class of the parents.
Finally, valid instruments are provided to evaluate personality resources, irrational thoughts or positive emotions related to adaptation in this developmental stage.
Downloads
Download data is not yet available.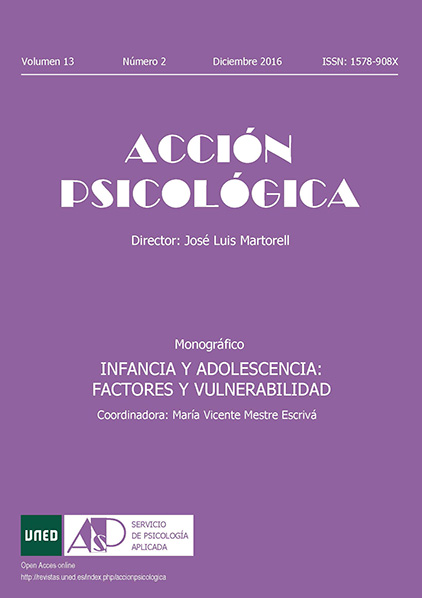 Downloads
How to Cite
Mestre, M. V. (2016). Introduction to the monografhic: Childhood and Adolescence. Protective and Vulnerability Factors. Acción Psicológica, 13(2), 1–2. https://doi.org/10.5944/ap.13.2.17797
Section
Artículos del monográfico [Monograph´s articles]
License
Accion Psicologica is published under Creative Commons Attribution-Non Commercial (CC BY-NC). The opinions and contents of the articles published in Acción Psicológica are responsibility of the authors and do not compromise the scientific and political opinion of the journal. Authors are also responsible for providing copies of the raw data, ratings, and, in general, relevant experimental material to interested readers.