Más allá del texto: Autores, redes de saber y formación de lectores
Abstract
Review of the book Luz Elena Galván Lafarga, Lucía Martínez Moctezuma y Oresta Lópes Pérez (coords.), Más allá del texto: Autores, redes de saber y formación de lectores.
Downloads
Download data is not yet available.
References
BOURDIEU, Pierre. Escritos da educação. Seleção, organização, introdução e notas de Maria Alice Nogueira e Afrânio Catani. 9. ed. Petrópolis: Vozes, 2007.
BOURDIEU, Pierre. A dominação masculina. 12. ed. Tradução de Maria Helena Kühner. Rio de Janeiro: Bertrand Brasil, 2014.
BOURDIEU, Pierre. El sociólogo cuestionado. In: BOURDIEU, Pierre. Cuestiones de Sociología. Trad. de Enrique Martín Criado. Akai: Madrid, 2013, pp. 38-60.
ESCOLANO, Agustín. El libro escolar y la cultura de la educación. La manualística, un campo en construcción. In: ESCOLANO, Agustín Escolano (ed.). Currículum editado y sociedad del conocimiento: texto, multimedialidad y cultura de la escuela. Tirant lo blanch, Valencia, 2006, pp. 13-34.
MAGALHÃES, Justino. O mural do tempo: manuais escolares em Portugal. Instituto de Educação da Universidade de Lisboa. Edições Colibri: Lisboa, 2011.
MUNAKATA, Kazumi. O livro escolar como indício da cultura escolar. Revista de História da Educação, ASPHE, v. 20, n. 50, pp. 119-138, 2016.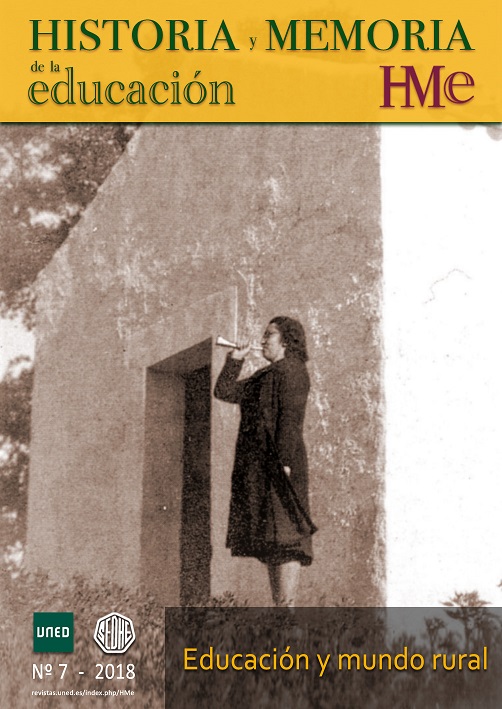 Downloads
How to Cite
Cigales, M. P. (2018). Más allá del texto: Autores, redes de saber y formación de lectores. Historia Y Memoria De La Educación, (7), 769–778. https://doi.org/10.5944/hme.7.2018.19093