Relaciones en educación virtual: Un estudio sobre los antecedentes de lealtad
Palabras clave:
calidad percibida, confianza, compromiso, lealtad, educación a distancia.
Resumen
El objetivo de este artículo es comprender el proceso de formación de relaciones entre las instituciones educativas y los estudiantes. El mercado de educación a distancia es considerado uno de los sectores de mayor trascendencia para nuestra sociedad, que se encuentra en constante desarrollo y es realmente competitivo. Por lo tanto, las razones de las relaciones con respecto a la confianza, calidad percibida, compromiso y lealtad. Específicamente, se analizaron los motivos que crean las relaciones entre confianza, calidad percibida, compromiso y lealtad. Se realizó un estudio cualitativo y exploratorio, con entrevistas individuales y en profundidad con expertos (gerentes / coordinadores), docentes y estudiantes. Los resultados muestran que, para la relación entre la calidad percibida y la lealtad, las razones relevantes fueron: sensación de ser bien recibidos, motivación y credibilidad. Para la confianza y la lealtad, se encontraron como razones: transparencia, compromiso del cliente / alumno con la institución, reflejo del aprendizaje como resultado del curso y la buena fe. En la relación de compromiso y lealtad, el compromiso cognitivo (calculativo) se destacó como la razón principal: los cambios proporcionados por el curso.
Descargas
Los datos de descargas todavía no están disponibles.
Citas
Agustin, C., & Singh, J. (2005). Curvilinear Effects of Consumer Loyalty Determinants in Relational Exchanges. Journal of Marketing Research, 43, 96-108.
Ahu, S. (2005). The Effects of Soft and Hard Service Attributes on Loyalty: the mediating role of trust. Journal of Services Marketing, 19(2), 81, 12.
Al-dweeri, R. M., Obeidat, Z. M., Al-Dwiry, M. A., Alshurideh, M. T. & Alhorani, A. M. (2017). The Impact of E-Service Quality and E-Loyalty on Online Shopping: Moderating Effect of E-Satisfaction and E-Trust. International Journal of Marketing Studies, 9 (2).
Anderson, E., Fornell, C., & Lehmann, D. (1994). Customer satisfaction, market share, and profitability: Finding from Sweden. Journal of Marketing, 58(3), 53-66.
Aurier, P., & N'Goala, G. (2010). The differing and mediating roles of trust and relationship commitment in service relationship maintenance and development. Journal of the Academy of Marketing Science, 38, 303-325.
Aydin, S., & Özer, G. (2005). The Analysis of Antecedents of Customer Loyalty in the Turkish Mobile Telecommunication Market. European Journal of Marketing, 39(7/8), 910.
Bergamo, F. V. (2008). A lealdade do estudante baseada na qualidade do relacionamento: Uma análise em instituições de ensino superior. Dissertação (Mestrado), Faculdade de Gestão de Negócios da Universidade Metodista de Piracicaba, Piracicaba.
Berry, L. L. (1983). Relationship Marketing. In Leonard L. Berry, G. Lynn Shostack, & Gregory Upah (Eds.), Emerging Perspectives on Services Marketing (pp. 25-28). Chicago, IL: American Marketing Association.
Boulding, W., Kalra, A., Staelin, R., & Zeithaml, V.R. (1993). A dynamic process model of service quality: from expectations to behavioral intentions. Journal of Marketing Research, 30(1), 7-27.
Castro, C. C., Dias, M. C., Pereira, L. L., & Eckstein, L. C. (2003). Entre a qualidade e a satisfação: armadilhas e oportunidades na avaliação de cursos de Administração. In: Encontro Nacional dos Cursos de Graduação em Administração – ENANGRAD XIV, Foz do Iguaçu.
Charalambous, A., Radwin, L., Berg, A., Sjovall, K., Patiraki, E., Lemonidou, C. & Suhonen, R. (2016). An international study of hospitalized cancer patients' health status, nursing care quality, perceived individuality in care and trust in nurses: A path analysis. International journal of nursing studies, 61, 176-186.
Cheng, X., Fu, S., Han, Y. & Zarifis, A. (2017) Investigating the individual trust and school performance in semi-virtual collaboration groups. Information Technology & People, 30 (3), 691-707.
Curran, J. M. & Rosen, D. E. (2006). Student Toward College Courses: An Examination of Influences and Intentions. Journal of Marketing Education, 28, 135-148.
Dawkins, P. & Reichheld, F. (1990). Customer retention as a competitive weapon. Directors & boards, 14(4), 42.
Doney, M. & Cannon, J. (1997). An Examination of the Nature of Trust in Buyer-Seller Relationships. Journal of Marketing, 61(2), 35, 17.
Eom, S. B. & Ashill, N. The Determinants of Students' Perceived Learning Outcomes and Satisfaction in University Online Education: An Update. Decision Sciences Journal of Innovative Education, 14, 185-215.
Flick, U. (2009). Introdução à pesquisa qualitativa. Tradução Joice Elias Costa, 3 ed. Porto Alegre: Artmed.
Franco, S. R. K. (2003). Algumas reflexões sobre educação a distância. Revista Textual, SINPRO-RS.
Fullerton, G. (2003). When does commitment lead to loyalty? Journal of Service Research, 45(4), 333-344.
Garbarino, E., & Johnson, S. M. (1999). The different roles of satisfaction, trust, and commitment in customer relationships. Journal of Marketing, 63(2), 70.
Geyskens, I., Steenkamp, J-B., Scheer, L. K., & Kumar, N. (1996). The Effects of Trust and Interdependence on Relationship Commitment: A trans-Atlantic study. International Journal of Research in Marketing, 13(4), 303.
Grönroos, C. (2003). Marketing: gerenciamento e serviços. Rio de Janeiro: Elsevier.
Guimarães, R.T. (2005). Avaliação de marca das instituições de ensino superior no segmento de mestrado e doutorado em administração: Uma abordagem multivariada. Tese (Doutorado), Faculdade de Economia, Administração e Contabilidade, Universidade de São Paulo, São Paulo.
Gustafsson, A., Johnson M. D. & Roos, I. (2005). The Effects of Customer Satisfaction, Relationship Commitment Dimensions and Triggers on Customer Retention. Journal of Marketing, 69(4 (October) CRM Special Section.
Harris, L. C., & Goode, M.M.H. (2004). The Four Levels of Loyalty and the Pivotal Role of Trust: a study of online service dynamics. Journal of Retailing, 80(2), 139.
Hennig-Thurau, T., & Klee, A. (1997). The Impact of Customer Satisfaction and Relationship Quality on Customer Retention – A Critical Reassessment and Model Development. Psychology & Marketing, 14, 737-765.
Hennig-Thurau, T., Langer, M. F., & Hansen, U. (2001). Modeling and managing student loyalty: an approach based on the concept of relationship quality. Journal of Service Research, 3(4).
Jaros, S. J., Jermier, J. M., Koehler, J. W., & Sincich, T. (1993). Effects of continuance, affective, and moral commitment on the withdrawal process: An evaluation of eight structural equation models. Academy of Management Journal, 36(5), 951-995.
Kao, T-W.; Lin, W. T. (2016). The relationship between perceived e-service quality and brand equity: A simultaneous equations system approach. Computers in Human Behavior, 57, 208-218.
Konrath, M. L. P., Tarouco, L. M. R., & Behar, L. M. R. (2009). Competências: desafios para alunos, tutores e professores da EaD. CINTED-UFRGS Novas Tecnologias na Educação, 7(1).
Larán, J. A. & Espinoza, F. S. (2004). Consumidores satisfeitos, e então? Analisando a satisfação como antecedente da lealdade. Revista de Administração Contemporânea, 8(2), 51-70.
Sanghyeop Lee, Bee-Lia Chua & Heesup Han (2016). Role of service encounter and physical environment performances, novelty, satisfaction, and affective commitment in generating cruise passenger loyalty, Asia Pacific Journal of Tourism Research, 22 (2), 131-146.
Lenka, U., Suar, D., & Mohapatra, K. (2009). Service Quality, Customer Satisfaction, and Customer Loyalty in Indian Commercial Banks. Journal of Entrepreneurship, 18(1), 47-64.
Malhotra, N.K. (2006). Pesquisa de Marketing: uma Orientação Aplicada. 4 ed. Porto Alegre: Bookman.
Mathmann, F., Chylinski, M., Higgins, E. T., & de Ruyter, K. (2016). Every step counts: When physical movement affects perceived value. Journal of Retailing and Consumer Services, 39, 279-285.
Miles, M.B., & Huberman, A.M. (1994). Qualitative data analysis: an expanded sourcebook. California: Sage.
Morgan, R.M., & Hunt, S. D. (1994). The Commitment-Trust Theory of Relationship Marketing. Journal of Marketing, 58(3), 20, 19.
Moorman, C., Deshpandé, R., & Zaltman, G. (1993). Factors Affecting Trust in Marketing Research Relationships. Journal of Marketing, 57, 81-101.
Oliver, R. L. (1999). Whence Consumer Loyalty? Journal of Marketing, 63, 33-44.
Parasuraman, A., Zeithaml V. A., & Berry, L. L. (1985). A conceptual model of services quality and its implication for future research. Journal of Marketing, 49(4), 41-50.
Pan, Y.; Sheng, S. & Xie, F. T. (2012). Antecedents of customer loyalty: An empirical synthesis and reexamination. Journal of Retailing and Consumer Services, 19, 150-158.
Perin, M. G., Sampaio, C. H., Simões, C., & Pólvora, R.S. (2012). Modeling antecedents of student loyalty in higher education. Journal of Marketing for Higher Education, 22(1), 101-16.
Rohden, S. F., Matos, C. A., & Curth, M. O. (2016). Intenções de recompra e confiança do consumidor on-line. Revista de Ciências da Administração, 18(45), 9-24.
Sampaio, C. H., Perin, M. G.; Simões, C., & Kleinowski, H. (2012). Students' trust, value and loyalty: evidence from higher education in Brazil. Journal of Marketing for Higher Education, 22(1), 83-100.
Santos, C. P. & Fernandes, D. (2006). Antecedentes e Consequências da Confiança do Consumidor no Contexto de Recuperação de Serviços. XXX Encontro da ANPAD, Salvador-BA.
Semprebon, E. & Prado, P. H. M. (2016). A Influência do Poder no Relacionamento entre Consumidor e Marca. RAC, Rio de Janeiro, 20(4), 389-411.
Sirdeshmukh, D., Singh, J., & Sabol, B. (1992). Consumer Trust, Value, and Loyalty in Relational Exchanges. Journal of Marketing, 66(1), 15-23.
Taylor, S A., & Hunter, G. (2003). An exploratory investigation into the antecedents of satisfaction, brand attitude, and loyalty within the (B2B) e-CRM Industry. Journal of Consumer Satisfaction, Dissatisfaction and Complaining Behavior, 16, 19.
Testa, M.G. & Luciano, E.M. (2011). Exploring the Influence of Affiliation Motivation in the Effectiveness of Web-Based Courses. International Journal of Web-Based Learning and Teaching Technologies, 6(4), 19-38.
Tinto, V. (1975). Dropout of Higher Education: A Theorical Synthesis of Recent Research. Review of Educational Research, 45, 89-125.
Tinto, V. (2007). Research and Practice of Student Retention: What Next?
Journal of College Student Retention, 8(1), 1-19.
Villardi, R. & Oliveira, E.G. (2005). Tecnologia na Educação: uma perspectiva sócio-interacionista. Rio de Janeiro: Dunya.
Wang, M-T., & Holcombe, R. (2010). Adolescents' Perceptions of School Environment, Engagement, and Academic Achievement in Middle School. American Educational Research Journal, 47(3), 633-662.
Wetzels, M., Ruyter, K., & Berglen, M. (1998). Marketing Service Relationships: The Role of Commitment. Journal of Business & Industrial Marketing, 13(4/5), 406-423.
Yin, R. K. Estudo de Caso: planejamento e métodos. Tradução Daniel Grassi. 3 ed. Porto Alegre: Bookman.
Zeithaml, A. (1988). Consumer perceptions of price, quality and value: a means end model and synthesis of evidence. Journal of Marketing, 52(3), 2-22.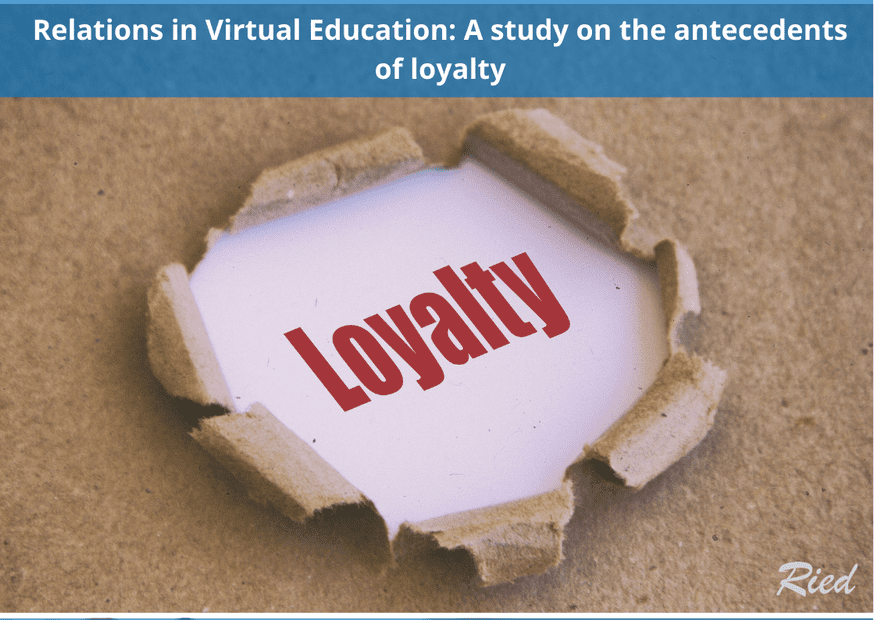 Descargas
Cómo citar
Curth, M., Sampaio, C. H., & Spolavori, R. (2019). Relaciones en educación virtual: Un estudio sobre los antecedentes de lealtad. RIED-Revista Iberoamericana De Educación a Distancia, 22(1), 289–307. https://doi.org/10.5944/ried.22.1.22219
Sección
Estudios e investigaciones
Licencia
Esta obra está bajo una licencia internacional Creative Commons Atribución 4.0.