Estas viejas locas: envejecer gay en el buenos aires contemporáneo, una experiencia grupal
Palabras clave:
homosexualidad, factor edad, psicoterapia, dinámica grupal, homofobia
Resumen
El propósito de este trabajo es exponer y debatir la experiencia grupal de psicoterapia con varones homosexuales mayores de 65 años en Buenos Aires. Las hipótesis centrales que lo articulan se constituyen desde dos perspectivas, una estadística y otra de análisis narrativo. Se parte del supuesto que los grupos homogéneos son eficaces en algunos contextos, lo que queda demostrado en los resultados de las tomas de inicio y final del BDI y SAS; aunque dichos datos no se encuentran, como se suponía, vinculados consistentemente con los antecedentes históricos (abuso de poder, duelos durante las últimas dictaduras militares, duelos por la epidemia del SIDA y las dificultades en la supervivencia económica). Por otro lado, se ha evidenciado que las Narrativas Gay y Lesbianas descritas y validadas en la bibliografía contemporánea anglosajona son asumidas por este grupo. Por último, se discute el constructo de la atribución melodramática el cual está relacionado con la homofobia, y las vinculaciones de esta con el carácter patologizante de los tratamientos psicoterapéuticos anteriores.
Descargas
Los datos de descargas todavía no están disponibles.
Citas
Alonso, M. (2002). Comunicación Personal. "La Psicoterapia en la Argentina". Instituto de Investigaciones de la Facultad de Psicología de la Universidad de Buenos Aires. (Investigación en curso).
Amíncola, J. (2000). Camp y Post vanguardia. Buenos Aires, Piadós.
Anderson, H. & Goolishian, H. (1988). Human Systems as Linguistic Systems: Preliminary and evolving ideas about the implications for clinical theory", Family Process. p.371 Editorial Pais.
Anderson, H., & Goolishian, H. (1995). Narrativa y self. Algunos Dilemas Postmodernos de la Psicoterapia. En Fried Scnitman, D. (comp.). Nuevos Paradigmas, Cultura y Subjetividad. Buenos Aires, Piados.
Archaga Quirós, L. M. (2001). Breve crónica de la seguridad social. Encrucijadas, 3(1) AVIRAM, R. B. & ROSENFELD, S. (2002). Application of social identity theory in group therapy with stigmatized adults. International Journal Group Psychotherapy, 52(1), 121-130.
Barthes, R. (1970). Análisis Estructural del Relato., Buenos Aires, Editorial Tiempo Contemporáneo.
Barzani, C. (1998). La homosexualidad a la luz de los mitos sociales y la homofobia. Derecho a una sexualidad Alternativa. En Concurso Literario Rodolfo Walsh. Ed Buenos Aires, Secretaría de Derechos Humanos CEFyL UBA, Autor del Libro
Bazán, O. (2002). La Más Maravillosa Música, Una Historia de Amor Peronista. Buenos Aires, Libros Perfil.
Beck, A. T. (1972). Depression: Causes and Treatment. Philadelphia, University of Pennsylvania Press.
Berger, R. (1996). Gay and Grey. The Homosexual Man. (2nd ed.). NY, Harrintong Park Press, and imprint of The Haworth Press, Inc.
Beutler, L., & Harwood, M. (2000). Prescriptive Psychotherapy. New York, Oxford University Press.
Birken, L. (1997). Homosexuality and totalitarianism. Journal of Homosexuality, 33(1), 1-16.
Bleichmar, S. (2002). Dolor País. Buenos Aires, Libros del Zorzal.
Blumenfeld, W. J. (1992). Homophobia – How we all pay the price - , Boston, Beacon Press.
Bobbio, N. (1986). El futuro de la democracia. México, Fondo de Cultura Económica.
Bosc, M., Dubini, A., & Polin, V. (1997). Development and validation of a social functioning scale, the Social Adaptation Self-evaluation Scale. European Neuropsychopharmacology, 7 (Suppl. 1), S57-S70.
Brent, M. (1989). Social support and the effectiveness of group therapy. Journal of Counseling Psychology, 36(2), 170-176.
Brooks, V.R. (1981). Sexual orientation as variable in therapists' biases and therapy out-comes. Clinical Social Work Journal 9:198-210.
Cabaj, R. P. (1992). Substance Abuse among gays and lesbian. En Substance Abuse: A Comprehensive Text book. (2nd ed.). NY, Edited by Lowinson, J. H., Williams & Wilkins.
Cardín, A. (1984). Guerreros, Chamanes y Travestis. Cuadernos Ínfimos, 120. Barcelona, Tusquets editores.
Coleman, E. (1988.) Psychotherapy with Homosexual Men and Women: Integrated Identity Approaches for Clinical Practice. New York, Haworth Press.
Coleman, E. (1985). Developmental Stages of The Coming Out Process. En Gronsiorek, (ed.) Homosexuality and Psychotherapy. New York, The Haworth Press. Inicial del Ed.
Cotton, P. (1992). Attacks on homosexual persons may be increasing, but many bashings still aren't reported to police. JAMA, 267, faltan datos de numero volumen y paginas
Cruikshank, M. (1991). Lavander and Gray: A brief Survey of Lesbian and Gay Aging Studies. The Journal of Homosexuality, 4(1/2), 77-81.
Diario Clarín, Sábado 27 de abril de 2002. ETAPA EN LA CRISIS: CONCORDIA ES LA MAS CASTIGADA: EL 66,4% DE SUS HABITANTES ES POBRE El 38,3% de la población de las ciudades vive en la pobreza.
Diario La Nación "Camaño estimó el desempleo en un 23 por ciento", sección Política | fecha de publicación 09.07.2002.
Drescher, J (1998). Psychoanalytic Therapy and The Gay Man. Hillsdale, New Jersey, The Analytic Press.
Duranti, R. (2000). Comunicación personal.
Eribon, D. (2002). Reflexiones sobre la cuestión gay. Barcelona, Anagrama.
Ferro, R. (1998). La Ficción. Un caso de sonambulismo teórico. Buenos Aires, Editorial Biblos.
Foucault, M. (1990). Historia de la Sexualidad, 1- La voluntad de saber. Buenos Aires, Siglo XXI Editorial.
Freedman, J. & Combs, G. (1996). Narrative Therapy: The Social Construction of Preferred realities. New Tork, NY, Norton Professional Book.
Friend, R. A. The Individual and social psychology of aging; Clinical Implications for lesbians and gay men. The Journal of Homosexuality, 4(1/2), 307-331.
Gagliesi P. (1999-2000). Apuntes para una Psicoterapia con Pacientes Gays y Lesbianas. Vertex n° 38 pág 300, Buenos Aires.
Gagliesi P. (2000). Políticas Sexuales e Identidad en Psicoterapia. Actualidad Psicológica, Buenos Aires, Nov. Volumen número pp.
García Canclini, N. (2001). Culturas Híbridas: Estrategias para entrar y salir de la modernidad. Buenos Aires, Piados.
Giordano, A. (2001). Manuel Puig: La conversación infinita. Rosario, Beatriz Viterbo Editora.
Goffman, E. (2001). Estigma. La identidad deteriorada. Buenoas Aires. Amorrortu editores.
Gonzalez, F. (2000). Psycho-Analytics Off the Strait and Narrow: Therapeutics, Queer Theory and Future Possibility. Chicago, American Psychoanalytic Congress.
Goodkin, K., Blaney, N. T., Feaster, D. J., Baldewicz, T., Burkhalter, J. E., & Leeds, B. (1999). A randomized controlled clinical trial of a bereavement support group intervention in human immunodeficiency virus type 1-seropositive and seronegative homosexual men. Arch Gen Psychiatry, 56(1), 52-61 Erratum in: Arch Gen Psychiatry 1999 Aug;56.
Gwenwald, M. The SAGE model for serving older lesbians and gay men. Journal of Social Work and Human Sexuality, 2 (2/3), 53-61.
Halperin, D. (2000). San Foucault. Para una hagiografía gay. Córdoba, Cuadernos del Litoral.
Hamilton, J. D., Courville, T. J., Richman, B., Hanson, P., Swanson, C., & Stafford, J. (1993). Quality assessment and improvement in group psychotherapy. American Journal of Psychiatry, 150(2), 316-321.
Hogg, R.S., Strathdee, S.A., Craib, K.J., O'Shaughnessy, M.V., Montaner, J., & Schechter, M.T. (2001). Gay life expectancy revisited. International Journal of Epidemiology, 30(6), 1499
Jagose, A. (1996). Queer Theory - An Introduction. New York, New York University Press.
Jill-Levine, S. (2000). Manuel Puig y La Mujer Araña. Buenos Aires, Grupo Editorial Planeta / Seix Barral.
Juffe, G. (2002). Asociación Psicoanalítica Argentina. Revista 23, N2 20, Junio 2002. Nombre del artículo páginas.
Katz, J. (1990). The Invention of Heterosexuality. Socialist Review 20(1).
Keegan, E. (2002). Comunicación Personal.
Keinman, A. (1988). Rethinking Psychiatry: From Cultural Category to Personal experience. New York, Free Press.
Kosofsky Sedgwick, E. (1992). Between Men: English Literature and Male Homosexual Desire, New York, NY. Columbia University Press.
Kosofsky Sedgwick. E. (1990) Epistemology of The Closet. Berkeley, UCLA Press.
Kreger, R., & Mason, P. (1998). Stop Walking on Eggshells. Oakland, CA, New Harbinger Publications, Inc.
Lanata, J. (2002). Argentinos. Desde Pedro de Mendoza hasta la Argentina del Centenario. Buenos Aires, Ediciones Grupo Zeta.
Lee, M. R., Cohen, L., Hadley, S. W., & Goodwin, F. K. (1999). Cognitive-behavioral group therapy with medication for depressed gay men with AIDS or symptomatic HIV infection. Psychiatr Serv, 50(7):948-952.
Lemebel, P. (2000). Loco Afán. Barcelona, Anagrama.
Linehan, M (1993). Skill Training Manual for Treating Borderline Personality Disorder. NY, The Gilford Press.
Macchioli, F. (2000). Homosexualidad, prejuicios y clínica psicoanalítica, www.isisweb.com.ar.
Martuccelli, D., Svampa, M. (1997). La Plaza Vacía: Las Transformaciones del Peronismo. Buenos Aires, Editorial Losada.
Mazziotti, N. (1995). Introducción. En Mazzoti, N (comp.) El espectáculo de la pasión. Las telenovelas latinoamericanas. Buenos Aires. Editorial Colihue.
McDonald, G. J. (1982). Individual Differences in the coming out process for gay men: implications for theoretical models. Journal of Homosexuality 847-60.
Monzón, I. (1998). ¿Elecciones de vida o estructuras psicopatológicas? El psicoanálisis frente a: transexualidad, travestismo, homosexualidad, bisexualidad, paidofilia, etc., Buenos Aires, Conferencia en la Asociación Argentina de Psicólogos, Junio. www.isis.com.ar
Mulder, C. L., Antoni, M. H., Emmelkamp, P. M., Veugelers, P. J., Sandfort, T. G., Van De Vijver, F. A., & De Vries, M. J. (1995). Psychosocial group intervention and the rate of decline of immunological parameters in asymptomatic HIV-infected homosexual men. Psychother Psychosom, 63(3-4):185-192.
Newton, E. (1972). Mother Camp: Female Impersonators in America. New Jersey, Prentice Hall. Nunca Más, Informe de la CONADEP, SET.1984.
O'Leary, J. V. (2001). The postmodern turn in group therapy. International Journal Group Psychotherapy, 51(4), 473-487. Página de la Comunidad Homosexual Argentina, apartado sobre historia del movimiento (www.cha.org.ar).
Pandya, V., & Gingerich, W. J. (2002). Group therapy intervention for male batterers: a microethnographic study. Health Social Work, 27(1), 47-55.
Paul, J. P., Barrett, D. C., Crosby, G. M., & Stall, R. D. (1996). Longitudinal changes in alcohol and drug use among men seen at a gay-specific substance abuse treatment agency. J Stud Alcohol, 57(5), 475-485.
Phillips, P., Bartlett, A., & King, M. (2001). Psychotherapist's approaches to gay and lesbian patients/clients: A qualitative study. British journal of Medical Psycholog, 74, 73-84.
Quam, J., & Whitford, G. (1992). Adaptation and Age-related Expectations of older gay and lesbian adults. The Gerontologist. 32(3), 367-374.
Rapisardi, F., Modarelli, A. (2001). Fiestas, Baños y Exilios: Los gays porteños en la última dictadura. Buenos Aires, Editorial Sudamericana.
Redondo, N. (2001). Radiografía de una población. El impacto social del envejecimiento. Encrucijadas, 3(1).
Ricoeur, P (1983). Time and Narrative. Chicago, University of Chicago Press.
Riess, H. (2002). Integrative time-limited group therapy for bulimia nervosa. International Journal Group Psychotherapy, 52(1), 1-26.
Rivera, J. (1997). Postales electrónicas. Ensayos sobre medios, cultura y sociedad. Buenos Aires, Editorial Atuel.
Rubinstein, G. (1995). The decision to remove homosexuality from DSM: Twenty years later. Am Journal of Psychotherapy, 49(3) Páginas.
Salessi, J. (2000). Médicos, Maleantes y Maricas. Rosario, Beatriz Viterbo Editora.
Sanders, G. L., & Kroll, I. T. (2000). Generating stories of resilience: helping gay and lesbian youth and their families. Journal of Marital Familiar Therapy, 26(4), 433-442.
Sarduy, S. (1987). Ensayos Generales sobre el Barroco. Buenos Aires, Fondo de Cultura Económica.
Sebreli, J. J. (1997). Historia secreta de los homosexuales en Buenos Aires, en Escritos sobre escritos, ciudades bajo ciudades. Buenos Aires, Editorial Sudamericana.
Schüklenk et al (1996). The ethics of research into the cause(s) of homosexuality. Journal of Homosexuality. 31(3). Autores. Paginas.
Schut, H. A. W., De Keijser, J., Van Den Bout, J., & Stroebe, J. S. (1996). Cross-modality grief therapy: description and assessment of a new program. Journal of Clinical Psychology, 52(3), 357-366.
Shumway, N. (1993). La Invención de la Argentina, Historia de una Idea. Buenos Aires, Emecé Editores.
Singerman, B. (1981). Mis dos vidas. Buenos Aires, Ediciones tres tiempos.
Slusher, M., Mayer, C., & Dunkle, R. (1996). Gay and Lesbian Older and Wiser (GLOW): A support group for older gay people. The Gerontologist, 36(118),
Spence, D. (1982). Narrative truth and Historical truth; meanings and interpretation in Psychoanalisis. New York, Norton.
Strejilevich, S. (2001). ¿Quién se va a ocupar de su cabeza? Encrucijadas, 3(1) Strejilievich, S. (2002). Los Fundamentos de la Psiquiatría. Congreso Argentino de Psiquiatría, APSA, Mar del Plata, 2002 (no publ.).
Tillitski, C. J. (1990). A meta-analysis of estimated effect sizes for group versus individual control treatments. International Journal Group Psychotherapy, 40(2), 215-24.
Vacha, K. (1985). Quiet Fire; Memoirs of older gay men. Trumansburg, NY, The Crossing Press.
Vandereycken & Hoek (1992). Are Eating Disorders Culture-Bund Syndromes. Chapter 2. Halmi (ed.). Psychobiology and treatment of anorexia nervosa and bulimia nervosa. Washington, American Psychiatric Press.
White, M. (1994). Guías Para Una Terapia Familiar Sistémica. Barcelona, Gedisa.
White, M. (2002). Reescribir la Vida. Barcelona, Editorial Gedisa.
White, M., & Epston, D. (1993). Medios Narrativos para fines terapéuticos. Barcelona, Paidos.
Williams, R. (1980). Marxismo y Literatura. Barcelona, Ediciones Península.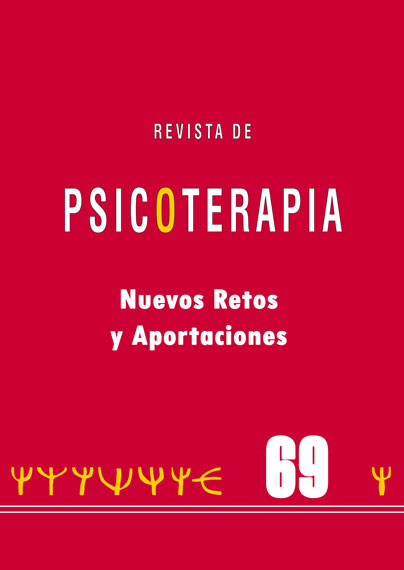 Cómo citar
Gagliesi, P. (2007). Estas viejas locas: envejecer gay en el buenos aires contemporáneo, una experiencia grupal. Revista De Psicoterapia, 18(69), 69–96. https://doi.org/10.33898/rdp.v18i69.917
Sección
Artículo de monográfico